Epiphone 1960 Tribute Les Paul Standard – Review
By Federico Valle
We analyzed tone, settings, build quality and finishes of one of the top-of-the-range Epiphone Les Paul Tribute 1960 models and compared it against a Gibson Les Paul Classic.
Epiphone Les Paul Standard 1960 Tribute – The Best Epi
The Epiphone Les Paul Standard Tribute 1960 is one of the top-of-the-range models of the second Gibson brand. As a highlight, it has first class hardware and pickups "made in the USA". Additionally it comes with a solid maple top instead of a veneer as in the common models.

Also, you may be interested in our note on the Epiphone Genesis, a cult guitar.
Epiphone Les Paul 1960 Tribute Specs
Guitar Neck and Body
Three-piece "mahogany" body, apparently without weight relief, and with a solid maple top. Although in reality, Epi does not use mahogany, but rather a substitute. Apparently it is Luan, called the "Mahogany of the Philippines or Indonesia", because of its aesthetic resemblance. Both its timbral qualities and appearance are quite similar to the honduran mahogany.
The common Epiphone Les Paul Standard does not have a solid maple top, just a veneer for cosmetic purposes. This model has a solid maple shell like "real" Les Pauls have, and it does influence the tone, giving the instrument more bright and clear tone. They use plain maple with a flamed veneer on top. This is done to keep prices in line with a mid-range guitar.
Two-piece an asian mahogany neck with long tenon and 1960's Slim Taper profile with very nice Rosewood. Long tenon is a deeper tenon than the regular one. The neck reaches below the pickup. This system was the one originally used by Gibson. In theory, this allows for better transmission of vibrations and more sustain. In the case of the guitar used for this review, I can confirm that the sustain is very good.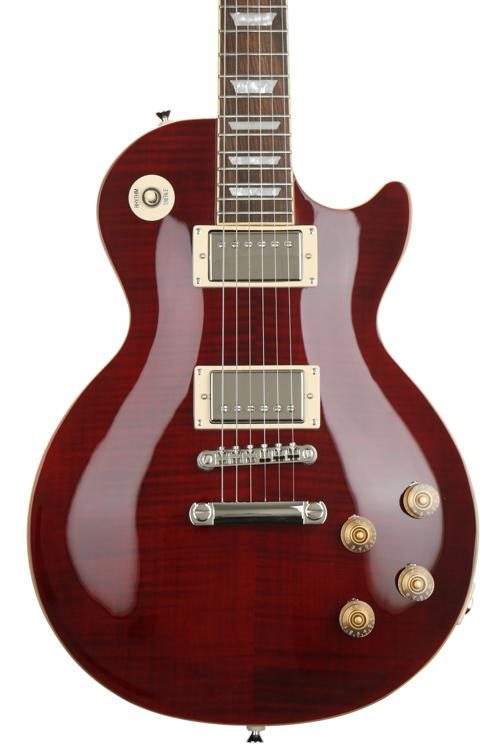 You might want to take a look at our guide to mahogany substitute woods used in cheap Les Paul-style guitars.
Pickups, Electronics and Hardware
A highlight of the viola is that it brings top-notch hardware and electronics, made in the USA, at the level of a Gibson. The Epiphone Les Paul Tribute 1960 comes with Switchcraft pickup selector switch and push-pull pots with vintage aesthetics as it brings "pointers".
The pickups set is Gibson Classic 57 / 57+, very vintage pickups with an extra punch in the bridge, which makes them very versatile. Besides sounding barbaric, they are also spliteable, meaning they can be used in "singlecoil" mode. The tone is more than convincing, they splite very well.
Another nice aspect of this guitar is the Gotoh Locking Rotomatic 106 Series 18: 1 machine heads. They are the best or maybe the best I've ever had. Tremendous precision.
Guitar finish
It's a nice looking guitar, nice color, it has details like the Epiphone on the headstock made with a simile mother of pearl inlay, very good.
However, the inlays are placed quite loosely. Black lines are visible between the rosewood and the trapezoid.
The finish is a "Gloss", that is to say bright, very attractive. The only objectionable point is that the colored paint steps on the binding a bit. It may be a bit demanding, being a guitar of Chinese origin, but the truth is that on a general level, it is so good, that it is a point that "makes a bit of noise".
You might be interested in this DIYer tutorial on how to paint or repaint your guitar with nitrocellulose lacquer.
Guitar Settings
It really is surprising for a guitar of this level the excellent calibration it has. Although I acquired it used, and I cannot confirm if it came that way from the factory or was later calibrated so well. The reality is that the string height is impeccable, much better than a lot of high-end guitars I've owned or tried.
Conclusions and comparison with Gibsons
In general, I have to say that the guitar is excellent. It's very solid, has perfect action, holds the pitch, and is comfortable like a Gibson.
It is certainly well above the Epiphones I had previously, two Les Paul Standard Korea and China, and a SG G400 China. I even have to admit that it is probably better than the Gibson LPJ I had, which I really liked.
Don't miss our review of the 2014 Gibson LPJ guitar review.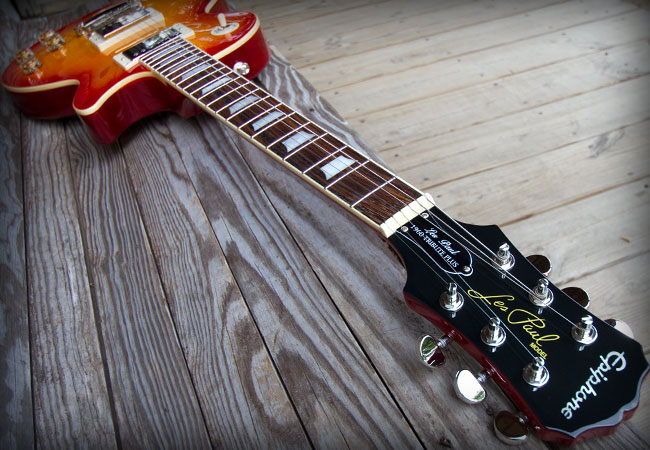 Comparing it against the Gibson Studio, it sounds much more low and medium, at the same time it has a more vintage audio given that the Gibson that brings the 498T / 490R, spicier than some classic PAFs.
When you play with Drive, it sounds quite similar to a Gibson, but when you play clean, things change there. With the Epi you don't get to hear the "mahogany" tone that a Gibson has. When I play my Les Paul Classic clean on the neck position, I immediately hear that Les Paul tone from Slash in the intro to Knockin 'on Heaven's Doors or Don't Cry, whereas with the Epiphone, this doesn't happen.
Do not miss our review if you want to know more about the differences between Gibson vs Epiphone Les Paul.
In conclusion, it must be said that this guitar performs more than satisfactorily, being a viola that comes out less than half that of the guitar it is trying to imitate, a Gibson Les Paul Standard, Classic and Traditional.
You can share opinions or also chat about this and more with other musicians in our comments section.