Gibson Les Paul vs Epiphone Les Paul: Features and Differences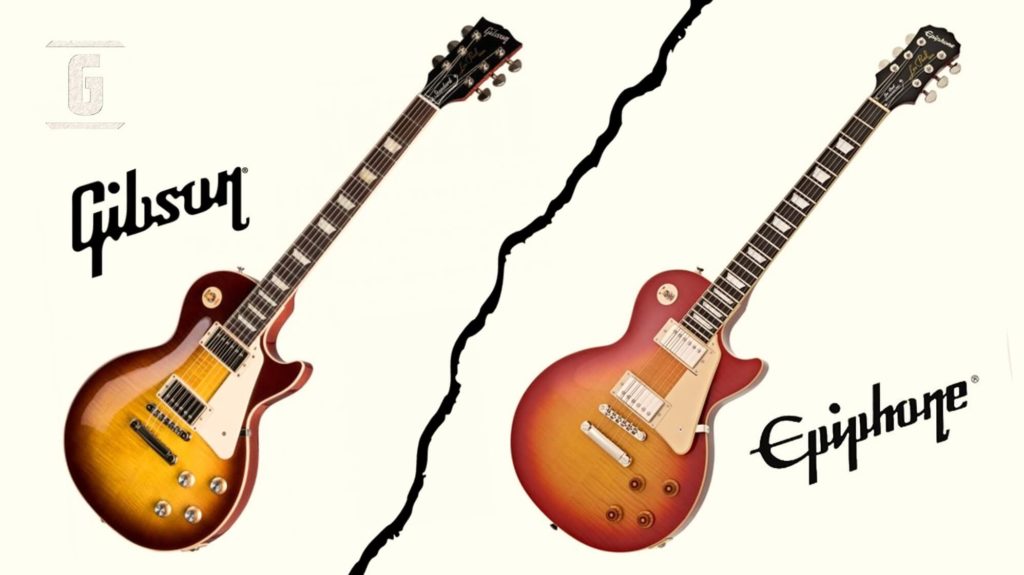 Detailed comparison between the Gibson Les Paul Standard vs. its budget version of Epiphone. We make a deep analysis of the differences and their relevance, demolishing all the myths, the truth about both guitars.
The legendary and unique Les Paul tone
Everyone knows very well that if you want to get that fat sweet sound of Slash, Gary Moore, Joe Perry, Jimmy Page and countless other guitarists, you need a Les Paul. The Les Paul is an instrument used by guitarists in all genres, from blues and jazz to rock and metal, such as Zakk Wylde. But we can not always afford an investment of several thousand dollars. This is where we wonder if we can get the same results with an Epiphone. Without a doubt, this is one of the most controversial and most debated topics by guitarplayers and one that can be found a lot in any guitar forum.
Gibson acquired Epiphone in 1957, back then a competitor that was on a similar level of quality. From that moment on, Epi became Gibson's second brand, and today it is the economical version for those who can't get a "real" Les Paul.
You may be interested in the history and evolution of the Gibson Les Paul.
Comparison between Gibson and Epiphone Les Paul specifications
Both models have detailed specifications on their respective websites. Although we take the current characteristics of the Gibson and Epiphone Les Paul, they are changing over the years. But these differences are generally subtle, so in order to analyze the differences between both instruments, beyond the year of manufacture, this analysis will also serve us well. Let's take a look at the overview of the key specifications of both guitar models: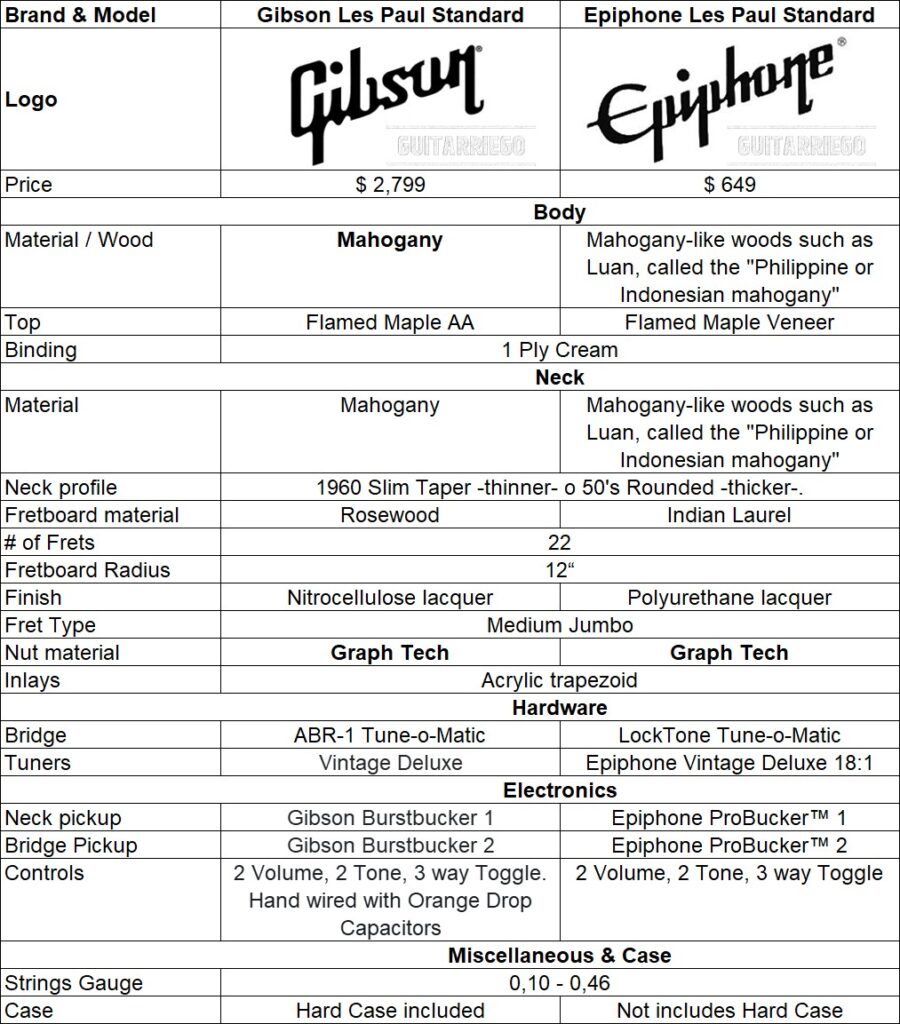 As you can see, there are no big variations in the specifications of both brands at a glance. But let's dig a little deeper into the specs and features of each of the two guitars, and find out what real differences there are, which ones are important, and which ones aren't.
Gibson and Epiphone Les Paul Prices
Gibson's website lists the Les Paul Standard as selling for $2,799, while Epiphone's website lists the Les Paul Standard as $649. In line with the value of a high-end and mid-low range musical instrument respectively.

Objective: identify which one meets your needs
When we compare these two guitars on price alone, we have a big difference between the two, and based on that we can set expectations for each. Let's take a closer look at the different specifications of these cool musical instruments, and see what causes this huge price difference and find out whether or not the same is actually justified for you.
It is important that we analyze this from the personal perspective of each one, while some may be mere students, others may be professional guitarists. The needs and requirements that each one may have of an instrument can change radically, therefore, we will not find a single answer, but there will be as many answers as there are guitarists with different characteristics.
Woods used by Gibson and Epiphone
Les Paul body and neck
Honduran mahogany, the wood Gibson uses for the body and neck, is a relatively expensive species, with outstanding audio in the mids, but not in the highs. For this reason, the maple top is added to its design, another high-cost wood, especially the flamed type used in high-end instruments, to add high frequencies and thus obtain the brightness and definition that mahogany does not have.
The Epiphone Les Paul Standard does not have a mahogany or maple top like the Gibson. Epiphone uses Meranti and Lauan or other substitutes for mahogany, and a decorative venner of flamed maple normally. Meranti or Lauan is also known as Philippine mahogany. Although Meranti looks similar, it has less mids frequencies than mahogany, although to an untrained ear these may not be noticeable. These differences are especially noticeable in clean audio, while in audio with Drive or Distortion these tonal differences are really very difficult to identify.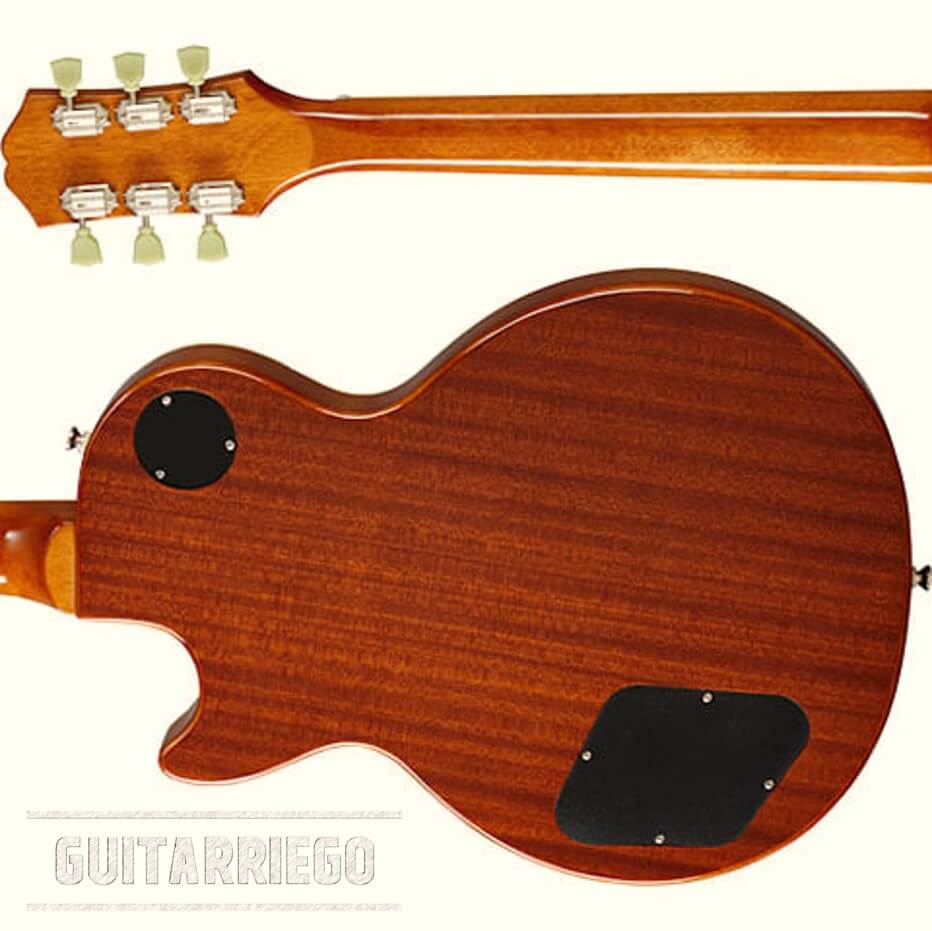 Also, mahogany is a wood that is generally quite heavy, so it is important that you consider the weight of the Les Paul guitar.
Guitar fretboard
Regarding the fretboard, Epiphone has used several woods, until a few years ago it reported Rosewood, also Pau Ferro. Currently, on the Epi website says Indian Laurel.
Laurel is a sustainable wood replacement from India, which looks and feels similar to rosewood with a few minor differences, like a slightly lighter color. Regarding tone, Laurel is also a slightly less warm tone wood than Rosewood.
Conclusions of the wood comparison
It should not surprise anyone that here we find the most important difference between both guitars, since it is the basic raw material of the musical instrument.
The use of different woods for a really trained ear can be very important. While for an untrained person, such as a beginning student, these differences will be very difficult to identify, especially if playing with saturated audio.
Characteristics of the guitar neck
Both guitars feature Medium Jumbo frets and a 12″ guitar fretboard radius, giving them that nice tight, low string action feel that allows for easy bending.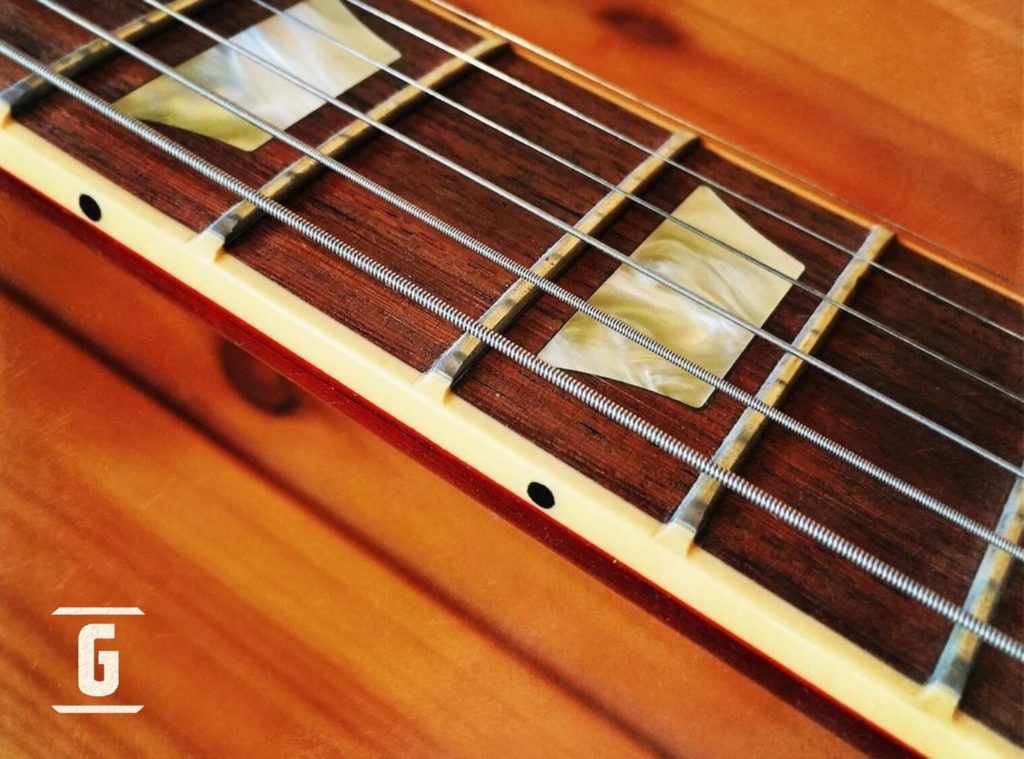 A detail that is more aesthetic than functional is that the Gibson guitars have nibs, plastic edges of the border that continue as an extension of the fret, while in the Epiphone guitars the metal frets continue up to the height of the Binding. Although for an aesthetic fanatic it may be considered something relevant, for us, this difference is not.
Another tonal and tuning issue to consider is the nut, while Epiphone used to use plastic, a few years ago they started using Graph Tech just like Gibson. This is an important aspect since it influences both the tonal and the tuning, since the graphite allows the string to slide better and not get stuck. Epiphone was smart to make this change, as the nut is an easy and cheap upgrade to make.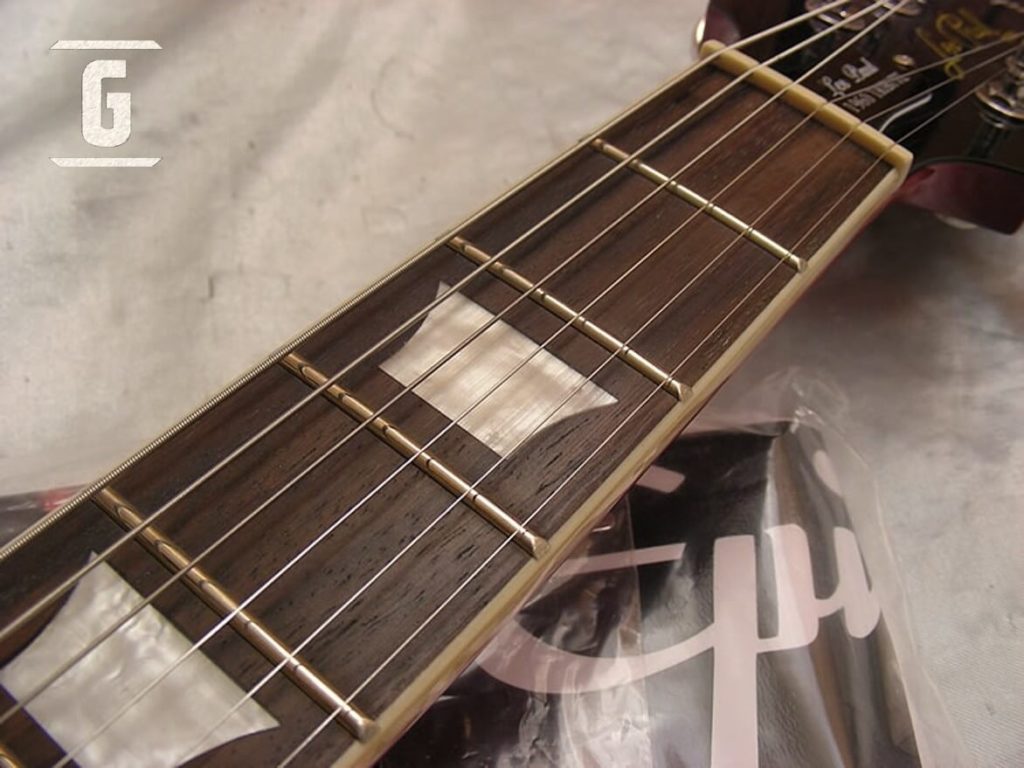 Also, visit the list of the best Gibson Les Paul Guitarists.
Finishes, a factor often ignored
After the woods, this is probably the most important difference and one that cannot be reversed, at least at a low cost.
Tonal function of the finish
The most important difference is that in a high-end musical instrument, the finish fulfills not only a protective and aesthetic function, but also a more important one, which is a tonal function. For this reason, the big brands consider it a critical and fundamental process, which makes the quality of the instrument.
Although there are many who claim that nitrocellulose is better than polyurethane for tonal purposes, there is a fairly general consensus that the greatest tonal difference is caused by the thickness of the final lacquer layer, while the material used itself has an influence in a lesser way.
Of course, nitrocellulose has better aesthetics, and surely better musical properties, but we believe that the relevant difference between a well-finished instrument and a poorly-finished one is more in the thickness of the paint layer than in anything else. Thus, a thin layer of lacquer will allow the guitar to resonate and vibrate better, while a thicker layer will work as a formwork that limits its vibrations regardless of whether it is Nitrocellulose, Polyurethane or Polyester.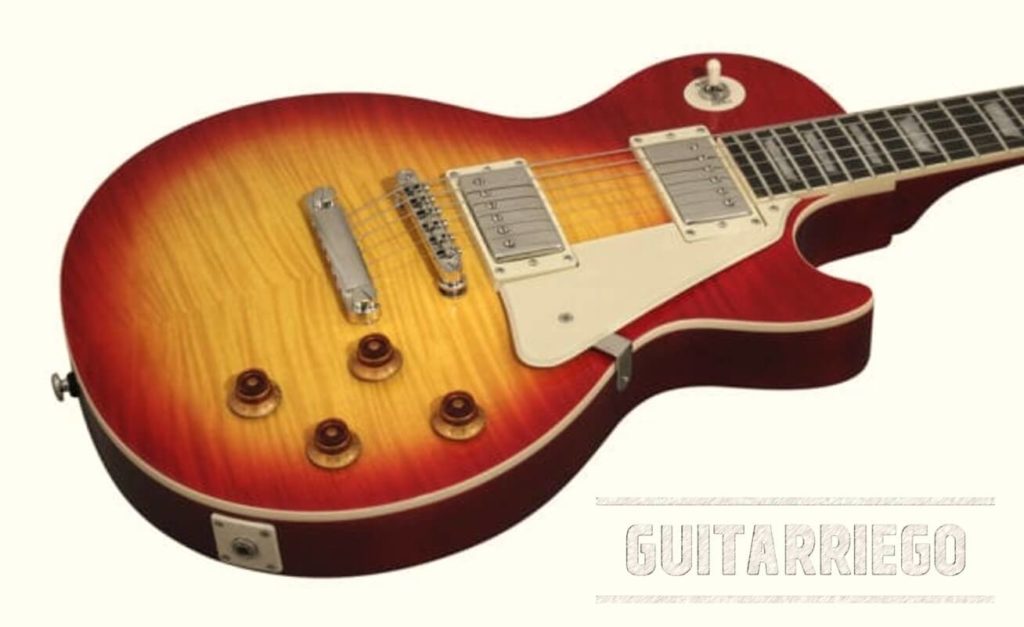 High-End Guitar Finishes vs. Mid- and Low-End Instruments
Making thin finishes requires more skilled and more expensive labor. The finishing process consists of painting, sanding and polishing. With thick coats you have more leeway when sanding and polishing, without the risk of exposing an undercoat or even the wood of the guitar itself.
In this way, low and medium range instruments usually have thicker layers of paint, since they are not made by qualified personnel and more sophisticated tools as a thin and fine quality finish requires.
So the finish on the Gibson Les Paul Standard is not only better because it uses nitrocellulose lacquer, while the Epiphone Les Paul Standard uses polyurethane lacquer. But, fundamentally, because of the quality of the process and the consequent thickness of the paint.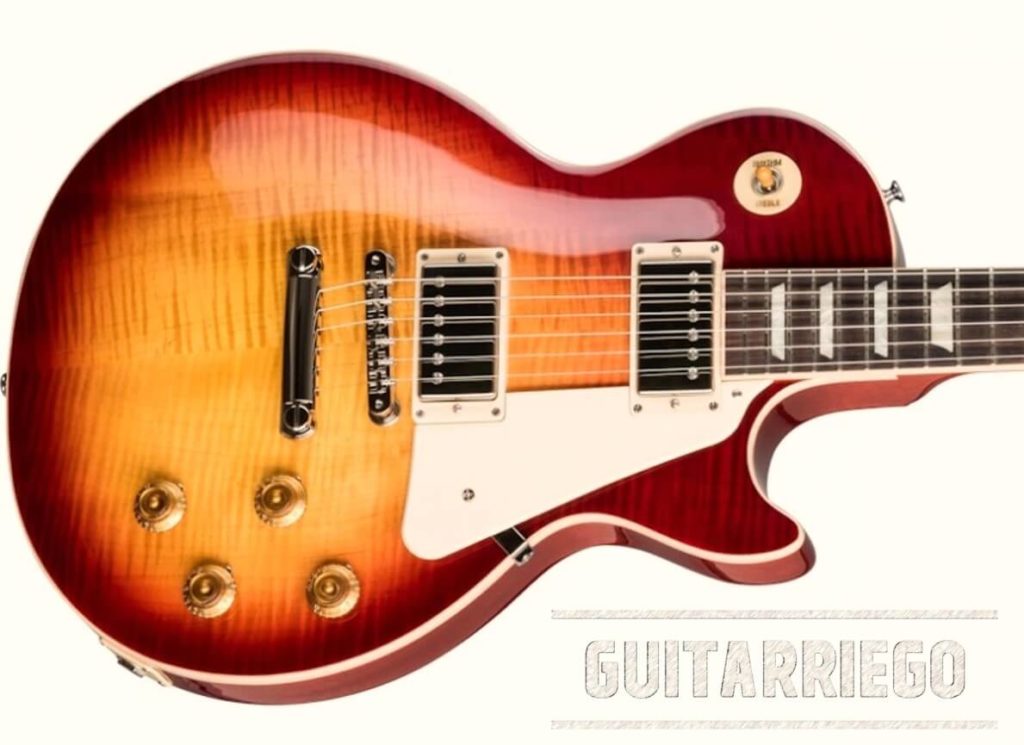 Don't miss our review of the best cheap electric guitars for beginner guitarists.
Instrument hardware
Tune-o-Matic Bridge
The bridge, without a doubt, is the hardware that most influences the tone of the instrument.
Although at first glance the hardware looks similar, the difference between these two sets of hardware is important and lies in the quality of construction and materials used. Gibson's ABR-1 Tune-o-Matic bridges are constructed from better metal alloys than Epiphone guitar ones, positively impacting the guitar's tone and sustain.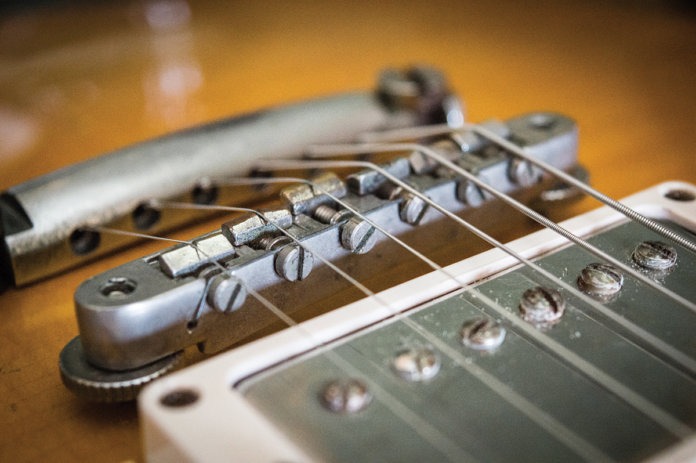 The lower cost hardware is often die-cast from a zinc alloy that is softer than the typical steel hardware you find on more expensive guitars. Thus, zinc alloy hardware will be softer and plated with stainless steel. This will reduce sustain and high frequencies. In contrast, stainless steel hardware is harder and will have better sustain and bring out the high frequencies better.
Guitar tuning machines
The machine heads are also of better quality on Gibson guitars. While Epiphones aren't bad, they aren't high quality either and fall short of the Vintage Deluxe or Grover used by Gibson. The difference in quality of the tuning machines of these two guitars does not impact the tone of the instrument, but it does affect its tuning, an aspect that is far from minor.
Guitar Electronics
A very important and often underestimated aspect of guitars is the electronics. The electronics have a huge impact on the tone, not only because of the pickups, but also because of the pots and capacitors. So much so, that fans of vintage instruments pay fortunes for these components from the 50's and early 60's.
Guitar pickups
It is not necessary to clarify that it is where more tonal differences can be generated within everything that is the electronics of the instrument. Thus, this is another important aspect where Gibson clearly stands out above Epiphone. While some components may be of medium-high quality on the Asian guitar, the main electronic component being the pickups, which are the Epiphone Probuckers with Alnico II, are of lower quality than the Gibson ones.
It should be noted that there are special Epiphone models equipped with Gibson '57 Classic or Burstbucker pickups. This is a huge improvement, but these guitars are typically worth up to $250 more than the Standard.
You may be interested in Gibson's failures: the ugliest, weirdest and rarest guitars.
Capacitors and Potentiometers
The same can be said for the Capacitors on these two guitars. The Gibson guitar is equipped with a set of Orange Drops caps which are considered the standard when it comes to chasing tone. The Epiphone guitar will once again have generic and lower priced capacitors installed.
On the side of Potentiometers, both guitars have a good quality of products, making the difference in this component not relevant.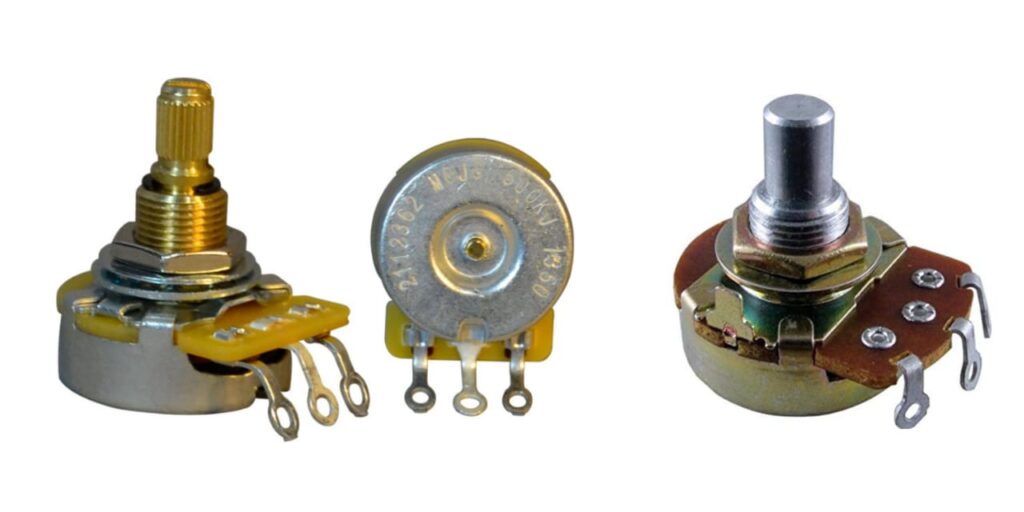 Conclusion on electronics
Lower priced guitars can sound dull, not as bright, and less defined than higher priced guitars.
The audio is less clear and defined, and more muddy, that is to say that the audio of the different strings is mixed, losing quality and dynamics of the audio.
Don't worry about this difference though, as this can be easily corrected and not by too much money. You can buy a good quality PAF Pickup Set and brand name capacitors and make your Epi guitar improve its audio noticeably, approaching the tone of a Gibbie.
We recommend that you read our guide to the best tips to improve a cheap electric guitar.
Guitar accessories and others
Gibson always includes a hard case with its high-end models such as the Les Paul Standard. Also, this is reflected in the price. Epiphone does not provide a case, with few exceptions. But of course it can be purchased separately if you want to protect your precious Les Paul. The aesthetics of both hard cases are excellent and quite similar. However, Epiphone cases have a much lower quality imitation leather than Gibson cases.
The addition of a case would be nice, however, this would mean a price increase of approximately USD 100. In any case, you can buy hard cases of the brand or not, to properly care for your instrument.
The Gibson Les Paul also includes an accessory pack containing a guitar truss rod adjustment tool and some cleaning materials. The Epiphone Les Paul only contains the guitar's truss rod adjustment tool. Clearly, this is not a relevant difference.
Summary and comparison of Gibson vs Epiphone
After comparing these two guitars side by side, have we found differences that justify the price difference? As we anticipated at the beginning of the analysis, there is really no single answer.
An untrained ear like that of a beginning student will not really enjoy the quality differences between the two instruments, while an experienced ear will feel these differences clearly and noticeably. So, in principle, we can say that if you are a student, the difference in money will not be justified, while a professional or experienced guitarist will find it worth the extra expense to get a "real" Les Paul.
Of course, if you can afford a Gibson Les Paul, then go for it. Even if you don't feel the differences today, in time you will.
Perhaps you are interested in knowing what years are the best Gibson Les Paul guitars and which ones to avoid when buying.
On the other hand, if you want a Les Paul but your budget is limited, don't worry. The Epiphone version will serve you very well. In addition, with a not very significant investment you can achieve great results. An extra $100-$200 will go a long way toward getting good quality pickups like Gibson, DiMarzio, or Seymour Duncan. This will noticeably improve the tone of the guitar. You can also add other modifications, such as changing the bridge, capacitors and even the guitar nut that will allow you to further improve the tone of your instrument.
The most important thing is that you try the guitars
So, beyond the objective factors, there is a subjective factor, your hearing, your taste, your fingers. Thus, although this guide is a fundamental step for you to make the right choice, the most important step of all is that you try the guitars and decide based on what you feel and hear from each one. Even a Gibson Les Paul can sound better than the other, the same Epiphone. Even a Gibbie may not inspire you at all, and an Epi can make you feel an attraction that makes you not want to put down the guitar.
You can share your thoughts on Gibson and Epiphone in the comments section below.