Gibson's failures: the ugliest, weirdest and most unknown guitars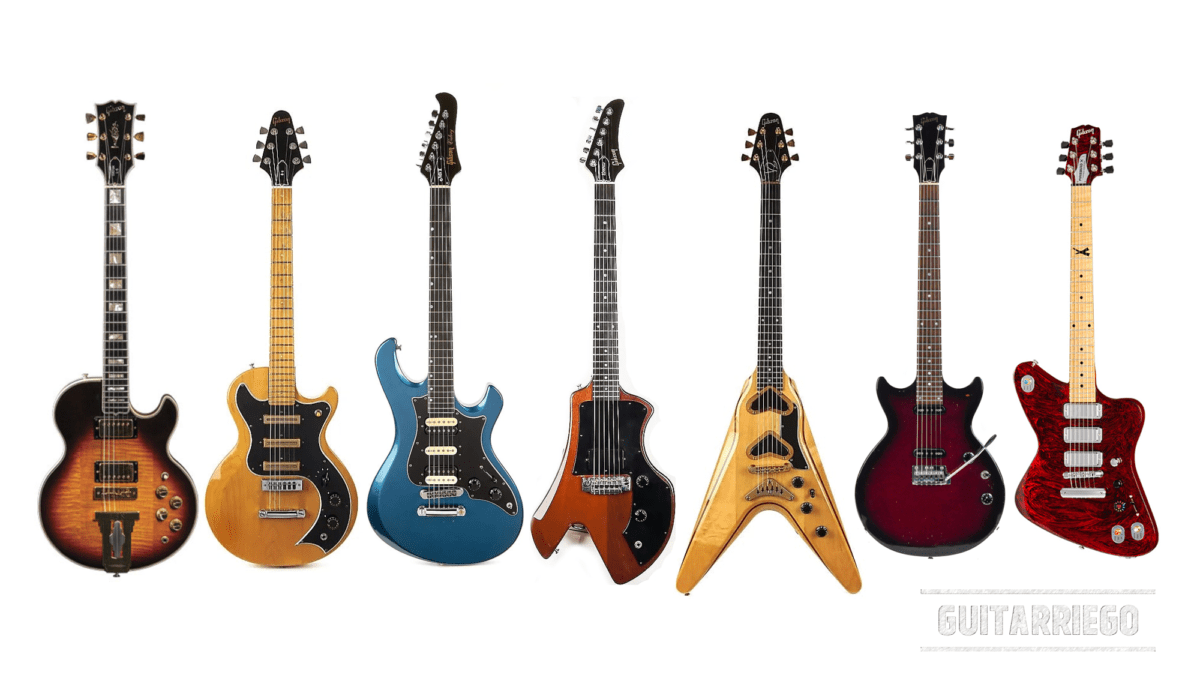 Gibson is the most traditional guitar manufacturer, but throughout its history not everything has been success, it has had rare guitar models that were huge failures that included the ugliest and weirdest guitars that did not live up to the legacy of the brand.
Gibson's failures: the ugliest and weirdest guitars
This choice of failed Gibson guitar models is based on the aesthetics of the guitars by selecting the ugliest and shortest-lasting on the market. Of course, the choice is subjective and given the large number of guitar models that Gibson launched on the market, some could be missing from this ranking. This are the rarest Gibson guitars:
Gibson Les Paul Recording, Personal and Professional
Gibson Les Paul Signature
Gibson L-5S
Gibson L-6S
Gibson marauder
Gibson S-1
Gibson the paul
Gibson Flying V-II
Gibson 335S
Gibson Victory
Gibson Sonex
Gibson Corvus and Futura
Gibson Challenger
Gibson RD Artist
Gibson All American II
Gibson Firebird X
Gibson Les Paul Personal, Professional and Recording
Gibson Les Paul Personal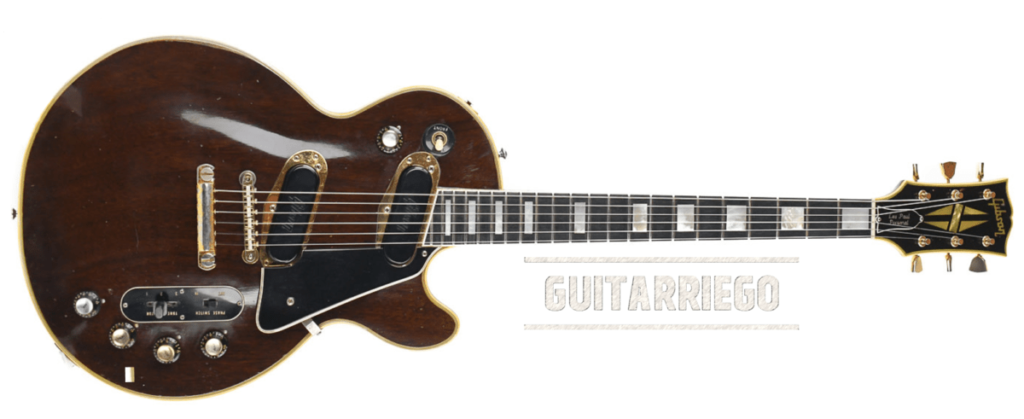 The Gibson Les Paul Personal was built between 1969 and 1973, and was based on the traditional model to which "enhancements" were added. This guitar is loaded with low impedance elongated and sloped pickups, with increased fidelity and clarity. The Les Paul Personal specs are a slightly larger mahogany body than the traditional LP and a mahogany neck. Electronics includes phase selection and 11-position Decade control. Unfortunately, the model was not popular, as guitarists are not typically looking for a clean hi-fi sound. Thus it was that only 370 units of the Les Paul Personal were produced.
Gibson Les Paul Professional
The Gibson Les Paul Professional was a cheaper version of the Personal. Only 118 units of this guitar were produced and it was marketed between 1969 and 1973. The Les Paul Personal and Professional were replaced by the Les Paul recording.
Gibson Les Paul Recording
The Gibson Les Paul Recording was basically a Les Paul Personal with some modifications to its active electronics system. The Recording model was manufactured between 1971 and 1979 and was designed to connect directly to a low impedance mixing console or desk input. This was the reason for the model name.
The low impedance pickups, used by these three models, have a clearer sound with a flatter and wider frequency response. This meant that the Recording had a versatile range of tones, so it could emulate sounds similar to other guitars like the Telecaster, the Rickenbacker, and more. Obtaining the full range of tones required mastery of the complicated control panel. The controls are Volume, Treble, Bass, Decade, Mic Volume, Pickup Selector, Tone and Phase switch. However, to get the most out of Gibson Les Paul Recording you need amplifiers and other equipment specially designed for a low impedance signal. The latter was probably the doom for failure of this guitar model.
Despite its failure however, Les Paul loved the Recording. So it was that Les Paul used this model of guitar in his concerts.
Gibson Les Paul Signature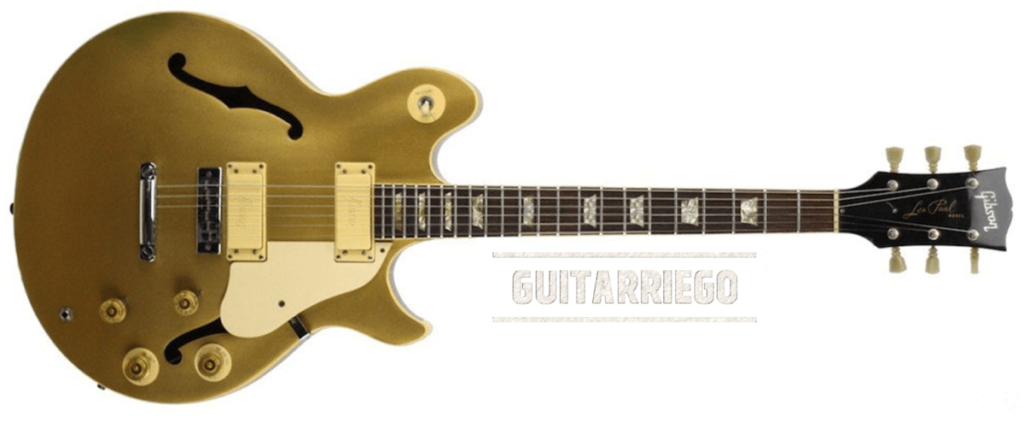 The Gibson Les Paul Signature was a semi-hollow guitar made between 1973 and 1979. This guitar is similar to the Starcaster that came out a few years later. The early Les Paul Signature have the same pickups of the Recording, most came equipped with the low impedance rectangular type. This guitar comes with high and low impedance output jacks. In 1976, high and low impedance humbuckers became an option on this model. Later versions with P90 pickups were also made.
Mahogany neck with rosewood fingerboard, while the body could be all maple -top, back and sides- or maple top with walnut back and sides. The finishing options were Goldtop and Tobacco Sunburst, of the first they were made about 1400, while of the second they did not even reach 100.
Gibson L-5S
The Gibson L-5S is the solid version of the L-5, hence the model name. Produced uninterruptedly from 1972 to 1985. Aimed at the Jazz musicians market, within the top of the Gibson range. Although it looks like a variation of the Les Paul, it is quite different as it is not made of mahogany. The neck and body are maple and ebony fingerboard.
Gibson, in search of new sounds, introduced an active circuit together with low impedance single coil pickups. These pads do not show the pole pieces and are larger than traditional singlecoils. These pickups are also used in contemporary Les Paul Recording, Personal, Professional and Signature models. However, they were soon replaced, in 1974, they were replaced by humbucker pickups.
Gibson L-6S Custom
The Gibson L-6S is a very similar model to the L5S, but made entirely of maple. Released in 1973 and discontinued in 1981, the L-6S was Gibson's first all-maple guitar. The model has a very similar design to the L5S model, but with a slimmer body and silver lid. There is the Custom and Deluxe version with differences such as the tailpiece and the pickguard. It has two Hot humbucking pickups as reported in their Gibson brochure, connected in series, parallel, and splited. Also, it was the first Gibson guitar to have 24 frets.
Gibson marauder
The Gibson Marauder was marketed between 1974 and 1980. This guitar was in the mid-range affordable price range. The Marauder features a bolt-on maple neck with an alder, maple or mahogany body. The body with a classic singlecut design was combined with a new pickguard and pickup configuration. On the side of the headstock with the same design of the Flying V they complete a modern design but in line with the brand.
Both pickups, designed by Bill Lawrence, are two humbuckers but with a different configuration. One standard size for the neck position and the other mini HB for the bridge. Thus, a style similar to that of a Hotrod Telecaster and what would later be a Fano is seen. Thus, the Marauder was in Fender-style territory.
Gibson S-1
The Gibson S-1 is a variation of the Marauder with three epoxy blade single coil pickups. Manufactured between 1975 and 1980. The pickups, also designed by Bill Lawrence, feature a special circuit that includes humbucking combinations. With an audio very similar to a Stratocaster guitar, it was out of the traditional Gibson tone, which made it not have a great reception by the market.
Gibson the paul

The Gibson The Paul Standard is a Les Paul contoured guitar but with a flat top and a straight cut on the top edge. In addition, its body and neck are made of walnut. The neck is glued to the body and has a 22-fret ebony fingerboard and stripped headstock with gold logo. The Gibson The Paul is loaded with two T-Tops humbucker pickups and the traditional Tune-o-Matic bridge.
The Paul was made between 1978 and 1982, and was reissued in 2018, but instead of having an ebony fretboard, it was released with a rosewood fingerboard. Between 1981 and 1984, a The Paul Firebrand was released with the same design but built with mahogany instead of walnut. The neck was built in three pieces and the Gibson logo was fire-stamped on the headstock.
Gibson Flying V-II
In 1979, Gibson released the Flying V-II, basically the Flying V with a more modern look. The new V features a five-ply laminated maple and walnut body and neck with side cuts. The "boomerang" pickups with a Hot output feature a novel design. This guitar was a resounding failure for Gibson, and in 1982 it was discontinued.
Gibson 335S
Just as the L-5S was made, Gibson also tested the 335S in 1980. Thus, Gibson released a Solidbody 335 style model. This model came in three versions: Standard, Custom, and Deluxe. The Standard had a maple body and neck and a rosewood fingerboard. Instead, the Custom and Deluxe had a mahogany neck and body, differing by the fingerboard. While the Custom has a rosewood fretboard, the Deluxe has an ebony fingerboard. The Standard and Custom were discontinued the year after their release in 1981. The Gibson 335S Deluxe survived a couple more years, being discontinued in 1983. It was subsequently reissued in 2011.
Gibson Victory
The Gibson Victory was Gibson's attempt to enter the Superstrats market. Released in 1981 and discontinued in 1984, this very similar to a PRS offset guitar with the longer upper horn was a novel design and very similar to the Fender Stratocaster.
The Gibson Victory X MV has three pickups, designed by Tim Shaw, two humbuckers, and a single coil. Instead the MV-2 has only two humbuckers. The maple neck glued to a maple body. The standard bridge is the traditional Tune-o-Matic, but there was the option of a Kahler tremolo. Like the Gibson S-1, these more Fenderous models failed as they did not capture the traditional Gibson audience, Fender or Superstrats. Thus, it was that this well-made model fell into failure.
Gibson Sonex
The Gibson Sonex 180 Series was released in 1981 and replaced the Marauders and S1. The body is made of a wood core, which is covered with a synthetic material called "Resonwood". Thus, Gibson joined the group of manufacturers who experimented with alternative materials. Ovation, Steinberger, Ampeg and Peavey tested with plastic, while Travis Bean, Veleno and Kramer with aluminum and Airline and Valco with fiberglass, among others.
The specifications of the Gibson Sonex 180 are maple neck with a rosewood fingerboard bolted to a hybrid body with a maple core and a composite made of wood called Resonwood. The bridge is the traditional Tune-o-Matic and has two humbucking pickups. Despite its low cost, this model failed like its predecessors the Marauder and S-1 and was discontinued in 1984.
Gibson Corvus and Futura

The Gibson Corvus was introduced in 1982, and its name means Raven in Latin. It came in three versions, Corvus I with a single pickup, Corvus II with two pickups, and Corvus III with three. It was manufactured during 1982 and 1984. Because of its very particular offset design, it was nicknamed as "Can Opener".
Its specifications are a maple neck with a rosewood fingerboard bolted to a mahogany or alder body depending on the model. In addition to the three Corvus, a glued neck version called Futura was released. The Gibson Corvus was undoubtedly one of Gibson's biggest failures and one of the weirdest guitars.
Gibson Challenger

The Gibson Challenger was a singlecut type guitar available from 1983 to 1985. Equipped with a bolt-on maple neck, rosewood fretboard, and a mahogany body. This guitar features the same body design as the Marauder, but with no tapered edges. Released as an inexpensive studio guitar, it came in three versions. The Challenger I with one Humbucker, the Challenger II with two Humbuckers and the Challenger III with three singlecoils. Some claim that these guitars were made to consume the leftover Marauder bodies.
Gibson RD Artist
The Gibson RD Artist was made between 1977 and 1982. With a design similar to the Gibson Firebird but more rounded. With an all-maple body and neck, ebony or rosewood fingerboard and a 25.5″ scale, this is a guitar that falls into Fender territory, while maintaining similarities to the Firebird. The Gibson RD came out in three models: Artist, Custom and Standard, of which the first two were equipped with active Moog circuitry, and the Standard with the traditional passive system.
Their all-maple body makes these guitars excessively heavy. Despite that, this is a cult model for some Gibson fans. They are high quality instruments, and by their design they are ideal for heavy styles of music. Thus, this model has been reissued in 2014 and 2018 by Gibson.
Gibson All American II
The Gibson All American II was manufactured between 1996 and 1998. The All American was produced in Nashville Tennessee. The design based on the first double-cut Melody Makers, without a pickguard and a tremolo bridge. The set mahogany neck features a 24-fret rosewood fingerboard and has a 24.75″ scale. The body is double cut mahogany. It features two high-output single-coil pickups. This guitar was one of Gibson's biggest failures.
Gibson Firebird X
Gibson released the Firebird X in 2011 as a cutting-edge guitar with a wide range of built-in effects, and automatic tuning. The starting price of this offset of $ 4,000 made it an excessively expensive guitar. Perhaps due to its highly untraditional design or high value, this guitar turned out to be a total failure and in 2012, the year after its release, Gibson discontinued it.
The specifications for the Firebird X are a 24.75″ maple neck glued to an ash body. The fingerboard is made from Angelim Rajado, Marblewood, an exotic Brazilian wood. The three Firebird mini humbucker pickups are the alnico II FBX. It also has integrated effects such as Modulation, Echo, Reverb, Compression, Distortion, EQ, wet / dry blend, Echoplex, Piezo and pickup programming among others. In addition, it is compatible with the Ableton Live 8 and Guitar Rig 4 Pro programs. It also includes a Bluetooth connection to connect with effects pedals.
In a video you can see how construction machines pass over hundreds of these guitars, destroying them completely. This controversial video has earned Gibson a great review from all guitar fans.
Is there another guitar model that you would include in the Gibson flops? Leave us your comment.
Related Notes: Fender's Failures: Ugly, Weird, or Misunderstood Guitars.
You can find some of these guitars posted on Reverb.com.