Best Guitar Amps Ever: the 16 most iconic amplifiers
Our pick of the top 16 most iconic classic guitar amps ever, that influenced the history of music: Fender, Marshall, Vox, Hiwatt, Orange, Dumble, Mesa, Soldano and more.
The choice of the best classic guitar amps of all time
Some time ago, we already made a guide to the Holy Trinity of Vintage Amps, in which we review the three great brands and their main tonal characteristics and their history: Fender, Vox and Marshall.
This time, we decided to go further and put together our Top 16 of the best classic amp models, the most iconic and emblematic of all time.
Undoubtedly, there are many others that deserve your recognition, but if we wanted to choose them all, it would be too long a list. It was a difficult choice, but we are convinced that these are the best 16 most legendary guitar amps ever.
The choice was not only based on their tone, their audio, but also on the impact they had at the time, although today almost no one uses them or they may even become obsolete with today's new sound systems.
The best most iconic classic guitar amps ever
Fender Deluxe 5E3 «Tweed»
Vox AC30 Top Boost
Fender Bassman 5F6A '59 «Tweed»
Marshall JTM45
Fender Twin Reverb «Blackface»
Fender Deluxe Reverb «Blackface»
Marshall 'Plexi' 1959SLP Super Lead
Hiwatt Custom 100 DR103
Orange GRO100 «Pics Only»
Mesa Boogie Mark I
Dumble Overdrive Special
Roland JC-120 Jazz Chorus
Marshall JCM800
Soldano Super Lead Overdrive SLO-100
Peavey 5150
Mesa Boogie Dual Rectifier
Fender 5E3 Deluxe "Tweed"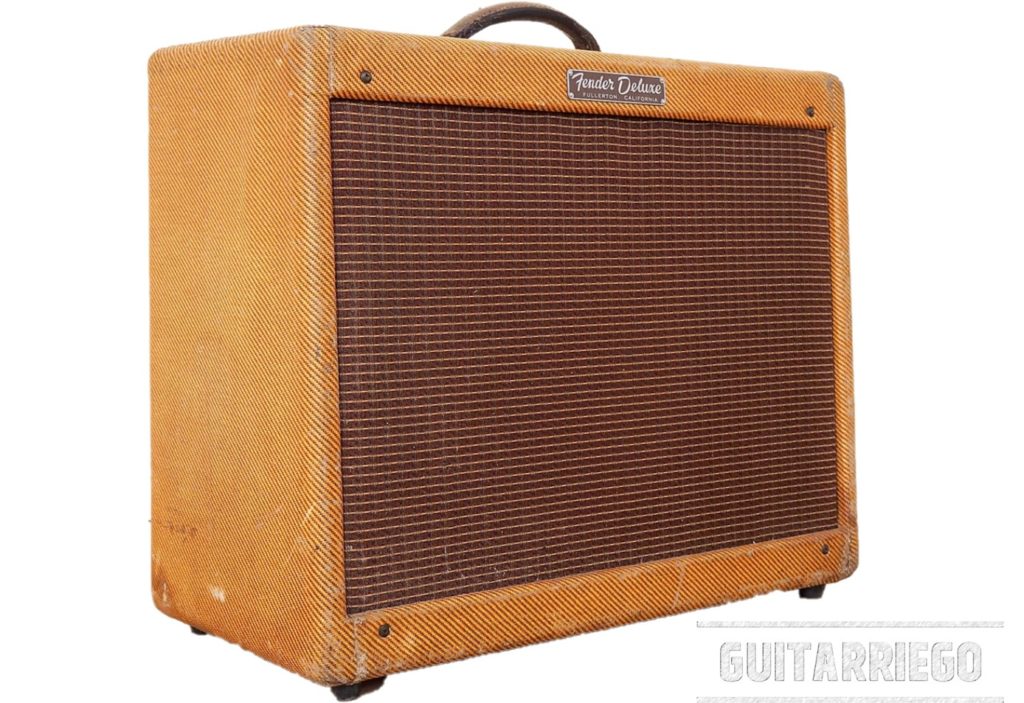 Introduced in 1948, the Fender Deluxe was praised for its dynamics, harmonically rich saturation, and compression. Its tone is characterized by a husky and "fuzzy" audio. There are numerous versions of the Deluxe but the most iconic model is the 5E3 circuit, built between 1955 and 1960.
The circuit features two easily saturated cathodic bias 6V6 power output tubes that deliver a sweet, harmonically rich tone. The rectifier has a 5Y3 valve that allows for dynamic and touch sensitivity. Considered the "holy grail" of older combos, it has been used by Neil Young, Billy Gibbons, Mark Knopfler, Rich Robinson, Mike Campbell, and many others.
Fender makes a reissue of the original 1957 model, although purists may say they are not really 100% correct editions.
Vox AC30 Top Boost
The Vox was the great amp of the 1960s in Britain. Protagonist of the wave of successful British bands, called "British Invasion". The 30-watt Vox AC30 was designed as a more powerful version of the AC15 at the request of Hank Marvin, guitarist of The Shadows. The AC30 was released in 1959, offering it in 1×12 and 2×12 configurations, and with a single tone control.
In 1963, after going through various configurations and new features, the "Top Boost" version was launched, which already had most of the current features of the classic Vox AC30 and is ultimately the one that ssounds on the first albums of bands like the Beatles, the Rolling Stones and other great bands. Other musicians or bands that used them later were Brian May from Queen, Tom Petty, Peter Buck from R.E.M. and U2's The Edge, among others. Undoubtedly making it one of the best classic guitar amps of the British tone.
The current Vox AC30 are far from the original "Top Boost", however, you can find boutique manufacturers that make replicas that are close to the original.
Fender Bassman 5F6A "Tweed"
The Fender Bassman was released in 1952 and, as the name implies, it was intended for bassists. However, enterprising guitarists adopted it for the great tone and harmonic richness the amp had, making it one of the best classic guitar amps.
For many, the Bassman 4 × 10s from the late 1950s are the most iconic amps of all time.
As Tom Wheeler writes in The Soul of Tone: Celebrating 60 Years of Fender Amps, "It's powerful, it's loud, and it's responsive to the player's touch. It sounds great, it responds wonderfully across the entire frequency spectrum. It exhibits a bright and harmonically rich tone at low and moderate volumes. At higher volumes it thickens with a sweet distortion that only seems to get creamier the more volume you turn on it. It is particularly well suited to certain popular guitars, especially the Stratocaster. "
Additionally, the Fender Bassman was the amp that Jim Marshall drew inspiration from when designing his amps.
The list of musicians who have used the Bassman 5F6A "Tweed", just to name a few, is: Eric Clapton, Jimmie Vaughan, Buddy Guy, Mike Campbell, Mike Bloomfield, John Fogerty and Josh Homme.
Fender makes a reissue of the original 1959 model, although purists may say they are not really 100% "vintage correct" editions.
Marshall JTM45
This amp was the one that started it all for Marshall in 1963. It is based on the circuitry of a Fender Bassman but built with components available in England. The result was a warm, round tone with excellent harmonics, and it also tended to saturate more quickly.
With a power between 35 and 45 watts, it is one of the most iconic amplifiers of all time. Equipped in the power stage initially with 6L6 or US 5881 tubes -a version of the 6L6 tubes-, later in 1964 they used KT66, and EL34 from 1966, or KT88 from 1967 in the 200 watt Major version, nicknamed "The Pig". In the preamp stage it has ECC83 tubes -also called 12AX7-.
Great guitarists were users of this great amp like Jimi Hendrix and Peter Green.
Marshall makes a reissue of the original 1962 model, although purists may say they are not really 100% correct editions.
Fender Twin Reverb "Blackface"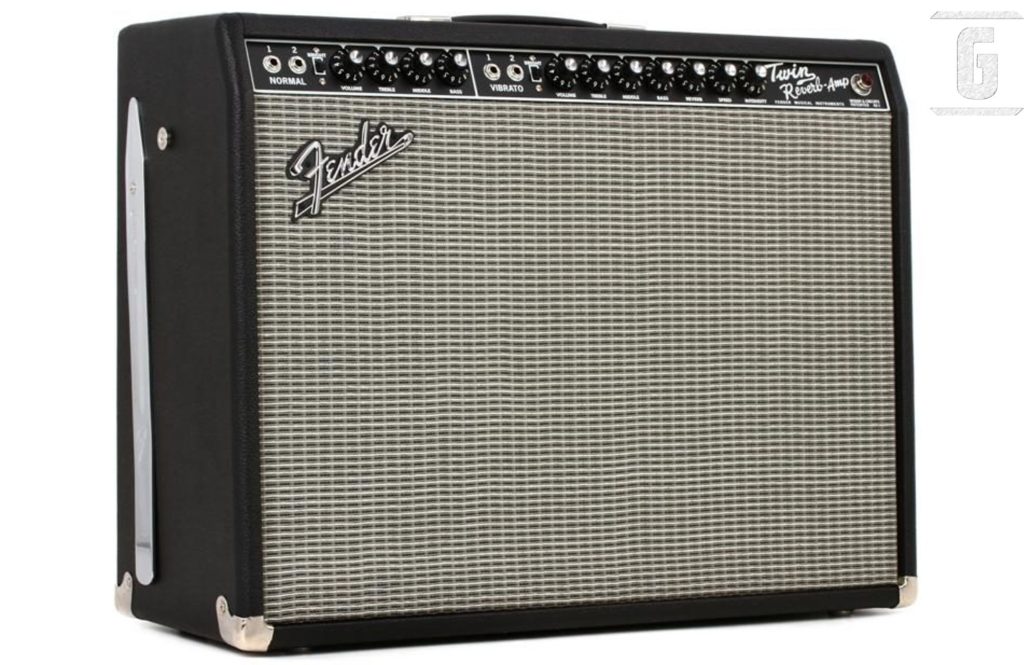 The Fender Twin Reverb, released in 1965, was considered the standard for guitarists looking for a clean sound at high volumes. It has 85 watts of power, allowing you to sound clean on large stages. This was especially necessary in his time, when current amplification systems did not exist. Guitarists depended on the powers of their equipment.
There were several Twin circuits, but the most recognized is the Twin Reverb "Blackface", named for the black color of its panel. Famous for their great spring reverb, hence the name "Reverb", it was the quintessential amp for professional guitarists looking for clean and bright audio.
Over the decades, these high-pitched, high-powered rigs have appeared in the setups of countless guitarists, including Stevie Ray Vaughan, who used the 85-watt Blackface Model from the 1960s during his 1985 Japan tour. Others Musicians who used the Twin Reverb were Steve Howe, Johnny Marr, Jack White, and Dweezil Zappa.
James Burton, another famous Twin user, put it best: "If you can plug your guitar into an amp and make it sound good, that's what it's all about. The amp that I really enjoy playing, especially when traveling, is the Fender '65 Twin Reverb. It has everything you need to play live and has excellent tone.
"That amp just works for me and it's really reliable. When I travel on the highway, I use a little digital delay and maybe a little chorus, but I like the sound of the guitar and playing something that I think people will appreciate and understand. "
Today, Fender makes a reissue of the original 1965 model, although purists may say that they are not really 100% correct editions.
Fender Deluxe Reverb "Blackface"
The Deluxe Reverb, with 22 watts, is something of a younger brother to the Twin Reverb. It has a scooped midrange tone with fairly stable bass for its power level and crystal clear, bell-like treble. Played at low volume, it boasts some of the prettiest cleans of all amps, immaculate clean ones.
It has a classic Twang at medium volume that stands out more when played with Fender Telecaster, Stratocaster, or even Gretsch guitars. Another feature is its excellent tube "spring reverb" characteristic of Fender amps and it also features tremolo.
Given its considerable headroom, the Deluxe Reverb at lower volumes and overall preamp settings also make it an excellent base for most overdrive pedals.
There is a "classic" pair that is a Tube Screamer along with a Fender amp. The TS is a classic overdrive with a focus on the mid frequencies, which together with Fender's Scooped audio, complement and balance the audio giving one of the most popular and used pairs in the guitar world.
Fender makes a reissue of the original 1965 model, although purists may say they are not really 100% "vintage correct" editions.
Marshall 1959SLP Super Lead 100 Watt Plexi
Two years after the JTM45 was released, at the request of Pete Towshend who wanted a more powerful amp, Marshall released the 1959SLP 100w, better known as the "Plexi". Probably the most iconic amp in rock history. This amp can be heard in many 70's rock bands, such as AC / DC and Led Zeppelin, Angus Young with his Gibson SG and Jimmy Page with his Gibson Les Paul. Also used by great electric guitar innovators such as Jimi Hendrix, Eric Clapton, and Pete Townshend, the 1959SLP Super Lead helped shape rock and roll as we know it.
Introduced in 1965, 1959 is the name of the circuit, the amplifier included four inputs, two channels, 100 watts of power, and a Plexiglass faceplate, hence the name "Plexi." Combined with 4×12 cabinets, the 1959 Super Lead helped popularize the Stack Marshall.
Jimi Hendrix used the Marshall 1959SLP at his 1969 Woodstock show, and it has been highly sought after ever since. Making it one of the best classic Rock 'n Roll guitar amps.
Marshall does a reissue, although purists may say they are not really 100% correct edits.
Hiwatt Custom 100 DR103
Released in the mid-1960s, the Hiwatt Custom 100 DR103, despite its appearance, was an original design and not one of many copies of the 1959SLP. Built under the direction of Harry Joyce, with super high quality standards and the highest quality components.
According to Legendarytones, the Hiwatt DR103 is noticeably louder and can also run a lot cleaner than the also 100-watt Marshall 1959SLP. It has great headroom. Below you can see a video with a comparison between a Hiwatt Custom 100 and a Marshall "Plexi" JMP 1987 50 watts.
The Hiwatt DR103's design is based on the use of four EL-34 power tubes and four 12AX7 preamp tubes.
Many guitarists have used Hiwatt amps, such as Pete Townshend from The Who's, David Gilmour from Pink Floyd, Tommy Bolin, Alex Lifeson from Rush, Rolling Stones, and even "The Edge" from U2.
Hiwatt makes a reissue of the model, although the quality of components and construction is not comparable to the original.
Orange GRO100 "Pics Only"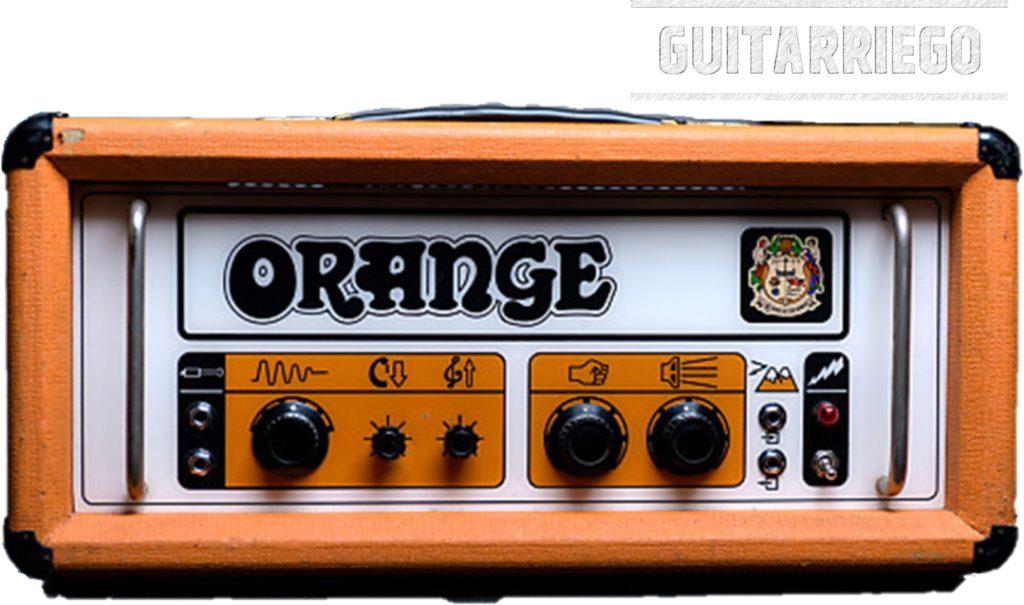 Aimed at professional musicians, the Orange are amps with force and robustness so that they could withstand the demands of touring, going up and down the stage.
In 1972, Clifford Cooper, founder and owner of Orange, commissioned John James, the company's Research and Development Engineer, to design what would become one of the most iconic amplifiers in British audio, the GRO100, named after "Graphic Overdrive" and its 100 watts of power using EL34 tubes. Also known as "Pics Only", that is, only images since the controls only have drawings. This design is due to the fact that the amplifier was exported to countries that do not speak English.
The "Pics Only" was the beginning of the new sound associated with Orange and has been the influence on the design and sound of the brand's amplifiers.
Musicians like of Fleetwood Mac's Peter Green, Led Zeppelin's Jimmy Page, Black Sabbath's Tony Iommi, and Free's Paul Kossoff used these classic amps.
Mesa Boogie Mark I
The Mark I was launched in 1971, when the brand was still just "Mesa". The amp design was inspired by Randall Smith's Hotrod mods to Fender amps. Smith took a Fender Princeton amp and swapped the power amp for a Bassman one, and replaced the 10″ speaker with a 12″ one. This then allowed him to add an additional gain stage in the preamp with three gain controls at different points in the circuit. This earnings layout is called "cascading". The Mesa Mark I is considered one of the first high-gain amplifiers in history.
This amp was Mesa's first step, which would later change to Mesa Boogie, after Carlos Santana, using a Randall Smith amp, said "This thing really boogies!".
Dumble Overdrive Special ODS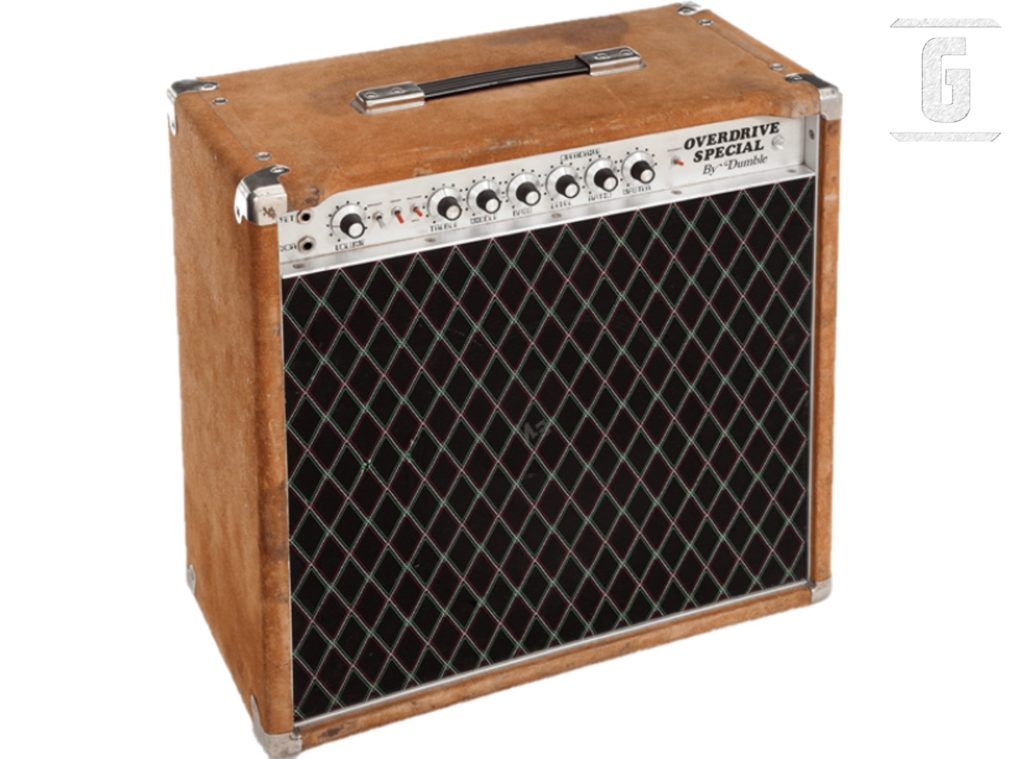 Built entirely by hand by Howard Dumble, Dumble amps are one of the most highly regarded by professional musicians and recording studios. With values above USD 70,000 they are among the most expensive as well.
Howard, like many others, began modifying the Fender Tweed and Blackface amps in 1963. The Overdrive Special is Dumble's best known and most popular model. This is a two channel amplifier, with a clean channel and a second "overdrive" channel.
The Overdrive channel is designed to "cascade" from the first channel to at least one additional gain stage in the channel. This means that the clean channel's tone stack and gain stages cascade into the gain stage of the Overdrive channel, clipping the clean channel. In a sense, the Overdrive channel is "on top" of the clean channel.
The Overdrive Special ODS varied over time and according to customer requirements. For example, while most ODS amps use 6L6 power tubes, which are commonly associated with Fender amps, there are units that have EL34 tubes, more closely associated with Marshall amps.
Dumble Overdrive Special ODS amps are known for their harmonic richness in the overdrive channel and their open, fat, and defined tone on the clean channel.
Some of the many users of Dumbler amps are Robben Ford, Eric Clapton, Joe Bonamassa, and Eric Johnson.
Roland JC-120 Jazz Chorus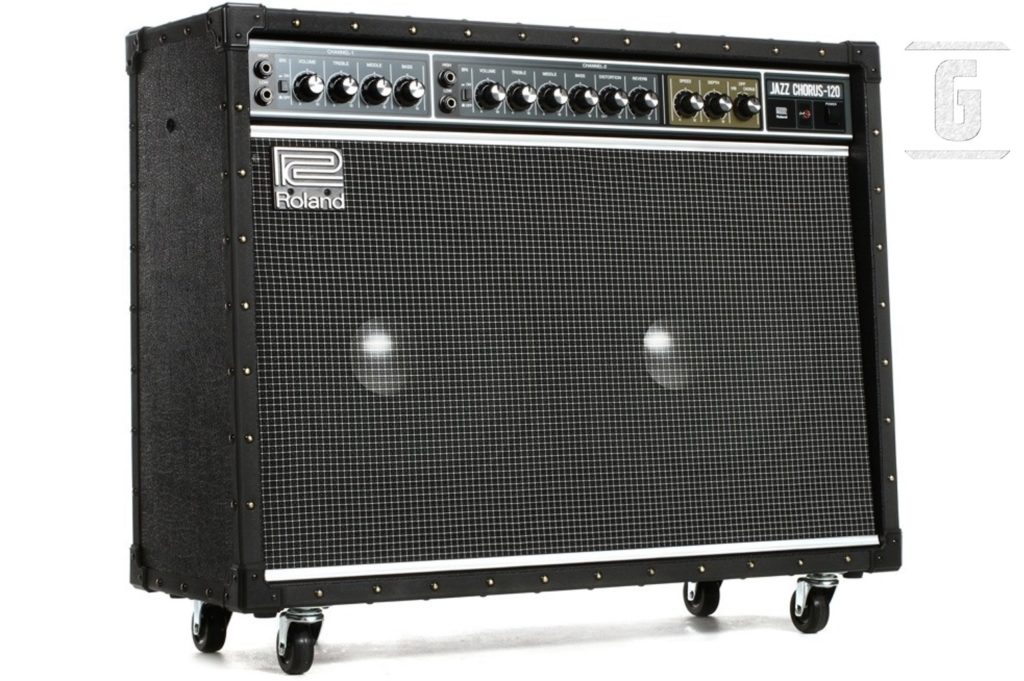 Released in 1975, the JC-120 Jazz Chorus is one of the best clean-tone amps. It features as the name implies with a built-in stereo Chorus effect, as well as Reverb and Vibrato. It also has the uniqueness of being the only one on the list that is not a tube amp, the JC-120 is the only solid state or transistor amplifier.
The JC-120 features two 12″ speakers and two power amplifiers that drive the speakers to their full potential for incredibly clean sound and allowing for stereo effects. With 120 watts of power, it packs tons of clean. Hands down, it's one of the best clean classic guitar amps.
This great amp was used by guitarists like Andy Summers, Robert Smith, Johnny Marr, Jeff "Skunk" Baxter, and more.
Marshall JCM 800 2203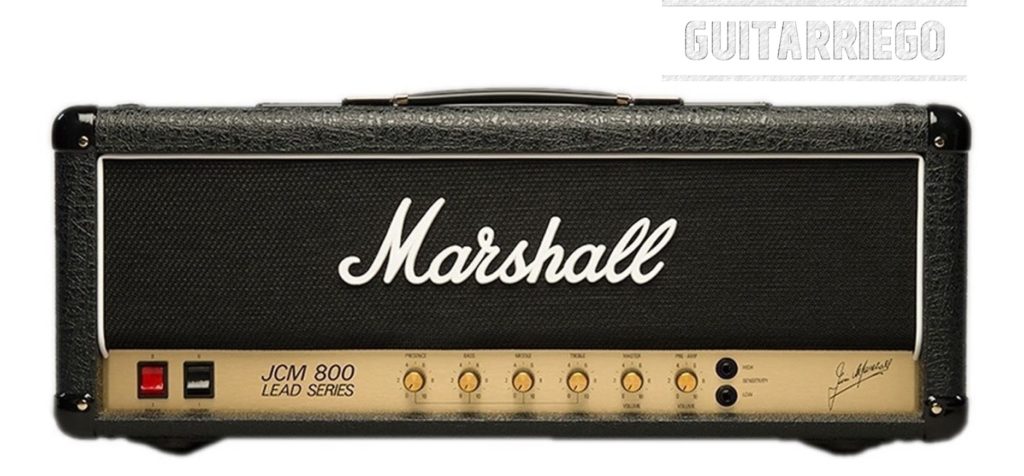 Circuit 2203, released in 1975 as JMP 2203, was Marshall's first amp with Master Volume. However, the circuit became famous when it was launched in 1981 under the name JCM800, Jim Marshall's initials plus, supposedly, the numbers on his license plate or car license plate.
Its design is very similar to the classic Marshall circuits. With the new Master Volume feature, the JCM800 enabled powerful distortion at low volume levels. If you are looking for a classic Marshall audio but more aggressive, this is your amp. Hands down one of the best high-gain classic guitar amps.
The Marshall JCM 800 soon became the quintessential choice for 80's metal and hard rock guitarists. Among them Slash of Guns n 'Roses, Kerry King of Slayer and Jeff Hanneman, to name just a few. The popularity of the JCM800 continued beyond the 1980s, becoming a favorite of Fugazi's Ian MacKaye and Rage Against the Machine's Tom Morello.
Demo video of the Marshall JCM 800, introduced as the "Most Aggressive Original Marshall":
Soldano Super Lead Overdrive SLO-100
When Michael Soldano introduced in 1987 the Soldano Super Lead Overdrive SLO-100 head, the entire high-gain amplifier market changed, and then more than 3 decades later, the original design remains unchanged and unparalleled.
Built following the Mesa Boogie Mark II design criteria, Micheal Soldano actually made modifications to the Mesa. The SLO-100 features a dual channel circuit with independent preamps driven by four 12AX7 tubes. A custom-designed transformer and three-band EQ with presence control for total mastery of tone sculpture, this masterpiece headstock widely coveted by collectors. Four 5881 tubes are used in the amplifier's power stage.
Pure preamp overdrive with super clean power. This made it possible to reach saturation levels with good quality and definition that had not been achieved until then.
With extraordinary quality and versatility, footswitchable channels that set it apart from the rest, this amp has been used by scores of guitarists, from Eddie Van Halen to Lou Reed to Mark Knopfler. The Soldano is without a doubt one of the best classic guitar amps of the modern age.
Peavey 5150
Result of a collaboration between Peavey and Eddie Van Halen and introduced in 1992, the 120-watt, two-channel head featured a sharp main channel that helped usher in a new wave of high-gain guitar amps in the early '90s.
Since Van Halen and Peavey parted ways in 2004, the model name was changed to the Peavey 6505 and it has become an industry standard for modern metal bands like Chimaira, August Burns Red, All That Remains, and others.
Mesa Boogie Dual Rectifier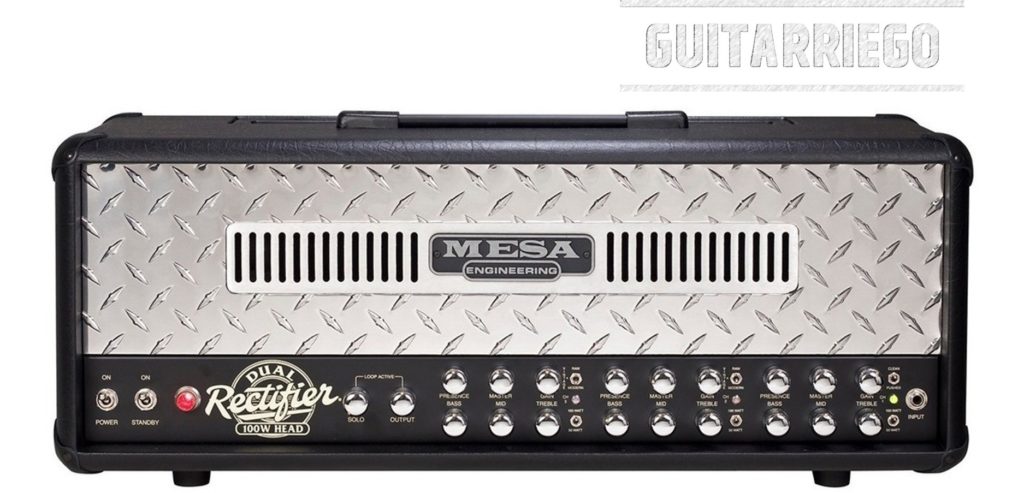 In 1989, Mesa Boogie launched a new rig targeting a different market with the Rectifier line of amplifiers. The Mesa Boogie Dual Rectifier is the most iconic and has become one of the most popular heavy rock amps on the planet. Today it is one of the best classic guitar amps for heavy metal.
Designed by Mesa founder Randall Smith, the amplifier uses silicone diodes that give it an extreme level of gain. The amp proved to be especially popular with hard-rock and metal bands like Living Color, Metallica, Tool, Korn, Soundgarden, and Foo Fighters. In 2009 Mesa revamped the Dual with a dedicated clean third channel, making this amp a super versatile working tool.
Related Post: Best 5 – 15 watts tube guitar amps and Best Free VST Plugins Guitar Amp.
You can share opinions or also chat about this and more with other musicians in our comments section.
You may also be interested in reading about Types of Guitar Amps.