Best Free Virtual Guitar Amp Simulators VST for PC and Mac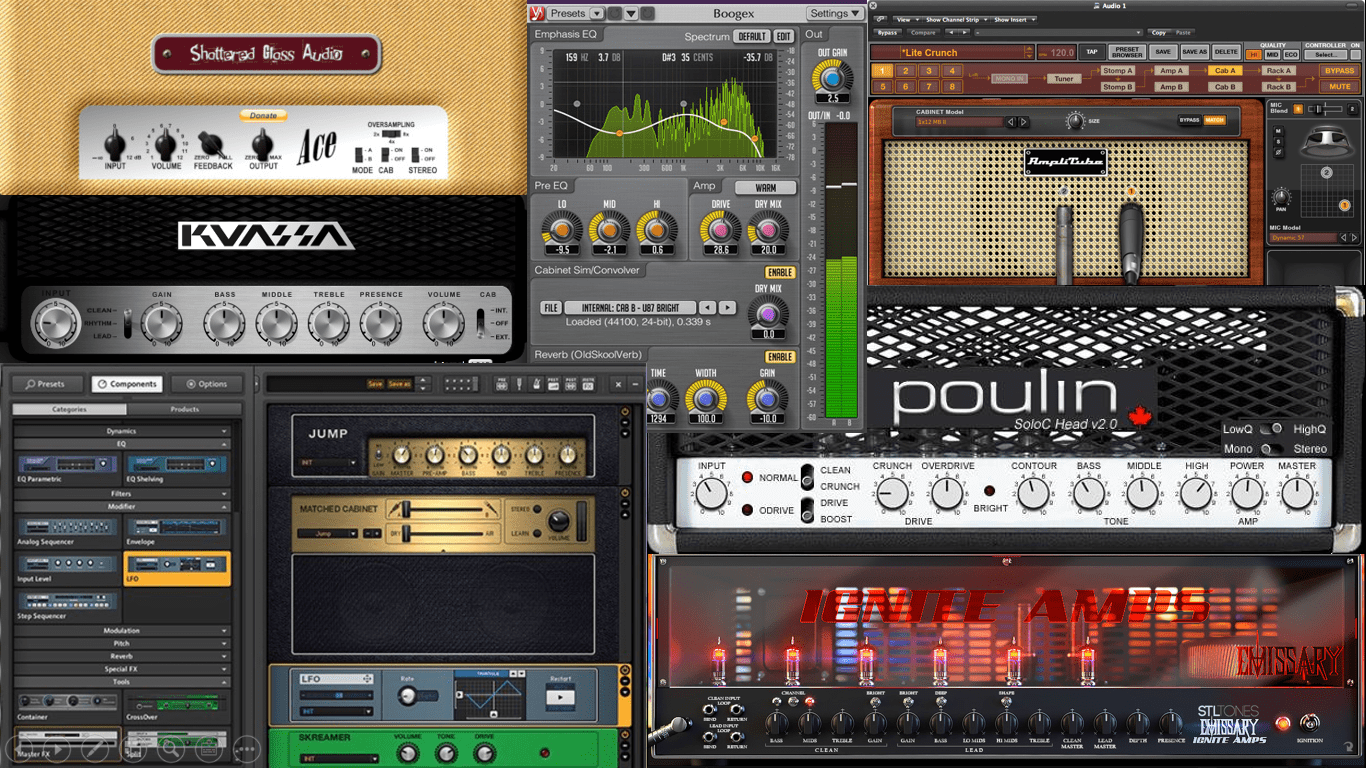 Virtual guitar amp pc simulators VST have evolved a lot and allow you to achieve great audio and many variations of styles and studio effects.
The 7 best free virtual guitar amps
It is not news that technology is evolving by leaps and bounds. This can be seen in the world of electric guitar with the great advancement of digital pc amplifier technologies; for instance the VST -Virtual Studio Technology-. These virtual amps are excellent emulators for real tube amplifiers.
In the market we can find software to simulate amplifiers, speakers, microphones, effects, rooms, environments and more. All this is achieved with great fidelity, ease of use and also totally free! These electric guitar softwares, freeware, applications or programs are commonly called Virtual Amplifier, PC Amplifier or simply Virtual Amp Simulator.
Thus, you can connect the guitar to the Laptop -PC or Mac- and simulate a complete audio chain including amplifier, head, speaker cabinet, the speaker themselves, microphone, room, environment, effects and other components of amplification. So with just one audio interface like Focusrite, Steinberg, Line 6, IK Multimedia or whatever, you can have hundreds of options for listening to your guitar through your computer and a headphone or a pair of studio monitors, which you can also use for your home studio.
In addition, you can record easily and directly with total flexibility and even edit and mix it if you have a DAW. Please visit the best free DAWs on the market.
In addition, as much as the critics insist that a virtual amplifier will never offer us the same feeling as having a real tube amplifier, the truth is that the digital amplifier for PC is very close and getting closer day by day. Furthermore, with the capabilities of smart phones, you can install them on your iPhone or Android and have better portability than what a portable amplifier gives us.
Free guitar amp simulators for all styles
If you don't have money to buy a virtual amp or you want to have many amps of different styles but you have no place; don't worry, VST digital technology is the solution, and this article is for you.
While there are a lot of amps for electric guitar, we will show you the most popular and successful ones. These seven free guitar amp pc simulators VST emulate legendary tube rigs and sound so good they will amaze you and allow you to create a virtual studio versatile enough and with the flexibility to fully exploit your creativity.
Also, see our guide of the best virtual electric guitar effects pedals available online for free.
List of the best free online guitar amp simulators
Native Instruments Guitar Rig 6 Player
IK Multimedia Amplitube 5
Ignite Amps
LePou Plug-in Suite
Voxengo Boogex
Shattered Glass Audio Ace
Kuassa Amplifikation Lite
Native Instruments Guitar Rig 6 Player
Guitar Rig 6 also has its free "lite" version, which includes the same sound quality as the paid one, giving you a realistic tone. The limitations of the free Guitar Rig 6 are in the options of cabinets, effects pedals, positioning, presets and other options. It has an intuitive and easy-to-use interface. The Guitar Rig is for many the best virtual guitar amp online.
You have the option of an electric guitar amp simulator for pc and a cabinet with the free version, as well as access to some guitar effects pedals. The guitar pedalboard options are quite robust, with a Tubescreamer overdrive, some delays, and other options like the noise-gate, effects rack, tuner, compressor, and EQs. You can make amp and effects signal chains. You have a wide variety of creative and realistic tools to capture all your music and creativity.
This virtual amp simulator freeware offers the emlulation of one of rock's most iconic tube heads, the Marshall Plexi JMP.
Free Guitar Rig 6 Download Page Requirements / Compatible with Windows / Mac 64-bit, VST / AU / AAX.
IK Multimedia Amplitube 5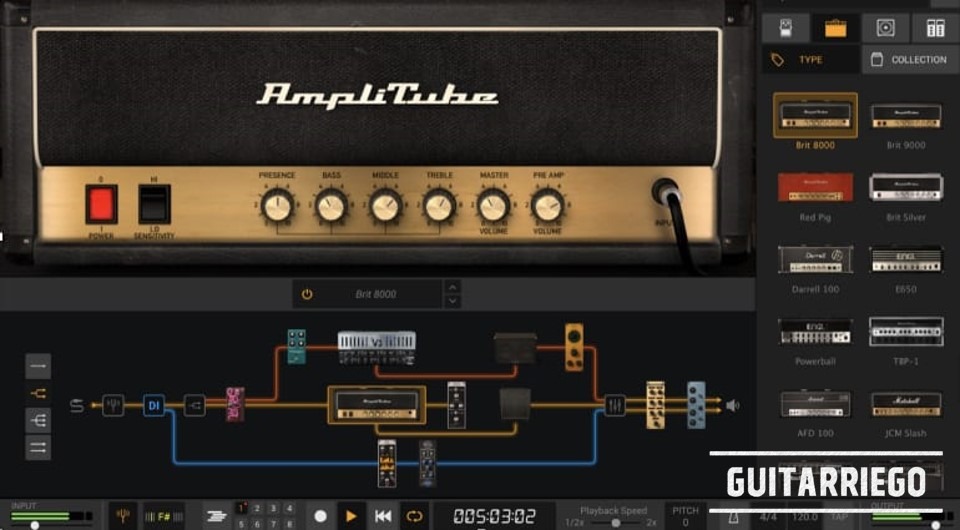 The Amplitube was one of the first online softwares that evolved bringing virtual guitar amp pc simulators to a high level of quality. IK Multimedia has greatly expanded its platform. This is a guitar amp plugin that recreates the entire guitar signal flow very realistically.
The free version of the Amplitube 5 program or plugin offers four amps and cabinets for all styles, rock, blues, pop, heavy metal and more. This freeware also has cabs, lots of POD pedals, speakers, effects tracks, three microphones, among other things. The interesting thing is that it includes Cab Room, that is, a virtual recording space where you can change cabinets, speaker and microphones.
Download page IK Multimedia Amplitube 5 requirements / compatible with Windows / Mac 64-bit, VST2 / 3 / AU / AAX.
Ignite Amps
Ignate Amps is the only company of these that offers both software and hardware. The virtual guitar amp simulator lineup features several different styles of amps all designed for heavy rock styles. Both the simulation work of the pre-amp stage and the amplification power stage are done creatively and realistically. Below is the Ignate Amps collection of amps:
The Anvil is a modern 3 channel head: Clean, Rythim and Lead. It has a very good tone for scooped metal, based on the Mesa Boogie Dual Rectifier.
The Emissary sonically and graphically resembles a "Diamond Nitrox". Models EL34, 6L6 and KT88 tubes with power tube and mono or stereo signal output.
The NRR-1 is software based on a "famous boutique amp" from 1988. It also has 3 channels: Clean, Rythim and Lead. This freeware includes the features and functionalities that come loaded with the other virtual amplifiers too.
Download page Ignite Amps requirements / Compatible with Windows / Mac 64-bit, VST / VST3 / AU / AAX.
LePou Plug-in Suite
LePou has for years been one of the most innovative of free simulator freeware with its guitar amp plug-ins. It offers all types of amp ideal for rock and heavy metal. Just to name a few: Marshall, Soldano, Mesa Boogie, Peavey 5150 among others.
It can be used in mono or stereo and has several functionalities that allow shaping the tone in each of the heads. They also work with any type of cabinet and impulse response loader, so the ways you can mix and match your tones are virtually endless.
Unfortunately, the site is no longer online, but the virtual amp VST plugins can be found through a simple search. It may take some time and research to get all of them, but given their audio quality, it's well worth the effort.
Download page LePou Plug-in Suite requirements / compatible with Windows / Mac 64 and 32 bit, VST / AU / AAX.
Voxengo boogex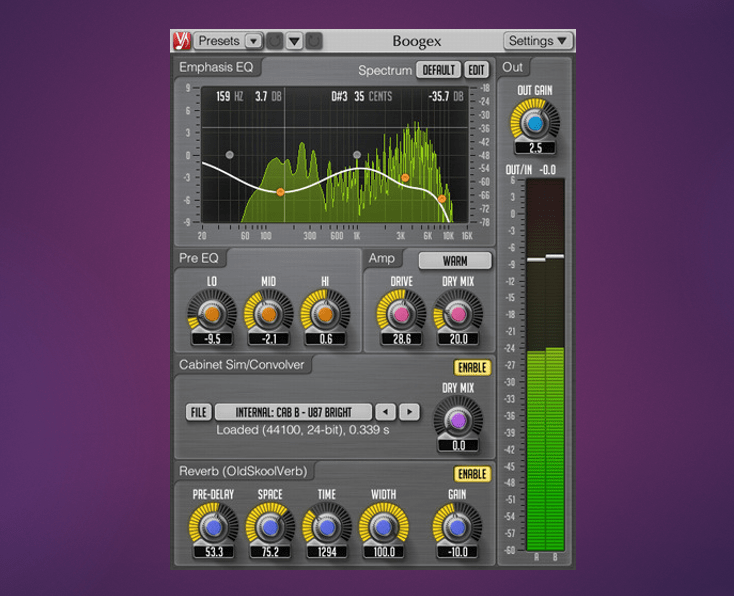 Boogex is Voxengo's free pc guitar amp simulator. It is designed for low and medium gain tones. While it can produce higher gain sounds, it does get a little "fizzy" and compressed.
It has a large number of impulse responses included, and can be used with impulse responses from other companies. This guitar amp simulator VST Plugin also offers a wide variety of free online virtual electric guitar amps, cabinets and microphones, being another of the best freeware on the market.
Download page Voxengo Boogex guitar amp requirements / compatible with Windows 64 and 32 bit, VST / VST3 / AU / AAX.
Shattered Glass Audio Ace
This is a simulator of the mythical vintage Fender Tweed Champ 5 watt amp from the late 1950s. This amp was also used on some of the best recordings of all time.
There are additional controls for adjusting the amount of feedback, among others. It comes with an impulse response so you don't have to use a separate IR charger, but it's nullable and you can use the digital head with whatever type of cabinet response you want.
Download page Shattered Glass Audio Ace requirements / compatible with Windows 64 and 32 bit, VST / AU.
Kuassa Amplifikation Lite
Kuassa offers simulations of some of the most classic amps of all time. In its free "lite" version, it offers an amp with a tone that falls between a Marshall and a Peavey. It provides great gain for heavy rock styles, but also cleans very well.
It stands out for its dynamics, articulation and response, standing out in tones from the late 70s and early 80s.
Download page Kuassa Amplifikation Lite requirements / compatible with Windows / Mac 64 and 32 bits, VST / AU
Free Virtual Guitar Amps Review Conclusion
As you can see, there is a wide range of virtual electric guitar amp emulators that are totally free. You can use them, study them and if one convinces you and you really like it, you can go to the virtual store and buy it risk-free.
There are options for all styles and with greater and lesser complexity, for classical and vintage guitarist and for modern one, for student as well as for the professional who makes productions. You can simply use the free electric guitar amp simulator for pc or mac, or use an entire virtual studio in which you control the entire signal flow of your guitar from the guitar to the microphone.
Surely there will be an online guitar amplifier plugin for PC that meets your needs, resources, preferences and tastes and allows you to find the perfect tone or, at least, it will allow you to identify the way to achieve it.
What is your favorite free online virtual electric guitar amp emulator for pc?
Also visit our guide to build your cheap professional home studio.