Best Free Guitar Effects Pedals Plug-ins VST / AU freeware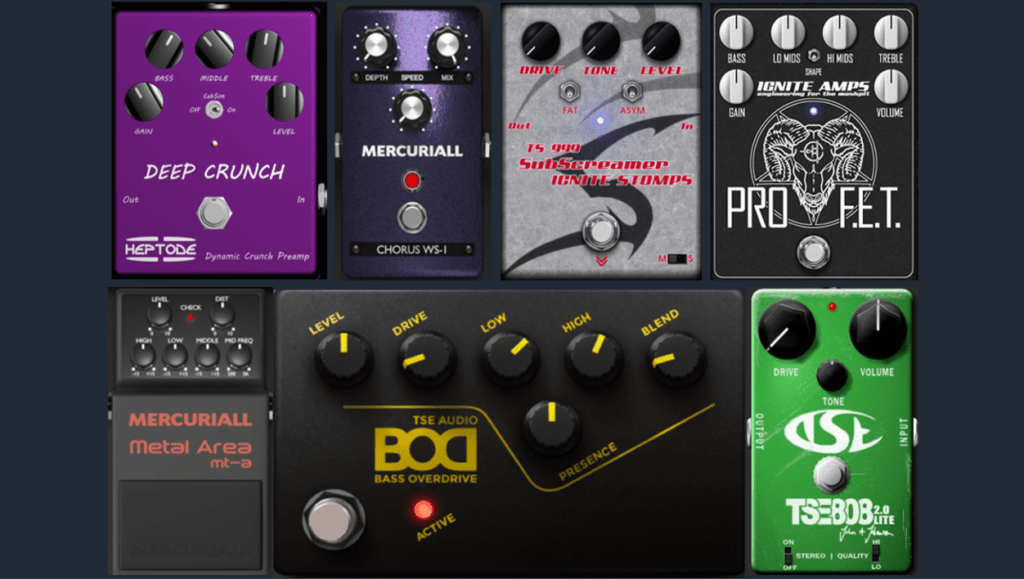 Modeling technology has evolved a lot in recent years, these are the best free guitar effects pedals plug-ins: overdrive, distortion and chorus VST / AU freeware.
Free guitar effects pedals simulation VST plug-ins for pc and mac
While you can find free full-featured online PC and Mac amp simulation plug-ins today that come with included electric guitar pedals, it can always be a great choice to use these free pc electric guitar effects pedals VST / AU plugins, completely free. Although they are designed for guitar tracks, they can be used in really creative ways like vocals, electric basses, drums, synths, keyboards and more.
These are some of the best free guitar effects pedals available that are right up there with the best paid plug-ins.
Best free guitar effect pedal VST plugins for pc and mac
TSE808 2.0 Lite – TS-808 free
TSE Audio offers its digital recreation of the most famous overdrive pedal of all time, the Tubescreamer TS-808. Provides a wide range of gain with that characteristic midrange standout. It also includes two useful Switches that allow it to be used in Mono or Stereo or Quality Hi and Lo level which alters the character of how gain and EQ interact.
Download page free TSE808 Requirements / Compatible with Windows and Mac 64/32-bit VST2 and AU.
Ignite Amps TS-999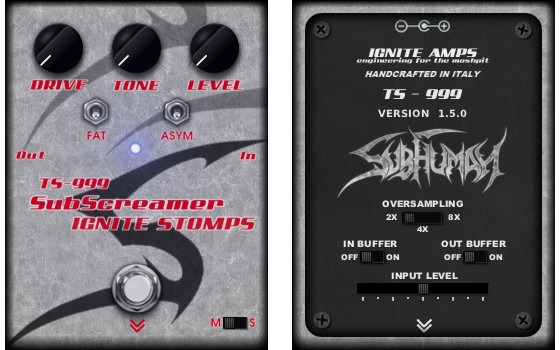 We continue with another version of an Ibanez Tubescreamer, the most popular and classic Overdrive Pedal for blues and rock, but in this case is a TS9. This one has some additional options that other similar pedals don't. Ignite Amps is able to accurately model analog circuitry, and that is reflected in the sound and quality of its software. It has the classic three-knob controls, and adds a Fat switch that modifies the bass response and a switch to change the clipping from asymmetric to symmetrical.
Another very cool feature is that it comes with a switchable buffer. This is very useful for integrating with a chain of real pedals to get the most out of your tone. It's a great complement to a clean sound, which can easily bring a crunch sound to a sweet overdrive.
Download page freeware TS-999 Requirements / Compatible with Windows and Mac VST / VST3 / AU.
Mercuriall Metal Area
This pedal emulates the classic pedal of Boss. In this case a popular distortion for Metal. Based on Boss Metal Zone. This recreation features all the gloriously compressed gain so prized by heavy metal guitarists. It offers the same controls: 3-band equalizer that allows you to adapt the range from 200Hz to 5kHz. Built on Mercuriall's Neural Hybrid Engine technology. In many ways it sounds much cleaner and clearer than its inspiration. While it is designed for high gain sounds, it never seems to be overly compressed or distorted. It can also work in stereo.
Heptode Deep Crunch
Heptode is an Asian manufacturer that produces hardware and software guitar effects. The Deep Crunch is based on its analog pedal of the same name. This one is based on the Soldano SLO-100, one of the most popular hi-gain amps of all time. Its controls are the 3-band equalizer, gain control and Level. It has a cabinet simulator, which is activated from a switch. It works for all styles of rock.
Download page free Heptode Deep Crunch Requirements / Compatible with Windows 64/32 bit, Mac VST 64 bit.
Ignite Amps Pro F.E.T.
The Pro FET is a digital pedal that models a hi-gain JFET based overdrive / distortion, providing all the saturation and harmonics you would expect from a real pedal. Through the equalization section you can, through the four controls on highs, lows and mid-highs and lows, set the equalization. While the Shape switch changes the character of the EQ curve. This is a fast attack distortion that's perfect for metal and other heavy styles. It has either mono or stereo output, and all controls can be automated within your DAW.
Download page free Ignite Amps Pro F.E.T. Requirements / Compatible with Windows 64/32-bit, Mac VST 64-bit, AU, AAX.
Ignite Amps TSB1 Tyrant Screamer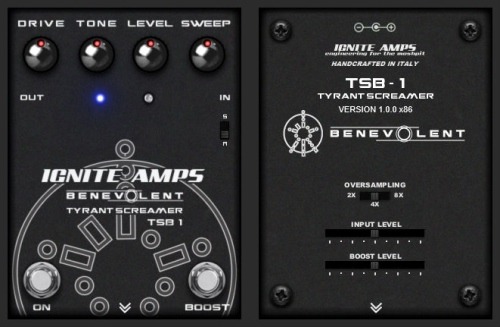 The Ignite Amps TSB1 Tyrant Screamer is an overdrive built for the heaviest styles. The starting point is the Tubescreamer. It has a three-knob configuration, and an additional Sweep control that adapts the midrange. It was specifically designed for lower tuned guitars so that they stay firm and fast with the lower registers. Like the other Ignite plugins, it is a meticulously modeled simulation with controls that can be automated, oversampling options, and mono or stereo output.
TSE BOD Bass Overdrive
The TSE BOD Bass Overdrive is a version of the Tech 21 Bass Sansamp. It can be used with guitars if you want to be experimental. The Low-end is where this Overdrive lives. The pedal has Drive and Level controls, as well as Bass and Treble EQ. Although it does not have Mids, it offers a presence control, which gives the way in which the mid-ranges are sculpted, by establishing how the other equalization points are arranged. Blend allows you to define how much clean signal to have.
Download page free TSE BOD Bass Overdrive Requirements / Compatible with Windows 64/32-bit VST, AAX – Mac 64/32-bit VST2 / AU / AAX.
Mercuriall Chorus WS-1
This last pedal is the only modulation pedal included in this list of the best free guitar pedal plug-ins. It is modeled after the BOSS CE-1, the famous Chorus Ensemble. The amount of modulation is controlled with the Depth knob, and although at lower settings there is not much detuning, above 25% it begins to introduce changes in the tone. The Speed knob controls the pace of the tone change, while the Mix knob sets the overall Dry / Wet balance. It can be used in mono or stereo, and while it's more on the subtle side of Chorus, it adds a dimension that is a great alternative to the Chorus plug-ins that come bundled with DAWs.
Download page free Mercuriall Chorus WS-1 Requirements / Compatible with Windows 64-bit VST / AAX, Mac 64-bit VST, AU, AAX.
You can share opinions or chat about this and more with other musicians. Let us know what do you think about this in the Comments section below.
Related Notes: Best Mobile Apps for Guitar iOS and Android .