Guitar Pro 8 Review: Features, Tips, and Opinion
Guitar Pro 8 is the best sheet music and tab editor software with MIDI functions, ideal for learning, composing and sharing songs.
The Guitar Pro is renewed
Arobas Music has released the latest version of its successful sheet music editor, Guitar Pro 8. This software is a powerful tool for the guitar student, composer and anyone who needs to share music.
The new version stands out for the improvement of its Realistic Sound Engine sound bank and the possibility of adding an audio track.
In this review we will tell you about its strengths, weaknesses, advice and whether or not you should buy the Guitar Pro 8. At the end of the review we have a surprise for you!
What is Guitar Pro 8?
Let's start with the basics, Guitar Pro is a sheet music and tablature editor software whose first version was released in 1997. In this guitar program you can write, save, share and even play sheet music files.
Over the years Guitar Pro has evolved into a MIDI editor and sequencer.
Guitar Pro 8 can display standard notation as well as tablature. But to get the most out of it, we suggest you have a basic understanding of how to read sheet music: learn to read guitar music.
Who is Guitar Pro 8 for?
Guitar Pro is ideal for student guitarists, songwriters, and anyone who needs to share music.
The main ways of using or functions the Guitar Pro 8 are three:
Music transcription: If you want to transcribe music for guitar or other musical instruments. Also, you can share Guitar Pro files with other musicians.
Learning / Jamming: To learn to play songs or use it for jamming on backingtracks. There are countless free Guitar Pro files available for download. Also, you can pay for a subscription to mySongBook to get access to all the official Guitar Pro songs.
Song composition: With Guitar Pro 8 you can write songs, combining different guitar tracks, also drums, bass and other instruments.
Main features of Guitar Pro 8
Share music
All Guitar Pro files can be shared, be it your own songs or famous songs. Thus, you can send digital files to other GP8 users, as well as print them. Also, there are sites where you can download Guitar Pro TAB files like Ultimate Guitar.
Write songs, arrangements, other instruments and more
Guitar Pro is not just guitar editing software, it also has a built-in sound engine that includes all the musical instruments you can imagine. Thus, you will be able to add tracks of drums, bass, keyboards, several guitars and whatever you want to your songs.
In fact, one of the best things about Guitar Pro is the possibility of writing the melodies of several guitars, along with the rest of the instruments. Thus, you can write different layers of melodies that allow you to turn a simple three-chord song into a great piece of music with different intensities, details, and more.
In addition, Guitar Pro allows you to edit and mix your musical pieces, controlling the volume and Eq of each one of the instruments, like a channel in a recording studio console. Also, you can pan the different instruments.
Learn songs
Guitar Pro 8 features a huge bank of popular songs from famous artists. Thus, you can find perfectly transcribed songs from The Rolling Stones, The Beatles, AC/DC, Rush and many other iconic bands from Rock, Blues, Pop, Country and much more. In order to access it, you must buy a subscription of mySongBook that can be for one month, for six months or for one year, which are worth USD 5, USD 20 and USD 30 respectively.
Warning: There are sites that share sheet music or tablature files for free that are usually not accurate. Therefore, we recommend using the official Guitar Pro files.
This program also includes a loop function to repeat those parts that are more complex to learn. Of course, you can also lower the playback speed to make your learning easier.
As a practice tool
In addition to songs, Guitar Pro 8 includes tutorials and a library of chords, scales, and exercises. Also, for those who have not yet mastered standard notation, this program can be a great help tool to learn it.
Guitar Pro 8 enhancements
Playing audio tracks
Perhaps the most notable improvement in Guitar Pro 8 is that it allows you to import an audio file to play along with other tracks. The program synchronizes the imported track with the score. This new feature takes the user experience to another level. Without a doubt this is super useful for transcription, practice and songwriting.
Thus, with the audio track function you can:
Import a song you want to learn, and slow down and loop on the more difficult sections.
Import a song to work on the transcription.
Import a voice track or other instrument to work on writing supporting parts.
Unfortunately, you can only add a single audio file per Guitar Pro file. So don't expect to be able to import multiple audio tracks like in a DAW. So while it doesn't work as a DAW, Guitar Pro 8 allows you to make preliminary demos before moving forward with a recording in your Home Studio.
Built-in virtual pedalboard
The new Guitar Pro 8 adds a practical virtual pedalboard that makes it easier to manage guitar effects compared to the previous version. Thus, you will be able to modify and adjust the effects in a single window in a friendly way.

Musical scale diagrams
At any point in the tab or score you can insert a small customizable scale diagram like the one below.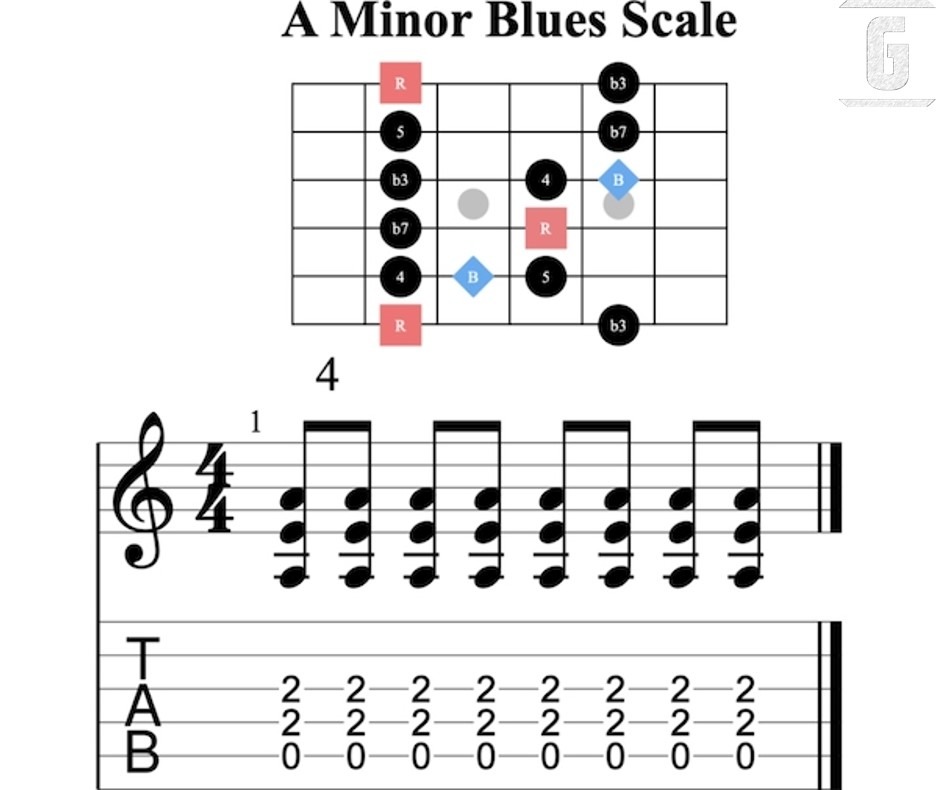 These music scale diagrams work in any view, eg page view, portrait, landscape, etc., and can be customized with text, colors, and symbols. These diagrams are adjustable, so you can modify the number of strings and frets, change colors and add text. If you highlight part of your track, Guitar Pro will automatically fill in the scale diagram with the selected notes.
This function is particularly useful as a guide for beginning students who do not yet know standard notation and scales.
In addition, Guitar Pro has a musical scale tool that will indicate the scale of the track. This feature is particularly useful when working on songs that use scales that you are not familiar with.
If you're learning to read a tab, adding scaled diagrams like these can give you another way to visualize the parts.
We highly recommend playing around with this feature, as it can be quite useful when working on songs that use scales you're unfamiliar with, or that combine scales.
Improved mixing features
Guitar Pro 8 has the Master function for each of the instruments or tracks. You can regulate the volume and pan of each track. In addition you can also edit each of the pieces of the battery, raise or lower the volume and adjust the panning of the Hi-Hat, the toms and other components.
In addition, the program has a focus dial that is displayed in the lower Master panel. This function allows you to automatically raise or lower the volume without the need to do it manually. Great feature for working on a mix or when learning a song.
Easy to use
Guitar Pro is a very friendly guitar program. Despite the large number of functionalities, its use is very intuitive. In addition, this new version adds the visual metronome.
Consider that, as we already mentioned, it is essential that you have at least basic knowledge of standard notation to get the most out of GP8.
General Impressions of Guitar Pro 8
Guitar Pro is a super powerful and useful guitar tab and sheet music editing program. This new version takes the experience of guitarists to another level. The improvements are fundamental oriented to the quality of the sound. Perhaps, the one that was the main weakness of the first versions.
Let's look at the main pros and cons of Guitar Pro 8:
Advantages of Guitar Pro 8
Very good quality of MIDI sounds
Adding an audio file is incredibly useful
Musical scale diagrams
Command palette for easy audio editing
Cons of Guitar Pro 8
You can only add a single audio file, it would be very handy to be able to upload more
Should you buy Guitar Pro 8?
If you know how to read music, you like to compose, share your songs or learn songs, without a doubt you have to have Guitar Pro 8.
The surprise
In our two Instagram accounts, in English and Spanish, we will be giving away licenses for Guitar Pro 8 very soon. Follow our accounts @Guitarriego Magazine and @Guitarriego so you don't miss the giveaway!