Best free DAWs: music recording, mixing and editing software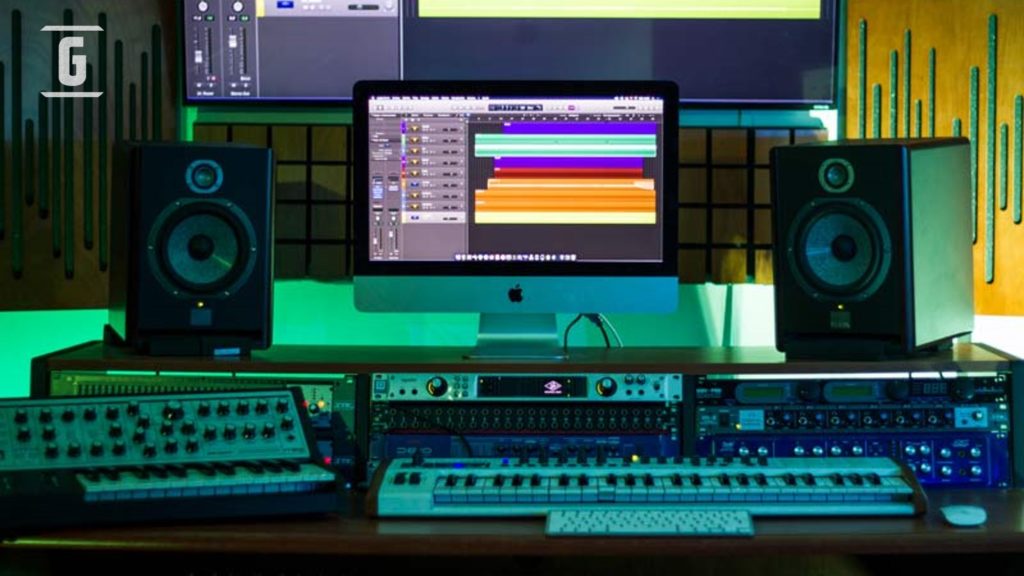 The best free DAWs for music production, VST programs and apps to edit music totally free to build your own home studio.
What is a DAW in music?
A DAW or Digital Audio Workstation is a computer program or software for recording, editing, mixing and producing audio files, that is, music.
We recommend that you visit our guide on how to set up a home professional recording studio -Home Studio-.
What is the most used or popular DAW?
Pro Tools is the most widely used music editing program. This DAW has generally become the industry standard. But in the last 10 years or so there have been quite a few new music recording and editing software in the industry. Best of all, some of these music recording and editing DAW programs are completely free!
Studio Console, Desk or Workstation – recording and editing – vs DAW free or paid?
Technology today allows you to get DAWs, both paid and free. All of these free music recording and editing programs offer the same functionality, and sometimes even better, than traditional studio desk consoles or recording and mixing workstations that cost a lot of money. But it is important to bear in mind that the quality of the audio interface used is essential. Of course, as long as we have the musical talent of the artists and the knowledge in the use of recording tools.
We're not saying that DAWs are better than analog gear. Analog quality is generally better than digital. However, the functionalities of digital can be much broader, as well as more accessible to musicians or independent music producers.
We recommend the best free online VST guitar amp simulators to use with your DAW.
Guide: Which free or paid DAW best suits your needs?
The best music editing program is the one that best suits your knowledge. Thus, a simple DAW will be the best option for a beginner. As you advance in the amazing world of music editing, you will need a more complex PC / Mac music recording and editing program that gives you more tools.
Another factor to consider is its interface. Thus, you should look for a software to edit music that has an interface that facilitates its use. So, the main concept in this is that you find the free DAW with which you can best work, rather than in the qualities of the software itself.
Best free DAW – programs to record and edit music – freeware
Avid Pro Tools
Cubase 12
Reaper
Tracktion Waveform 12 Free
Presonus Studio One Prime
Cakewalk by BandLab
Ableton Live 11 Lite
GarageBand de Apple / Mac
Avid Pro Tools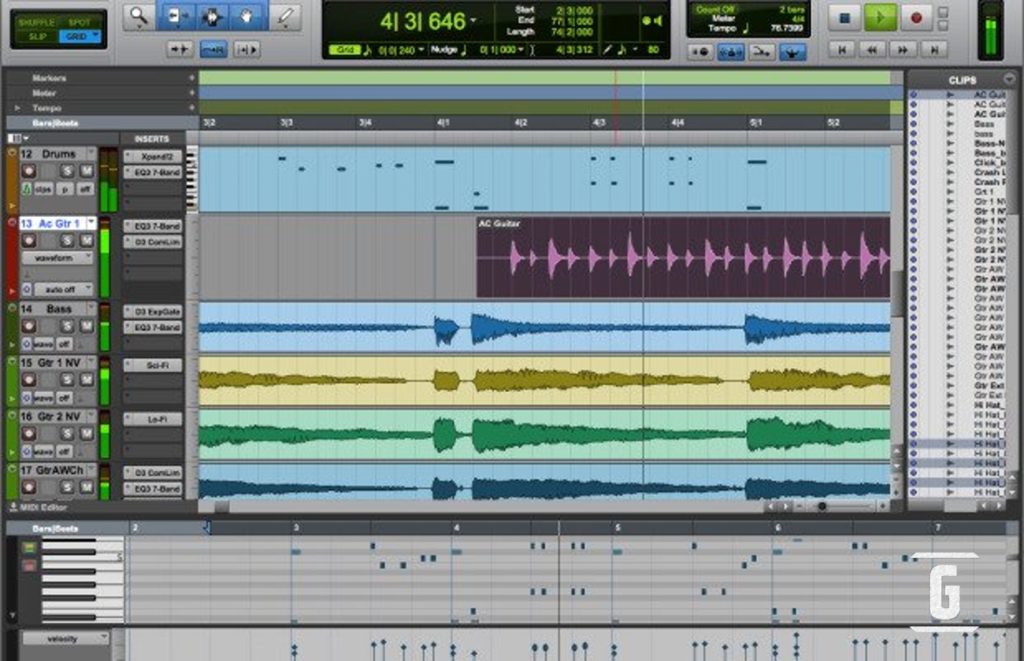 Opinions on this free music recording and editing program vary widely, but Pro Tools is undoubtedly unique and the most popular DAW in the industry / market. The Avid Pro Tools Trial is the full version of the most widely used DAW, but it is a 30-day trial version. Unfortunately, the company no longer offers the Avid Pro Tools Trial, a stripped-down but completely free version.
Pro Tools was designed to provide a workflow based on traditional analog consoles. The Avid Pro Tools Trial will allow you to test all features for 30 days. 23 add-ons are included that come with the paid version, including the famous VI Xpand! 2.
Once the trial period is over, in order to continue using it you will have to pay for a license. The available Avid Pro Tools licensing options are:
Pro Tools Artist is priced at USD 99 for a 1-year license
Pro Tools Studio is priced at USD 299 for a 1-year license
Pro Tools Flex is priced at USD 999 for a 1-year license
Avid Pro Tools Trial download page | Requirements / Windows / Mac compatible.
Cubase 12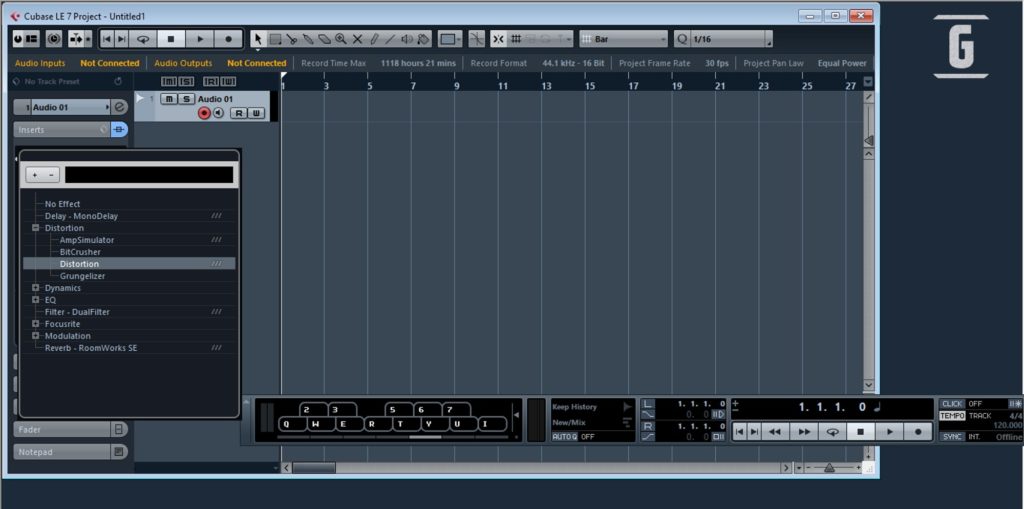 Steinberg's Cubase has been gaining ground in the world of digital and music engineering for several years. Like Pro Tools, it has the same familiar flow as traditional analog recording studio consoles, desks or workstation.
Steinberg used to offer Cubase LE as an introduction to the world of their DAW, a free option but with some limitations. Unfortunately it is no longer available, and in order to use it for free, you must take advantage of the 30-day trial period it offers.
The Cubase Pro Trial has no feature limitations, but you can only use it for 30 days. After the trial period, you must buy one of its versions:
Cubase Elements 12 whose price ranges from USD 59 – USD 99
Cubase Artist 12 which is priced from USD 197 – USD 329
Cubase Pro 12 priced at USD 347 – USD 579
Cubase download page | Requirements / compatible with 64-bit Windows / Mac.
Reaper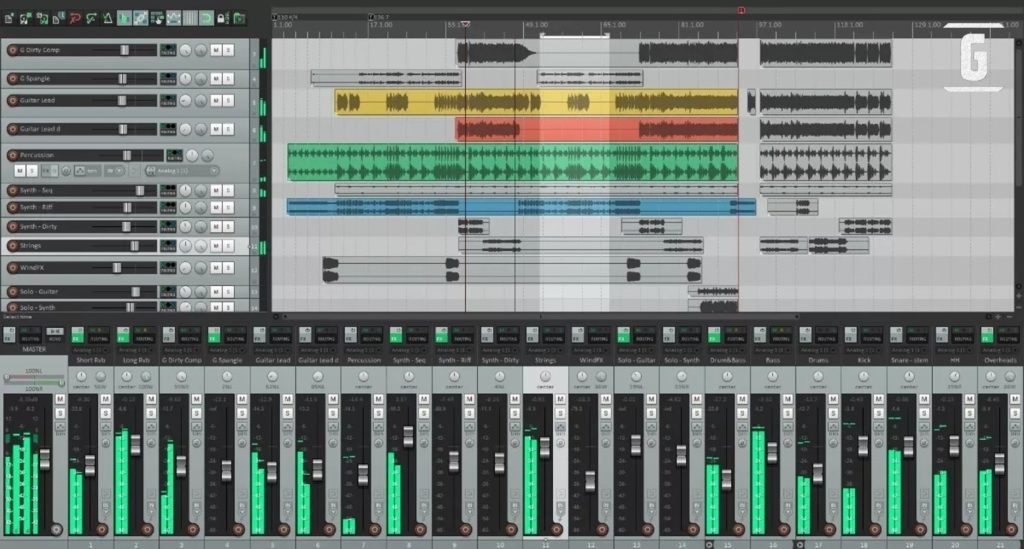 Reaper has been the favorite DAW of many for over a decade. It's technically not free, but it does have a 60-day unlimited trial license that is worth trying. It is a fantastic music recording and editing program in many ways. Some free DAWs make things a lot more difficult than they should, while Reaper makes virtually every aspect of the recording and editing process easy.
There are also several different styles available so you can change the layout of the GUI -Graphic User Interface-, and it even comes with skins that adopt the aesthetics of other free DAWs. So if you're used to a specific visualization from another DAW, Reaper makes the transition easier for you. It is made to be highly customizable in every way. So no matter what you are used to or what you are looking for, you can tailor the program to your needs.
The full Reaper license is priced at just $60, very cheap compared to other DAWs, and it was a great move on their part to give everyone full access for two months.
Reaper download page | Requirements / compatible with Windows / Mac 64-bit, 32-bit.
Tracktion Waveform Free 12
One of the coolest apps is Tracktion 's full-featured music recording and editing freeware, the Waveform Free version 12. The layout is unique, using a single window with the project flowing horizontally. Using a unique drag-and-drop aspect in the workflow Waveform Free provides an interesting way to sequence a song. It features unlimited tracks and requires virtually no resources.
The design is not the most attractive, but those who are used to a workflow like the one found in programs like Fruity Loops will feel comfortable. One of the features of the Waveform Free is what they call clip effects, which allow parts of a track to be processed without affecting the entire track. This can be accomplished with automation in other free DAWs. But Waveform Free simplifies it, making it perfect for music genres like electronic styles.
Tracktion Software Corporation offers a robust DAW in the hope that you will like it so much that you buy its updates and plugins. While it may be a bit particular, the Waveform Free has plenty of innovative features packed into an upgradeable format.
Tracktion Waveform Free download page | Requirements / Windows / Mac / Linux compatible.
Presonus Studio One Prime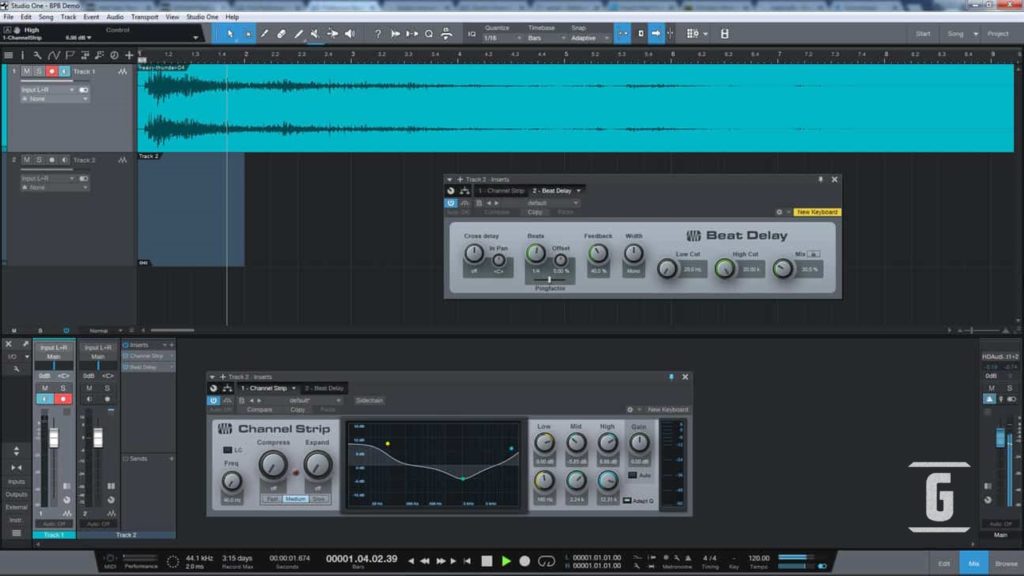 In recent years, Studio One has earned its recognition among many sound engineers. Even longtime Pro Tools users have even made the leap to the software due to its familiar feel and feature set.
Presonus Prime offers unlimited tracks, 9 stock plug-ins, and 1GB of loops and samples to play with. But the free version of the Presonus Studio One Prime cannot run VSTs, only the built-in effects can be used, severely limiting the audio processing options. The effects of freeware are not bad, but for those who are used to using other VSTs or plugins, this is a big disadvantage. It is important to know that it is not supported by Presonus either, but there is a support community in the forum.
It comes with most of the full version mixing and editing tools. The limitation of the VSTs is for you to buy the full version later. Most of the editing / arranging features found in Studio One 6 come with Prime, but some features are missing. This music recording, mixing and editing program is a great introduction to the Presonus universe of digital audio recording, albeit limited as a standalone DAW.
If you want you can also take advantage of the trial period of Studio One 6 for 30 days. If you don't buy it, after the term expires, it will revert to the limited free version of Studio One Prime.
Presonus Studio One Prime download page | Requirements / Windows / Mac 64-bit compatible.
Cakewalk by BandLab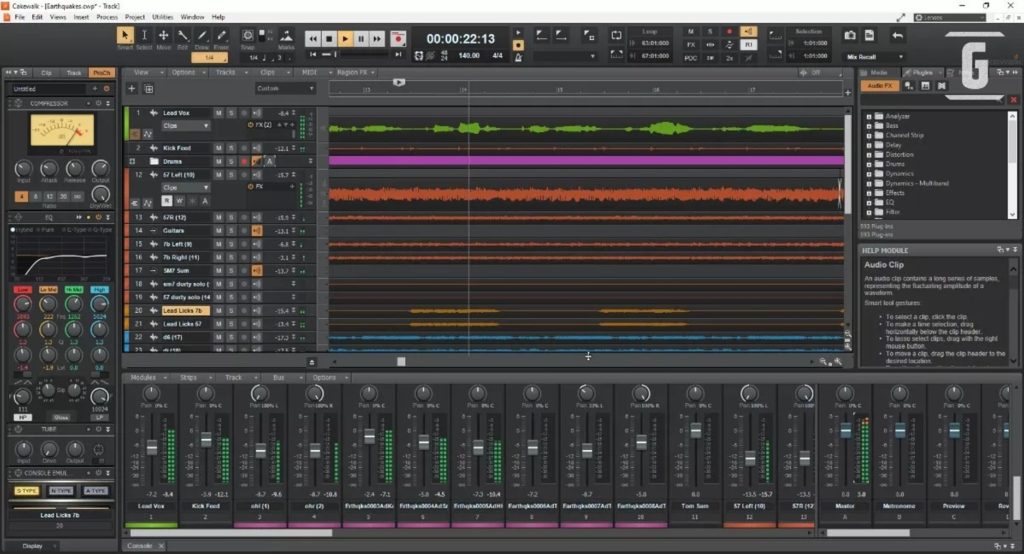 Formerly called Sonar, Cakewalk is a full-featured DAW that is totally free. Unfortunately, it is only compatible with Windows. It is a 64-bit engine that can run VST3 and DirectX plug-ins. This free recording editing, mixing program offers unlimited tracks, which is a feature not usually found in freeware.
There is great integration with Microsoft products like the Surface line, so it seems they are confident of a bright future for this reborn software. The GUI or graphical user interface can be a bit cluttered, although it allows customization to some extent. There is a special "Pro Channel" that allows you to mix effects and takes up a good amount of space, but it is a unique version of effects processing.
Cakewalk by BandLab download page | Requirements / compatible with 64-bit Windows only.
Ableton Live 11 Lite
Live built its reputation primarily in the world of electronic music. It has features that work specifically to produce that modern style of music where other free DAWs fail. It may have the most comprehensive MIDI functionality of any DAW available, free or not. On the downside, it comes with some pretty steep track limitations.
It also has integration with various applications from other brands or manufacturers. So you can make music outside of your studio and add them. It's a great free DAW to get you started in the world of Live. Live 11 Lite is available in 64-bit format for Windows and Mac
Ableton Live 11 Lite download page | Requirements / Windows / Mac 64-bit compatible.
GarageBand Apple / Mac
GarageBand is a small application for recording, editing and mixing music that comes on Macs. Although it is underestimated by many, it has some great features, especially for those just starting out in this world of audio or music production.
It comes with literally thousands of loops and samples and provides an easy way to put them together. One of the most remarkable aspects is its operation and the extent of the sounds. You don't even need to play an instrument to make music with it. GarageBand is clearly not an option for a professional, but it is a great way for beginners to learn about this fantastic world of audio production.
GarageBand Apple / Mac download page | Requirements / compatible with 64-bit Mac only.
Leave us a comment below with your DAW experience.
Don't miss our guide to the best free guitar effect pedal VST plug-ins online.
You can share opinions or also chat about this and more with other musicians in our comments section.