The 10 best audio interfaces for electric guitar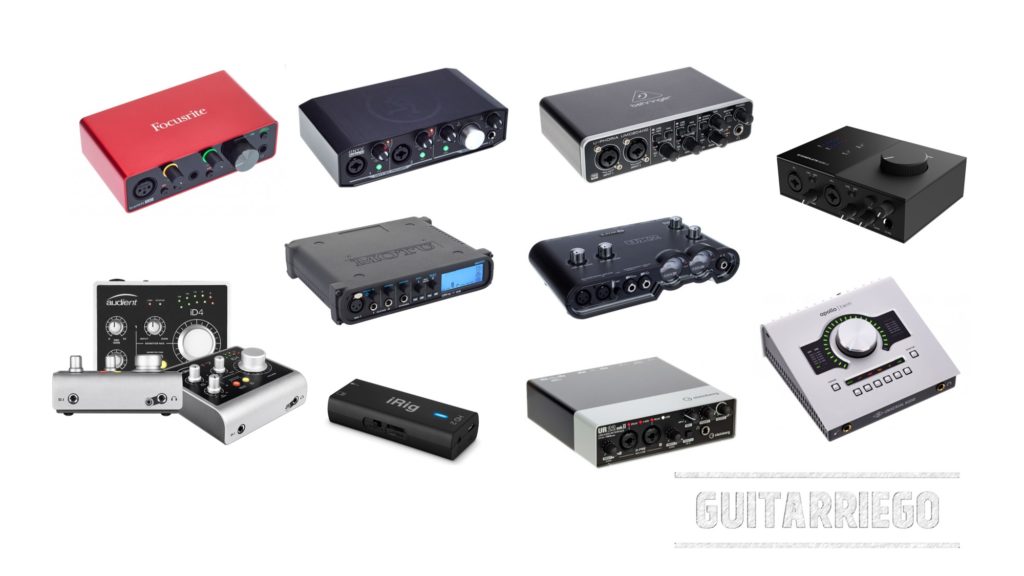 The best audio interfaces for electric guitar, we show you all the options so that you can choose the best usb audio interface for you.
Best usb audio interface for guitar
Thanks to the great evolution of computers, and even cell phones, nowadays you don't have to go to a recording studio to be able to record your music. Today with a little investment in equipment and knowledge, you can build your own home or home studio -home studio- and achieve a very good recording quality. If you invest what the recording sessions would cost you in a studio, and you invest it, you can get your own recording room.
A fundamental element to transform your computer or pc into your recording console, in addition to the DAW, you require a USB audio interface. You can see our note with the best free DAWs.
Audio interface for recording electric guitar
We will see the best USB audio interfaces for recording on the market and we will see each interface so that you find the one that best helps you record your electric guitar. Thus, any professional or amateur guitarist, with a little study and a home studio – home studio – can become his own recording technician. In this article we are going to talk about this audio device, obviously targeting guitarists.
It's worth noting that today, many multi-effect pedalboards can act as an audio interface, saving you a lot of work and money.
What is an audio interface and how does it work?
The audio interface is a digital device that allows us to connect our guitar to the computer -pc or mac-, and use it as an amplifier using virtual guitar amplifier software, and DAWs to play the guitar, apply effects to the sound, record, mix , edit, and much more.
If you want more information to know what to look for when buying an interface, go to the appendix at the end of the article.
List of the best USB audio interfaces for guitar
Focusrite Scarlett 212 3rd Gen
Universal Audio Apollo Twin USB Duo
Audient iD4
IK Multimedia iRig HD-2
Behringer U-Phoria UMC204HD
Native Instruments Komplete Audio 2
Steinberg UR22 MK2
Mackie Onyx Producer 2 × 2
Line6 POD Studio UX2
MOTU UltraLite AVB
The best audio interfaces for guitarists
Let's take a look at each audio interface for guitarists one by one.
Focusrite Scarlett 212 3rd Generation
24 Bit / 192 kHz
Two Mic / instrument / Line inputs: XLR / Jack
2 line outputs
A pair of Scarlett mic preamps
+48 V phantom power
Switchable Air function
Stereo headphone output
USB-C port
Power via USB-C
Includes USB cable, as well as Ableton Live Lite, Pro Tools First, Focusrite Red 2 & Red 3 Plug-in Suite, Softube Time & Tone Bundle and a choice of 4 XLN Audio Addictive Keys software instrument
Price Range: € 100-200
Possibly the world's best-selling audio interface. It has an excellent value for money and excellent ease of use. In addition, it includes many interesting software to optimize its use. It also has parallel versions with more or less features -4i4, Solo- and the new family called Clarett for something more premium.
Universal Audio Apollo Twin USB Duo
24 Bit / 192 kHz
Use 2 SHARC DSP
2 mic / line combo inputs
Hi-Z instrument input
2 line inputs
4 line outputs
S / PDIF / ADAT digital optical input
+48 V phantom power
Stereo headphone output
Bass cut and pad attenuator button
LED meter
Unison preamp technology
USB 3.0 port
Includes Realtime Analog Classic Bundle Software and Power Supply
Price range: 700-800 €
If you don't want to get too complicated and are looking for high quality and minimal latency, this is one of the best audio interfaces. Compact and very intuitive to use and practically transparent to the signal, the quality of the Universal Audio Apollo's DSPs make it an extraordinary interface for electric guitar. Additionally, you can use Universal Audio plug-ins, which allow you to fully process the sound on the Apollo. However, its price is well above the rest of the audio interfaces on this list.
Audient iD4
24 Bit / 96 kHz
1 discrete JFET instrument input on the front
1 mic / line input (XLR / TRS Jack Combo) on the rear
General L / R speaker output
High performance AD / DA converters
Powerful headphone amplifier with separate DAC
2 headphone outputs (jack and mini-jack)
Class A Audient consoles mic preamps
ID control knob with jog control for DAW integration
+48 V phantom power
LED meter
USB port also used as power
Includes license for extensive software package via Audient ARC download (license after product registration)
The download package contains products from the following companies: Steinberg, LANDR and Producertech (Audient is responsible for the validity and scope of the software package)
Price range: € 100-150
The Audient iD4 is cheap, compact and of good quality. An excellent value for money, ideal for home recording in your home studio -home studio-. It has a high quality preamp and converter for this price range. Definitely designed for 'home' use. It has two very useful headphone outputs if we want to listen to the sound with studio and 'street' headphones. In short, this is a great option to handle on a low budget. In addition, Audient also has its older brothers iD14, iD22 and iD44.
IK Multimedia iRig HD-2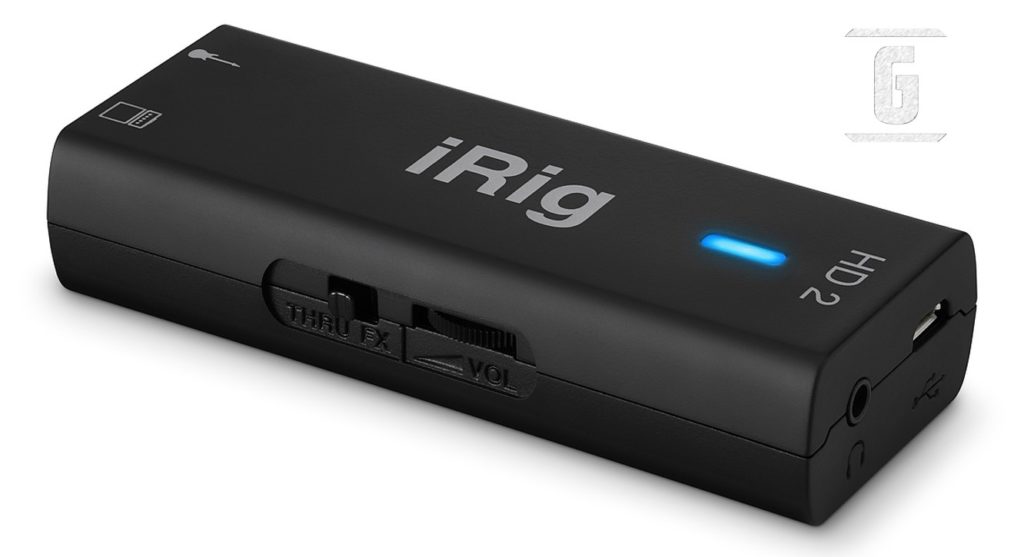 For iOS devices, Mac and PC
One high impedance instrument input
High resolution preamp with adjustable gain
32-bit / 96 kHz A / D-D / A converters
Adjustable headphone output (minijack)
Additional line output for connecting to an amplifier, PA, etc.
Thru / Fx switch to switch between 'dry' signal or with effects
USB powered (cable included)
Includes velcro strap, USB cables, full version of AmpliTube 4 and AmpliTube for iPhone / iPad
Price range: € 50-100
This little giant is an audio interface designed to be portable. Easy to transport and with the possibility of using it directly on the mobile phone, ideal for the traveling musician. With the AmpliTube App, amp and effect emulations are available. Of course it also works very well on the computer, with very little latency. With the included software AmpliTube 4 provides infinite options to experiment with our guitar and different audios.
Behringer U-Phoria UMC204HD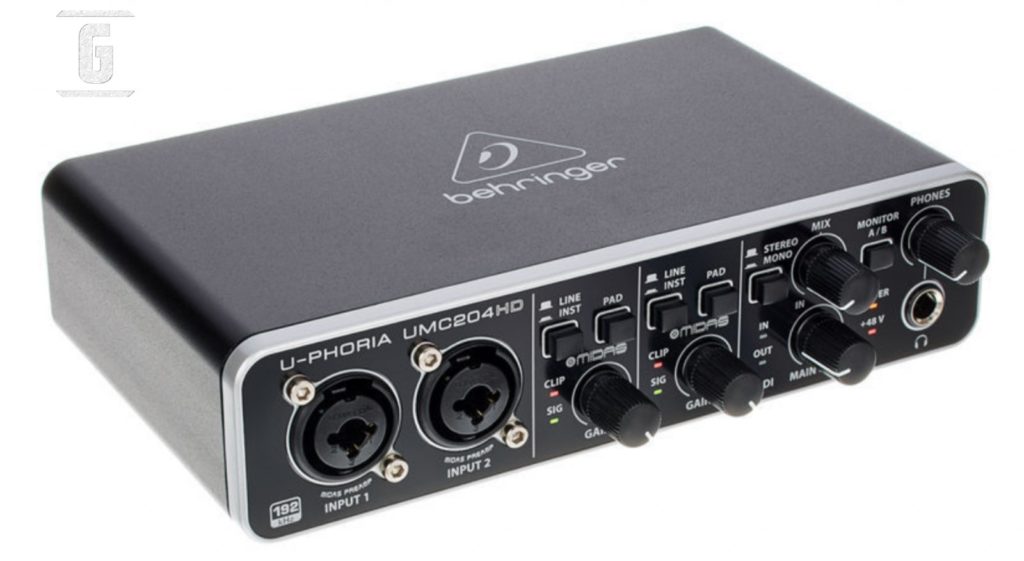 24 Bit / 192 kHz
Two Mic / instrument / Line inputs: XLR / Jack
2 line inputs
4 line outputs
MIDI In / Out
+48 V phantom power
MIDAS mic preamps
Signal and saturation indicator
'Pad' switch per channel
Stereo headphone output with independent volume
USB port
Power via USB
Price range: € 50-100
An excellent option that provides versatility for the guitarist on a budget. For less than 100 euros, this interface operates at 24 bit / 192 kHz and presents the same inputs and outputs as other much more expensive and expensive models. In addition, it counts the direct monitoring of the signal. Behringer presents other options depending on our ticket requirements. This is the cheapest option, perfect for very tight budgets.
Native Instruments Komplete Audio 2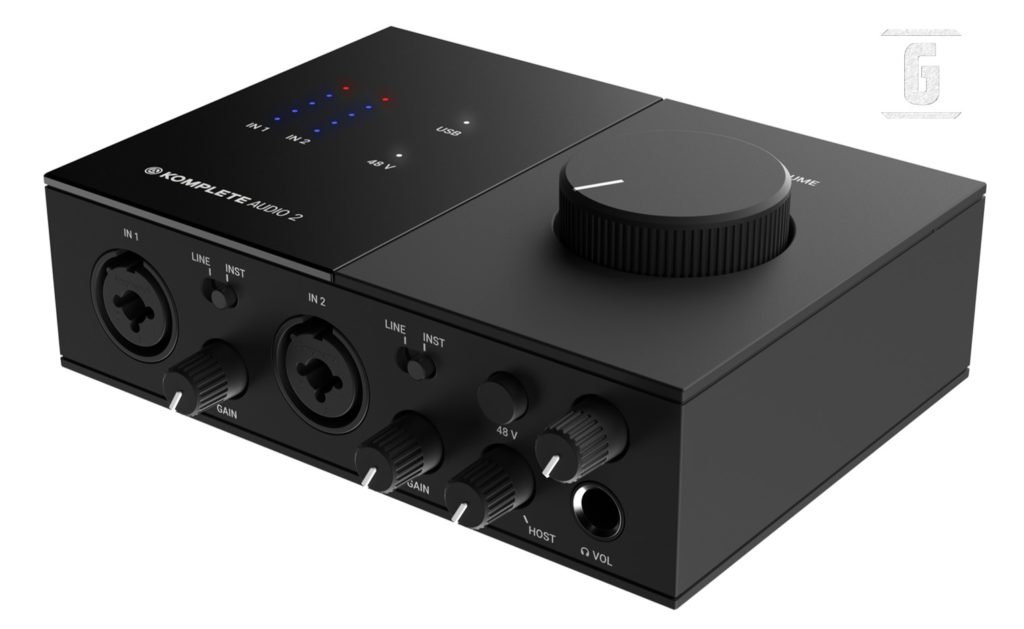 24 bit / 192 kHz
2 combo mic / line inputs (XLR / TRS) switchable to Hi-Z
1 stereo headphone output
1 stereo line out
Regulators for volume and Direct-Monitoring-Mix
USB powered
Includes Ableton Live 10 Lite, Maschine Essentials, Monark, Replika, Phasis, Solud Bus Comp
Price range: 50-150 €
Another very versatile device, but at the same time very easy to use. The Native Instruments Komplete Audio 2 gives us a visual feedback on the level of each input, the use of Phantom power and USB connectivity. With a minimalist but effective aesthetic for those who like sober design. It has excellent quality and very low latency responsiveness. With a very competitive price, the Native Instruments Komplete Audio 2 is an excellent audio interface, but you also have other possibilities in the Native family, such as the Komplete Audio 1 or the Komplete Audio 6.
Steinberg UR22 MK2
Up to 24-bit / 192 kHz
2 D-PRE Class A mic preamps with + 48V phantom power
Two 1/4 XLR / TS combo jack line inputs (switchable Hi-Z input on channel 2)
One pair of balanced 1/4 ″ TRS line outputs
1/4 ″ TRS stereo headphone output
MIDI In / Out
IPad compatible
USB powered
Hardware-based latency-free monitoring
Includes Steinberg Cubase AI Software
Price range: € 100-150
This is the audio interface from the makers of Cubase. Unsurprisingly the Steinberg UR22 MK2 does not disappoint. Versatile, with a robust construction and balanced speaker output. With an excellent response for this price range. It includes MIDI capability and is a great option to use with your electric guitar. As expected, it includes Cubase AI software that will allow you to record, edit and produce whatever yo
u want, or if you need to go a step further you can choose the UR242.
Mackie Onyx Producer 2 × 2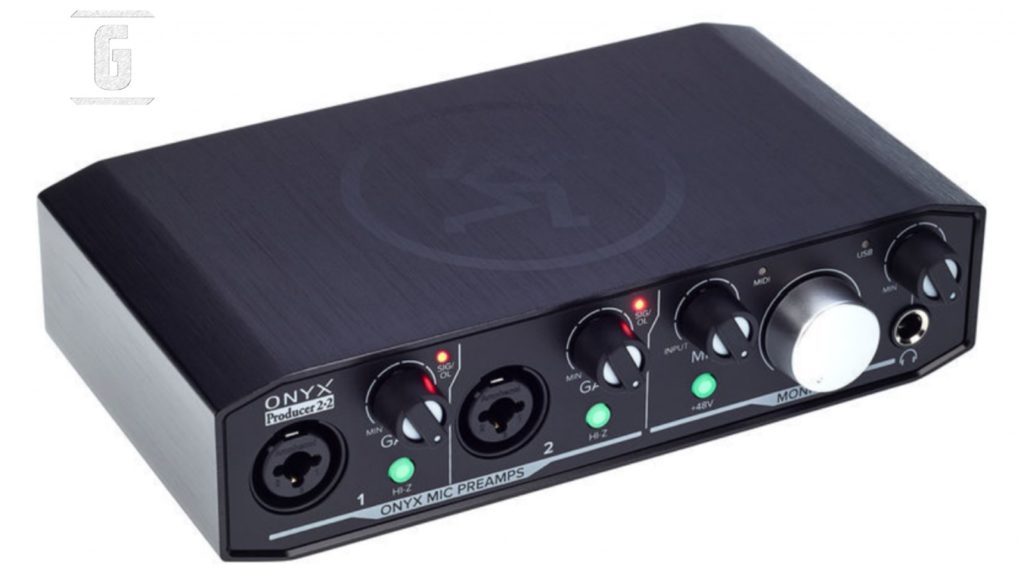 24-bit / 192 kHz
Two XLR / 6.3mm Jack mic / line combo inputs with Hi-Z switch
2 balanced 6.3mm jack line outputs
6.3mm stereo jack headphone output
MIDI In / Out
2 Onyx mic preamps
Switchable + 48V phantom power
Powered by USB
Includes 'Tracktion Music Production' software with 'Essentials Collection' plugins
Price range: 50-150 €
This is a very robust and attractive interface as well as very well balanced. With fast response, and features similar to devices that cost twice as much, the Mackie Onyx producer has earned its place among the best audio interfaces on the market.
Line 6 POD Studio UX2
Designed with the guitar in mind
2 high-quality mic inputs with preamp and phantom power
2 instrument inputs (Normal / Pad)
Stereo line inputs
6.3mm stereo jack headphone output
S / PDIF
Balanced 'merge' analog output
Input for 2 footswitches
Includes Line6 POD Farm Software with FX Junkie Modeling Pack (18 guitar amps, 5 bass amps, 80 effects, 24 guitar cabs, 5 bass cabs)
Includes Cubase LE
Price Range: € 150-200
This Line 6 model is designed for the guitarist and bassist. It works at 24 bits and has a very low latency. Ideal for use with guitar, bass or vocals. Plus, it comes with the included "POD Farm" modeling software. This offers great versatility to model and edit sounds from your computer. Finally, its iron design, with the appearance of a car dashboard, is noteworthy. A great option for the guitarist's home studio.
MOTU UltraLite AVB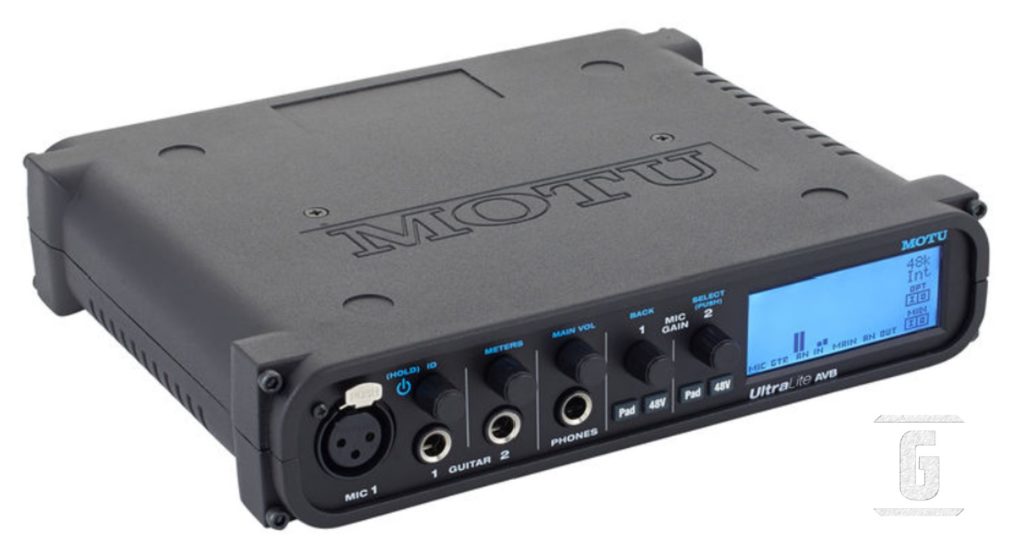 24 bit / 192 kHz
Up to 36 simultaneous audio channels
2 XLR mic inputs
2 Hi-Z instrument inputs
6 TRS line inputs
2 TRS main outputs
6 TRS line outputs
S / PDIF / ADAT Optical In / Out
Ethernet connection AVB
MIDI In / Out
Stereo headphone output
DSP mixer
Web App Control WiFi (compatible with Mac, Windows, Linux, iOS, Android)
LCD screen
+48 V phantom power
Pad switch
ESS Sabre32 DAC
Connection for external power supply
Includes Motu AudioDesk 4.0 for Mac and Windows (Download)
Price range: € 600-700
This is the second most expensive device in the line. A super powerful interface with a very high quality DSP and converters. It offers extremely low latency and outstanding audio quality. It also has a sufficient quantity and quality of inputs and outputs, but without sacrificing ease of use. In addition, it includes a web portal to use from your PC, Mac or mobile phone to control all the parameters of the AVB
over Wi-Fi. The versatility of MOTU is extraordinary and it has an excellent quality of customer service. Finally, the drivers are extremely stable and the included software will allow you to record very well without the need for a DAW.
How to choose an audio interface for guitar?
Audio interface inputs
The first step is to think about what we want to connect to the audio interface. This will define the input requirements. Thus, it will be key which inputs the device has: Line / Jack and / or Microphone / XLR. It can be an advantage, and also provide greater versatility, those 'combo' inputs that allow you to connect or plug a Jack or an XLR into the same port. Also, if we will use active microphones, having a microphone input with phantom power will be a requirement.
Audio interface outputs
The second step is to identify what outputs you need. It should have the outputs that interest you, as well as balanced line TRS outputs for speakers, output for connecting headphones, and so on.
USD and MIDI connectivity of the audio interface
The third point is connectivity. Typically you will have USB to connect to the computer, although some interfaces have Firewire. In many cases this port is also the one that supplies power to the interface. MIDI output, the super protocol used in the world of software and audio editing.
There are also other connectivity variables such as Bluetooth, S / PDIF, ADAT, Ethernet among others that can be interesting and make a difference.
Signal quality and latency of audio interfaces
The fourth step is to consider the bit depth -bit depth- and the sample rate -sample rate-. This will define the audio quality and the various demands. These parameters serve as an indicator of how accurate the signal information is at each moment and how often it is captured. Thus, the higher the values, the more signal processing is necessary, but also the purer the signal. These parameters can normally be configured, playing in the different ranges that the interface allows and supports. In this way, by reducing the values we can reduce latency, that is, the time that elapses between when we play a note and hear it through the speakers or monitors, at the cost of losing signal quality. When we increase it we increase the quality, but also the latency.
Controls and visual interface: practicality of use
Another point is its practicality of use, as well as good physical controls, it will allow us to have quick access to control the signal level or mute a channel or other functions. The visual interface will give us feedback and better understand how it works. Thus, some interfaces can show the signal level for each channel, and also incorporate screens that will make their use and control easier.
Quality of the A / D D / A converters of the audio interfaces
The quality of the A / D D / A converters is also another point to consider when choosing an audio interface for guitar or any other use. The analog signal of our musical instrument is converted into a digital signal, processed and then converted back to analog to listen to it. This requires some capacity, computation and operation of the interface. Thus, efficiency in this regard will reduce signal latency without sacrificing audio quality.
Software / DAW included in audio interfaces
Whether the audio interface counts or doesn't have a DAW or software included may be important to you. If you are a professional you will not worry about this, since surely you must already have a DAW to record, mix and edit. But if you are an amateur guitarist, it will surely be a very positive thing that the interface includes a license for recording and mixing software.
The world of audio interfaces is vast and complex, very difficult to cover completely in a single note or article. However, this note will serve as a starting point to identify and know the best audio interfaces for the guitarist from our option, and see which are your favorites.
Related Post: Best free DAWs: music recording and editing software.
You can share opinions or also chat about this and more with other musicians in our comments section.