Eric Clapton's Blackie: History of the Great Fender Stratocaster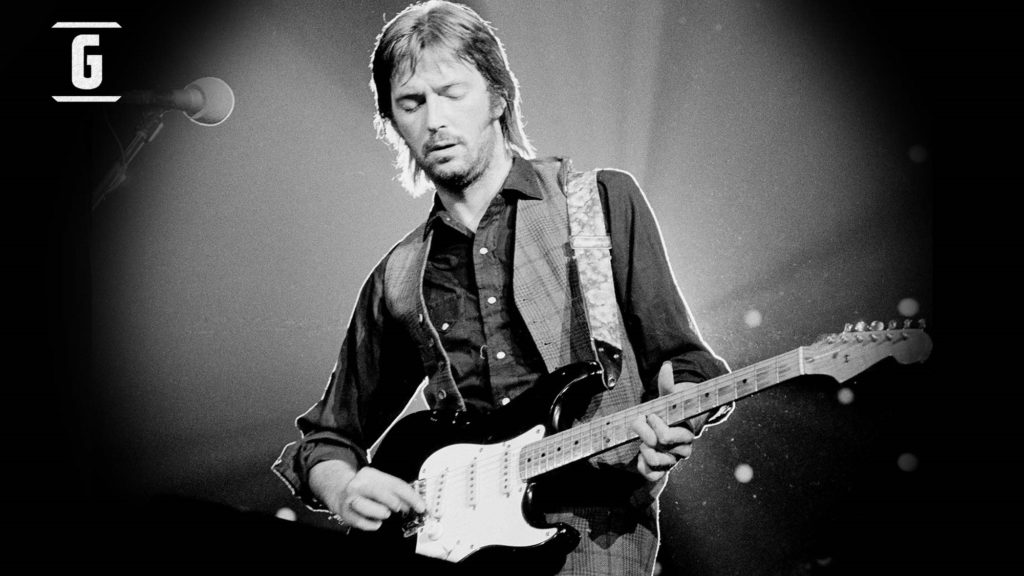 Eric Clapton's Blackie, one of the most famous Fender Stratocasters and for many the most iconic.
Blackie the most famous Fender Stratocaster by Eric Clapton
Probably the most coveted and iconic Fender Stratocaster ever. In addition, this guitar undoubtedly meets all the conditions to be considered one of the most legendary guitars that ever existed. It is from the golden age of Fender, the 50's, it was put together based on a selection of different parts, it was played by an electric guitar legend. Without a doubt, all ingredients that transform Eric Clapton's Blackie into a unique and legendary musical instrument.
Recognition of the Fender Stratocaster Blackie
Without a doubt, Eric Clapton's "Blackie" is one of the most recognized and associated musical instruments with guitarists in the history of the electric guitar.
This Stratocaster was used uninterruptedly by Slowhand – one of Eric Clapton's nicknames – for a decade and a half until his forced retirement.
Clapton himself has expressed that Blackie "has become part of me."
"I feel like that guitar has become part of me. They offer me guitars and be an endorser from time to time. -A guitar maker- tried to interest me in a quite revolutionary guitar. I tried it and I liked it, and I played it on stage, I really liked it, but while I was doing it, I was thinking, "Well, Blackie is there. If I get too into this guitar, it's complicated, because I won't be able to go back to Blackie. And what will happen to that? "

All of this happens in my head while I'm playing. I can be miles away thinking about these things, and suddenly I turn off and say, "This is enough. No more. Nice new guitar. Sorry. You're very kind, but… "That's when I hang back on the old woman -guitar- and suddenly it's like jumping into a pool of warm water."

Eric Clapton
Eric Clapton's Blackie Story
Eric was in America around 1970 when he visited a musical instrument store in Nashville, Tennessee. The store called Sho-Bud had several old guitars, or if you prefer, vintage. There Slowhand bought six Fender Stratocasters built in 1950. Which he paid at a ridiculous price of between USD 200 and 300 each.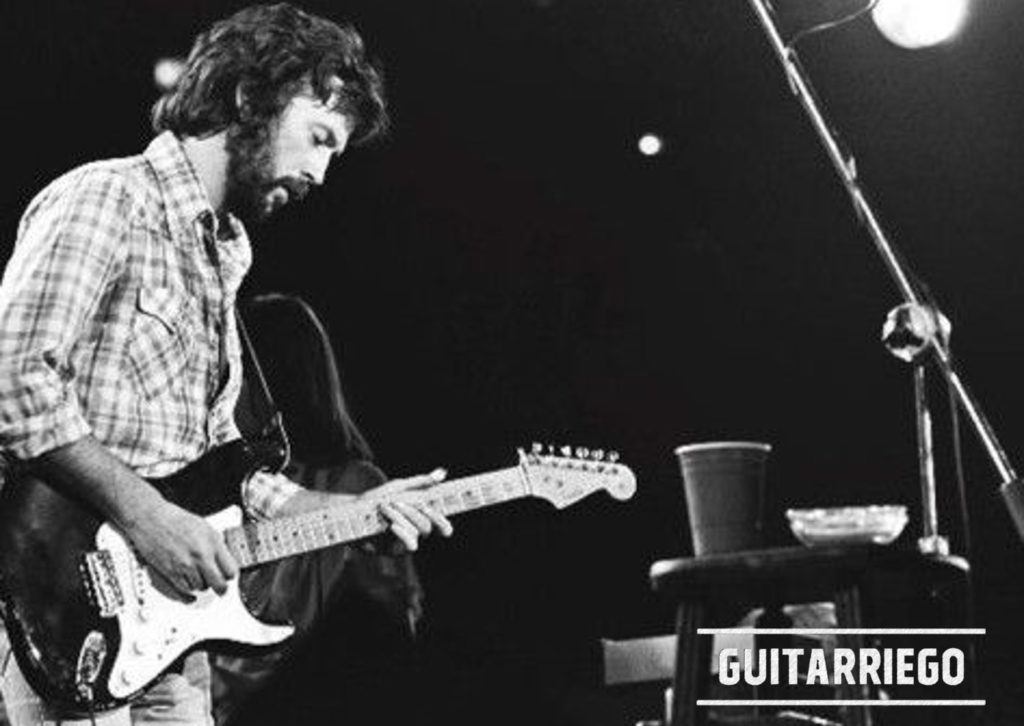 Then, back in England, out of six Strat, three gifts to musician friends: George Harrison, Pete Townshend, and Steve Winwood.
With the three remaining guitars Clapton was testing each of its parts, making the selection of them. Thus, he took the body of a '56 Stratocaster, the neck of a '57 instrument, and the pickups of the third guitar, thus was born Eric Clapton's Blackie, one of the most recognized and admired instruments in history.
Lee Dickson, Eric's guitar technician for thirty years since 1979, recounted that Clapton liked the look of the black body, the feel of the neck of one of the other guitars, and the sound of the pickup set from another guitar.
La Blackie made her live debut on January 13, 1973 at the Rainbow Concert, hosted by Pete Townshend. Eric Clapton adopted the Blackie as his number one guitar. Willie Spears, Clapton's guitar technician from 1975 to 1979 recounted that Eric "always had several guitars in the studio, but he always came back to the Blackie."
Eric Clapton's Blackie Retreat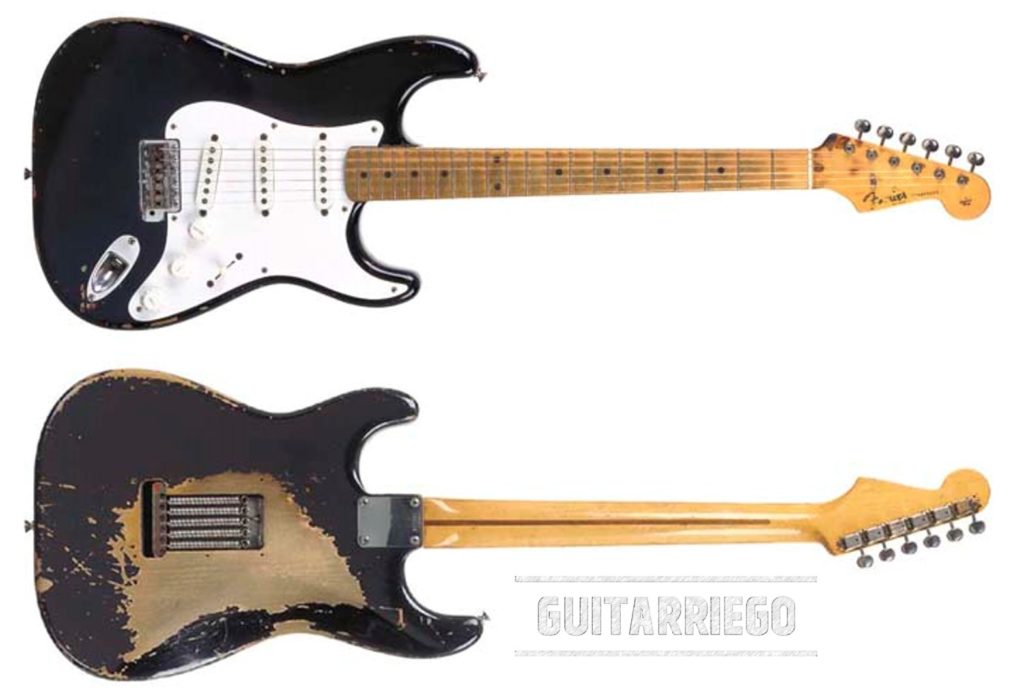 The guitar has had a history of minor and normal maintenance and repairs. It has had more than one reentry job, pickup adjustments, among others. Another change Spears made was to take the three-position selector and modified it by adding notches to make it work as a five-position. Later, Dickson also had to replace the volume potentiometer.
However, in the mid-1980s, after 15 years of intense use by Slowhand, the neck of the guitar would not withstand further reentry, leading to its retirement. After that, the Blackie was used only a few times, until it was finally auctioned, along with other instruments of the blues legend, in 2004. Thus, the Blackie was sold at Christie's for USD 959,500 in order to finance the Crossroads Center, an addiction rehabilitation center, being at the time the most expensive guitar in history.
The buyer was the famous chain of musical instruments Guitar Center. The company displays Eric Clapton's Blackie at its main musical instrument store in New York. You can see it at 218 W. 44th Street in Times Square.
Eric Clapton's variety of guitars
So far, Eric Clapton had played the Fender Telecaster, Gibson ES-335, SG, Les Paul, and Firebird with The Yardbirds, Cream, and Blindfaith. Some say it was influenced by Jimi Hendrix and other guitarists who used the Strat.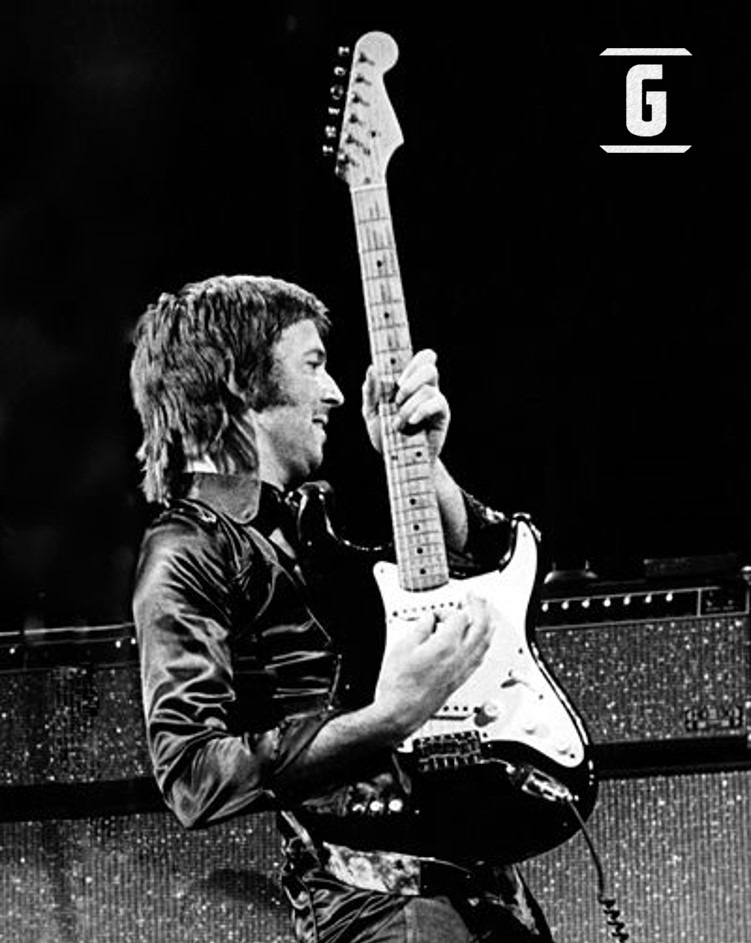 Since the appearance of first the Brownie, a Sunburst Strat that Eric owned, which he used on his "Eric Clapton", "Layla and Other Assorted Love Songs" albums, and then the Blackie, the Strat has practically become his guitar. exclusive. Some say 1970 was the year Eric Clapton switched from Gibson to Fender.
Fender Stratocaster Blackie: features
As we have already seen, the Blackie is made up of an alder body -alder- finished in black nitrocellulose lacquer from 1956 and a neck in one piece of maple -maple- from 1957, with a 7.25 "radius fingerboard with 21 frets and a Soft profile. V.
Eric doesn't use vibrato, so he doesn't have the tremel bridge lever. According to Dickson, Clapton "likes vibrato guitars, but we lock the vibrato behind the bridge and squeeze the vibrato springs, so it stays pretty solid." Thus, it almost works like a Hardtail bridge. It is worth clarifying that the steel block and the vibrato springs themselves influence the magnetic field of the pickups, thus influencing the tone of the instrument.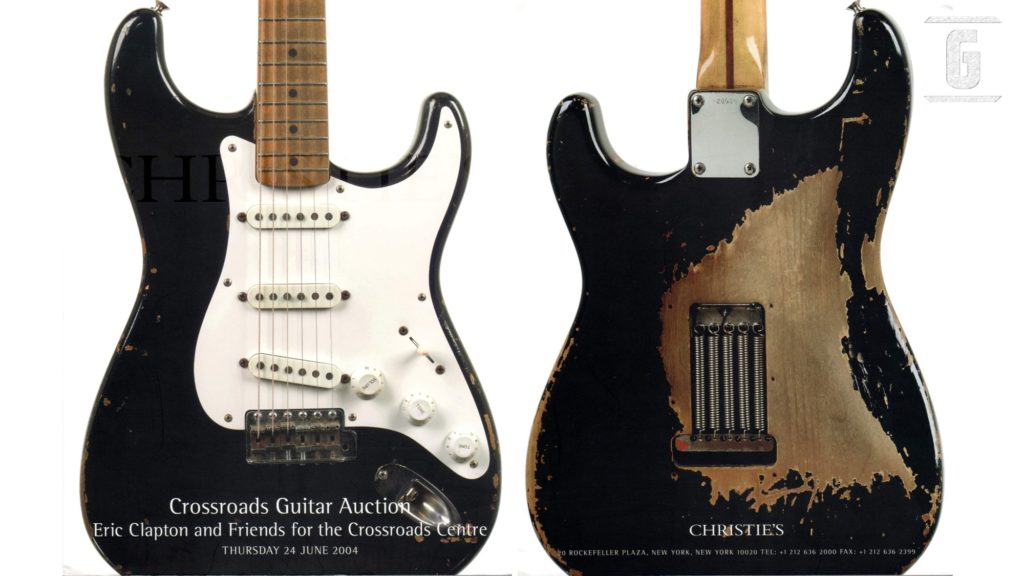 In terms of aesthetics, videos and old photos of the guitar show that some of its marks were already on the instrument since then. Others, such as the cigarette burns on the pegbox, were made later.
What is the most important guitar in history for you?
For more information on the guitar, visit Fender web site.
Related Post: David Gilmour's Black Strat, and its incredible story.
You can share opinions or also chat about this and more with other musicians in our comments section.