Mooer GE300 LITE: new compact multi-effects pedalboard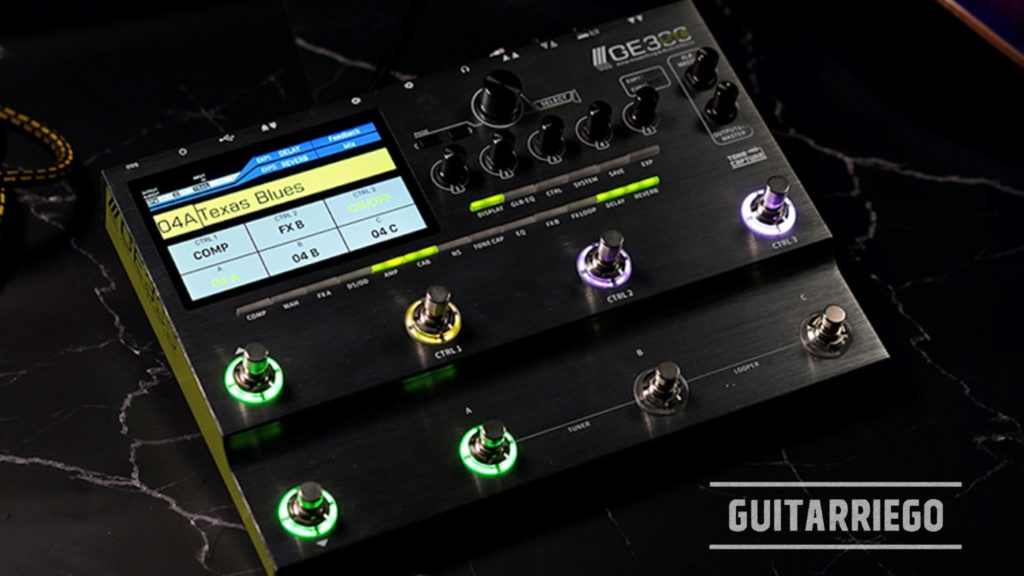 Mooer GE300 LITE is the new compact multi-effect pedal board packed with features. Among its main features it has 108 amp models and hundreds of effects.
Mooer GE300 LITE
This pedalboard was unveiled in January at NAMM. Mooer released this downsized version of its flagship GE300 multi-fx pedalboard, the GE300 LITE. Its large number of functions and features impressed the market. Featuring 108 guitar amp model emulations using its non-linear amp modeling technology. It also includes cockpit simulators and tons of onboard effects.
Mooer GE300 LITE: features
In addition to 108 amp models, 43 pre-installed booth simulators, and 164 onboard effects, you can also load your own IRs. The Tone Capture feature lets you make digital recreations of guitars, amps, and speaker cabinets. Now you can capture your own amps, cabinets and guitars to create custom presets, opening up the creative possibilities of this little multi-effects pedalboard.
Mooer GE300 LITE Features
108 amp models
Create your own virtual presets and configurations with Tone Capture, GE Labs, and the MOOER Studio platform.
164 built-in effects.
43 pre-installed IR-based speaker cab models.
Compatible with third party impulse response files.
Can be used with up to two external expression pedals,
MIDI in / out
30 second looper
Integrated tuner
Programmable FX Loop / FX Loop with optional signal chain routing.
Maximum performance
The entire unit is powered by a dual SHARC DSP that is certainly powerful enough to handle all the tasks you can throw at it. Mooer has developed an easy to use and navigate user interface. Like the larger GE 300, the Lite version has a programmable stereo effects loop, a 30-second loop, as well as an external switching device and direct USB audio capability. The looper is not as long as the GE300, but 30 seconds is quite useful and will come in handy for song creation and live use.
Mooer GE300 vs GE 300 LITE
In addition to having a tighter looper, the most important features that are unique to the GE300 are in the pedals. It is certainly more than negotiable, after all you can use an external one quite easily. Another missing feature is the synth engine, clearly not a problem for most guitarists either.
Multi-Effects Pedals: Line 6 vs Boss vs Mooer
How does the Mooer GE300 LITE compare to the competition? The GE 300 is cheaper than the Line 6 Helix and Helix LT and the Boss GT-1000. Its price is close to the price of Line 6 POD Go. Unless you want a built-in expression pedal, the GE300 Lite has more to offer.
Mooer GE300 LITE: Price
The price of this new Mooer multi-effects pedalboard in large musical instrument stores and online sales sites is EUR 499 in Europe and USD 549 in the United States.
For more information on the guitar, visit Mooer.
Related Post: Line 6 HX Stomp vs POD 2.0, the duel: review, characteristics and opinions.
You can share opinions or also chat about this and more with other musicians in our comments section.