Line 6 HX Stomp vs POD 2.0, duel: review, features and opinions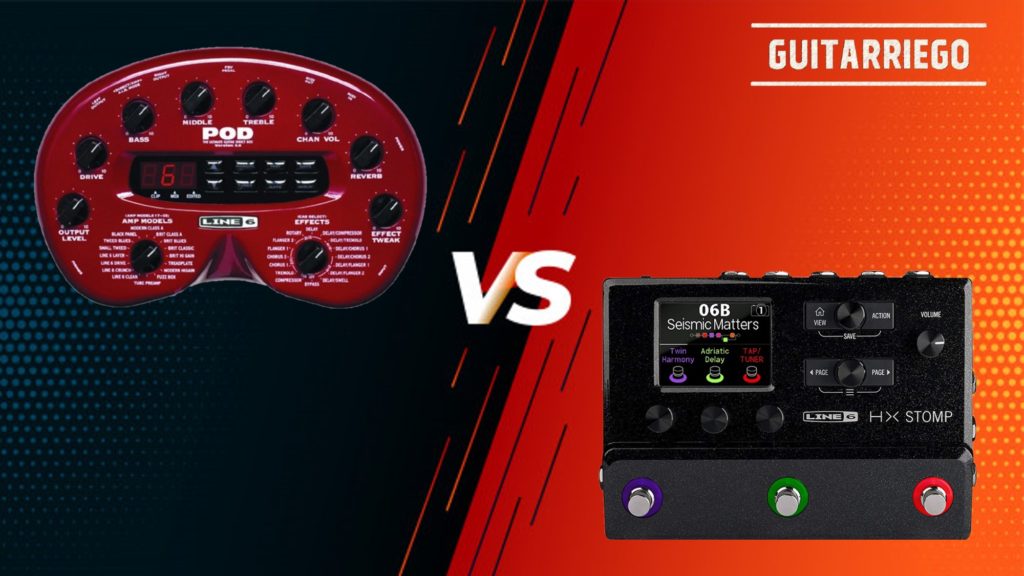 Comparison of these two Line 6 classics 20 years apart, the new HX Stomp vs. the old POD 2.0, duel of guitar processors with review, seeing their characteristics and the opinions on both.
Line 6 HX Stomp vs POD 2.0
With 20 years between them, both Line 6's HX Stomp and POD 2.0 have revolutionized the electric guitar market. Let's compare the former king of guitar modeling against the current star.
Line 6 POD: the beginning of the story
Anyone immediately recognizes the Line 6 POD 2.0 with its characteristic kidney shape and red color. When the first version of the POD was released in 1998, it offered an unprecedented level of authenticity with its 16 different amp simulations at a really reasonable and affordable price. 
Thus, guitarists were able to have a wide variety of sounds, both amplifiers and effects, and send them directly to the console, DAW or PA. We save on loading amps and effects pedals. In addition, it saves you from doing a meticulous and careful job of microphone placement and not to mention dealing with volumes and sound engineers so that the valves give us the best of themselves. Thus, the new era began, where artists or guitarists could go on tour with less infrastructure.
Line 6 POD 2.0: Features and Specifications
POD version 2.0 was released in 2000, with AIR being acoustically integrated recording, and offered the ability to change speaker or speaker simulations. No doubt everyone wanted this new version with more guitar amp emulations, effects, and more functionality and features.
It comes with 16 amp emulations and the same number of effect combinations including: delay, chorus, flanger, rotary, reverb, compressor, tremolo, and swell.
Line 6 Helix Stomp: Features and Specifications
The Line 6 Helix Stomp is the evolution of POD 2.0. Released in 2018, 20 years after the original POD. But how much difference is there between the two? Is POD 2.0 Obsolete? Do the features and capabilities reflect the 20-year difference?
The Line 6 HX Stomp is, according to the brand's own official website, a professional-level guitar processor that offers the sound of Helix amplifiers, cabinets and effects in an ultra-compact pedal.
Allowing you to play through a traditional amp and pedal setup, or go straight to the stage or studio, the HX Stomp integrates seamlessly into a variety of environments and applications.
It features over 300 amp, cabinet, and effect emulations, including an effects loop. The HX Stomp contains the same HX models found in Helix family products, as well as the library of effects inherited from Line 6 M-Series pedals and stompbox modelers such as the DL4.
Line 6 HX Stomp vs POD 2.0: Opinions on Tone and Latency
Taste is subjective, and therefore there will be as many opinions as there are guitarists on the Line 6 POD 2.0 and the HX Stomp. but the new Line 6 HX Stomp shows a more organic sound and definition than the POD. In turn, it significantly improves the latency of the POD. There are many guitarists who feel that they do not have fine control of time with the "red kidney".
Of course, there are ears that are more trained and developed than others. Therefore, it may be that for many, the differences are not so great. Lucky those who can get by with an emulator for a few dollars like POD 2.0 instead of investing $ 500 which is the price of the Line 6 HX Stomp.
Line 6 HX Stomp vs POD 2.0 comparative review video
Below you can see the comparison of several models of amps and effects. The amps compared are the Fender Deluxe Tweed, Champ 1952, Bassman Tweed, Deluxe Reverb Blackface, Matchless Chieftain and DC30, Vox AC15, Marshall JTM-45, Plexi, JCM800, Mesa Boogie Dual Rectifier, Soldano SLO-100.
The tested effects are: Tremolo, Chorus, Flanger & Delay, Rotary,
Evolution of Amp and Effects Modeling
In addition to the increased processing power that translates into lower latency and higher definition in the sound, the emulations of amps and effects are increasingly closer to the original. Thus, you can feel more and better the saturation of the tubes.
Convenience and ease of use
One really cool thing about old POD 2.0 is its simplicity and ease of use. While the new HX Stomp features a high-definition display with excellent performance, and digital control of functions, the further development of features inevitably makes its use more complex.
Thus, POD 2.0 is that it is super easy, fast and intuitive to use and stands out above the rest.
Emulators: IR pulses
Technology in the field of modeling and emulations has advanced remarkably in recent years. One of the main factors in the improvement and evolution has been the new impulse responses. Always try as many IRs as possible as they can have a huge impact on the tone and audio of your emulations.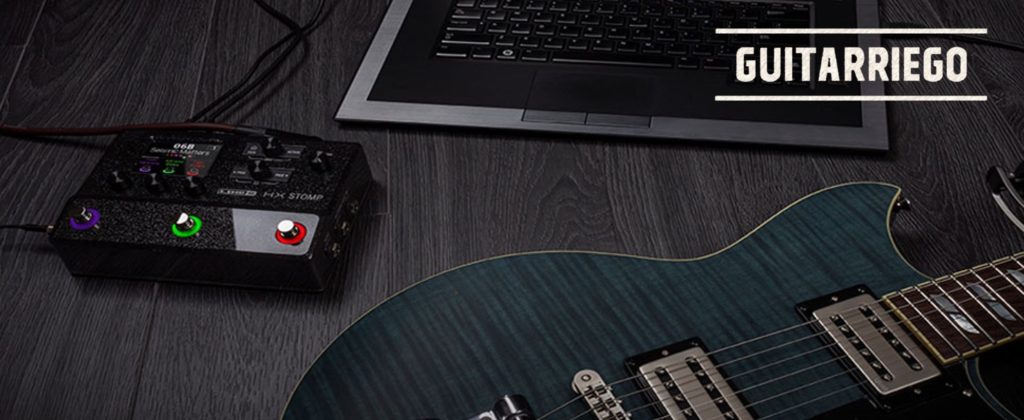 Line 6 HX Stomp vs POD 2.0 Review Summary: Final Opinions
Both amp and effect modelers are excellent. One has the logical flaws of a 20-year-old technology. The other has a professional level, but also at a much higher cost.
In our opinion, if you're looking for something high-quality, professional, the Line 6 HX Stomp is for you. On the contrary, if you are looking for something inexpensive with good value for money, easy to use, the Line 6 POD 2.0 is still an excellent option.
For more information, visit Line 6 web site.
Related Post: Mooer GE300 LITE: new compact multi-effects pedalboard.
You can share opinions or also chat about this and more with other musicians in our comments section.