Tuner Pedals: What's the Best Guitar Tuner Pedal?
The guitar tuner pedal is the most important for your pedalboard, we show you the best tuner pedals with their specifications, features and prices.
The importance of the Tuner Pedal for guitar and bass
The tuner pedal is essential to be able to keep your electric guitar or bass in tune throughout a recital, rehearsal or practice, as we already explained in our guide to keeping guitar and bass in tune. Therefore, we show you the best tuner pedals for guitar and bass with their specifications, characteristics and prices. Thus, you can choose the best tuner pedal for your needs and budget.
At the end of this guide we leave you some tips to consider when buying your guitar or bass tuner pedal.
List of the best electric guitar tuner pedals
BOSS TU-3W Chromatic tuner
KORG Pitchblack Advance
TC Electronic PolyTune 3
ERNIE BALL VPJR Tuner
PETERSON StroboStomp HD tuner
JOYO Irontune JF-326
SNARK SN-10
BEHRINGER TU300
ORTEGA Octopus
ROCKBOARD RockTuner PT 2
BOSS TU-3W Classic tuner pedal
It has the same tuning functions as the classic Boss TU-3. But the "Waza Craft" version features high-end audio circuitry for pure signal pass-through, and can work in True-bypass or as a signal buffer.
Price: USD 150
KORG Pitchblack Advance Guitar Tuner Pedal
With a high tuner precision of +/- 0.1 cent, this true bypass tuner has a modern design and also a bright display.
Price: $ 80
A Top: TC ELECTRONIC PolyTune 3 guitar tuner pedal
This compact tuner can be used in true bypass or buffer mode. Also, you can tune with polyphonic, chromatic and strobe tuning modes, the latter with an accuracy of +/- 0.02 cents. Thus, this is undoubtedly one of the best tuner pedals for guitar and bass.
Guitar Tuner Price: USD 100
Volume and Tuner Pedal ERNIE BALL VPJR Tuner
This digital tuner combo volume pedal features a large display that automatically switches between tuner and volume
modes.
Guitar Tuner Pedal Price: $ 250
Modern PETERSON StroboStomp HD tuner pedal
With presets for a wide variety of instruments and playing styles, as well as over 100 "Program Tunings," this pedal also features a large, high-definition LCD screen.
Price: USD 130
JOYO Irontune JF-326
The Irontune is a guitar or bass tuner with the most compact design possible. The technology it uses is accurate to +/- 1 hundredth. The semi-transparent design of its protective cap allows you to see the display. Also, it is True Bypass.
Price: USD 60
SNARK SN-10
This closed die-cast metal chromatic tuner features a large "EZ" readout display and also offers fast, true bypass and pitch "pitch" readings.
Price: USD 45
BEHRINGER TU300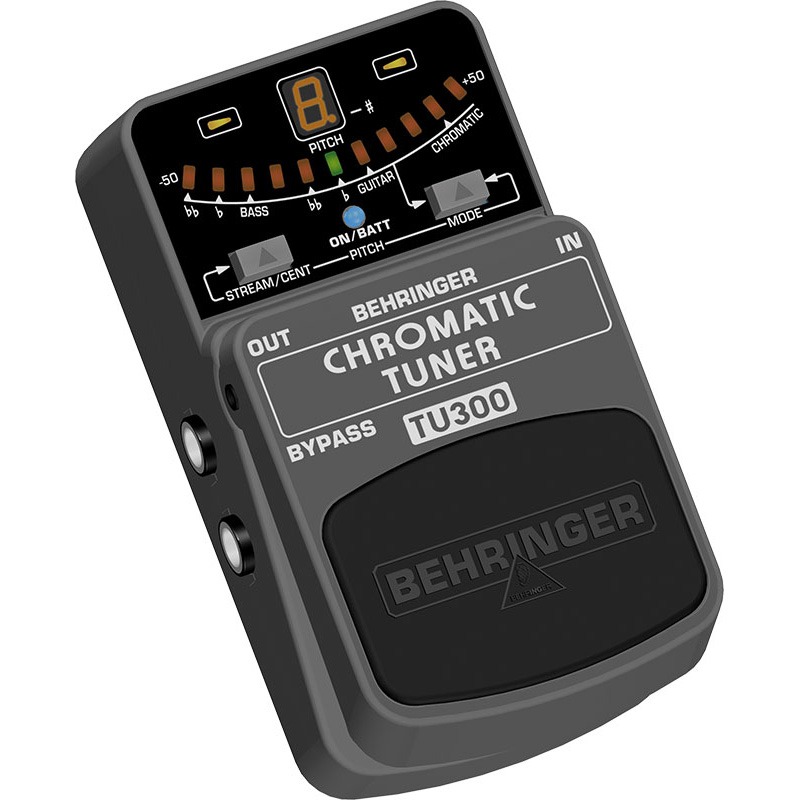 With seven different tuning modes, including regular, flat, double flat and chromatic, and a powerful LED readout, this tuner pedal is also one of the cheapest on the market.
Price: USD 25
ORTEGA Octopus
Not just a fully chromatic tuner with a color LED display, this pedal also powers up to 8 fully independent 9V outputs (6 x 100 mA, 2 x 500 mA).
Price: USD 100
ROCKBOARD RockTuner PT 2
Chromatic tuner for any musical instrument, with a sturdy metal case, true bypass, featuring a large LED readout, tuning accurate to +/- 1 cent plus a separate output for audible tuning.
Price: USD 50
How to choose a tuner pedal for your guitar or bass?
To choose the best guitar or bass tuner pedal, you basically have to consider three things: tuner precision, build quality, and price as well.
Tuner precision for guitar or bass
As expected, normally, the higher the price, the better the precision. Thus, the most accurate pedal is the Polytune. This can be very important if you are a professional musician, or make recordings and need perfect tuning. Normally, such precision is not necessary for the beginning guitarist or hobbyist.
Tuner pedal build quality
The build quality is associated with the durability of the product, but also with the ease of use. That the lights and values ​​are visible in any environment, including a stage when you are at a recital. In general, all the products have a good quality, but logically, the higher the price, the higher the construction quality.
Price of tuner pedals for guitar
There is a wide variety of prices, and depending on your needs, it will make sense or not to buy the most expensive. So for a beginning guitarist or hobbyist, the Polytune may exceed your needs. Thus, with a Joyo or Behringer they can meet your needs perfectly.
Until you decide to buy, you can use our free online guitar tuner.
Related Articles: Guide: The secrets to keeping your guitar and bass in tune.
You can share opinions or also chat about this and more with other musicians in our comments section.