How to practice without guitar or bass? The best tips!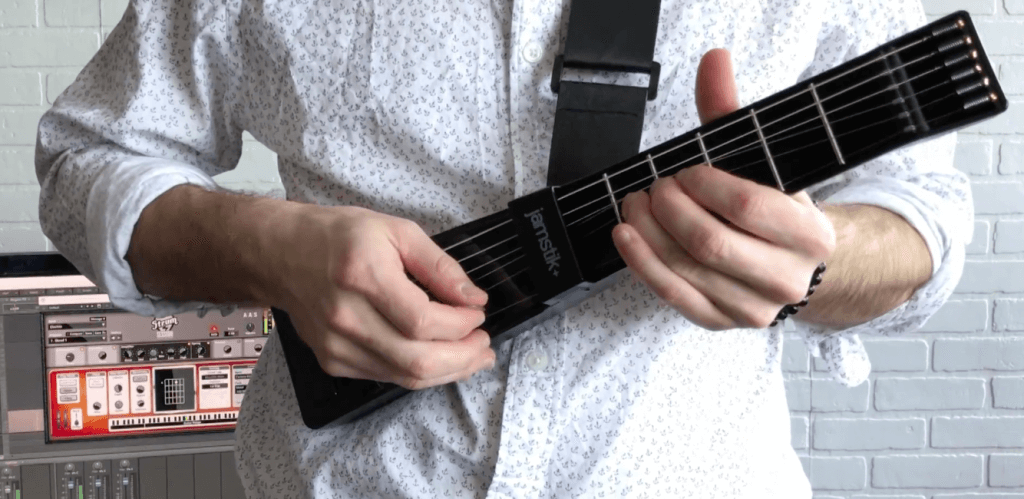 The best way to learn to play guitar or bass is, without a doubt, playing the instrument, but it is not the only way, in this note we show you all the news and the best ways, techniques and tools to practice without guitar or bass at any time, anywhere.
Practice guitar anywhere
Of course, the best way to learn and improve our technique is by playing the musical instrument. Playing songs, doing technical exercises focused on specific areas, spending time on theory would be, these are the practical ways of structuring our guitar or bass studies.
In this article we give you the best practices and exercises to maximize that time when you don't have a musical instrument within reach. Below you will see a few tips and tricks to study the guitar even when you don't have it in your hands.
Strengthening hand and finger exercises
Surely you have seen some of those devices to warm up, exercise and / or strengthen the hand. Some look like something out of a gym and some are just silicone bands.
With these tools you can exercise and strengthen hands and fingers. This will allow you to be able to perform demanding bendings, make distant notes, complicated chords that require solidity, and play more physically demanding instruments or songs. They are excellent for practicing without guitar.
Grip type hand exerciser
This device called in many ways: Practice Grip Hand Exerciser, Gripmaster, among others, is already well known and popular. There are different manufacturers such as D'Addario, Prohands, even Fender among others. They are all similar, with the same concept. It has several spring mechanisms, one for each finger, that offer resistance when pressed.
Grips Features
They are easy to transport, fit into a trouser pocket, and come with different tensions ranging from light, through medium, to hard. Thus they are very adaptable and practical.
Grips Features and Benefits
Its function is to help with the warm-up of fingers, improve muscular endurance and strengthen the hand. Depending on the tension you use, it will work more in one direction or another, so the soft ones will help warm-up and resistance, the medium ones to resistance and / or strengthening, depending on your "physical state" and the hard ones to strengthening.
Elastic bands for hand exercises
These silicone accessories are intended for general hand exercises, but as guitarists, we can take advantage of it.
Functions and benefits of elastic silicone bands
Helps strengthen and widen the range of motion of hands and fingers. Unlike the grip, it allows you to exercise your fingers in several directions and also to achieve more hand opening.
Silicone Bands Features
They are discreet, compact and easy to carry. The complete Fortifying Grip Kit can be purchased. It comes with different levels of resistance or tension: 1) 1-3 kg, 2) 2-4 kg and 3) 3-5 kg. In addition, its cost is much lower than the other options.
Practice necks
There are various brands and types of practice necks, they are a traveling guitar mix, some are MIDI controllers and one is detachable, they are not a guitar or a bass but they do come close enough, great options for practicing without guitar. Let's see them.
Shredneck
What is the Shredneck?
The Shredneck is a practice neck that perfectly mimics part of a fingerboard. Released in 2010, it comes in various guitar and bass models.
It has different versions of guitar with 6, 7 and 12 strings. There is the option that it has the first 6 frets as in the photo, and another with the 12 to 24 frets, allowing different types of exercises. It comes type electric guitar and type acoustic guitar. It has a strum area, which is the last fret that is "scaled" so that the pick does not collide with the fingerboard.
Shredneck Features and Benefits
The Shredneck allows you to play as if it were a guitar, to do technical exercises of plucking and chords. You could even practice tapping, albeit to a limited extent. They are excellent tools to warm up before a recital and to exercise your hand on either side. Below is a demo by Sonny Lombardozzi showing a wide variety of fingering exercises – including two finger tapping exercises! – to improve your technique with the Shredneck.
Features
It is an excellent practice tool, it imitates the feeling of a guitar very well, thus achieving greater effectiveness in practice and study without an instrument. Its weight and size give it excellent portability.
Its sale price in online stores is around USD 100.
Jamstik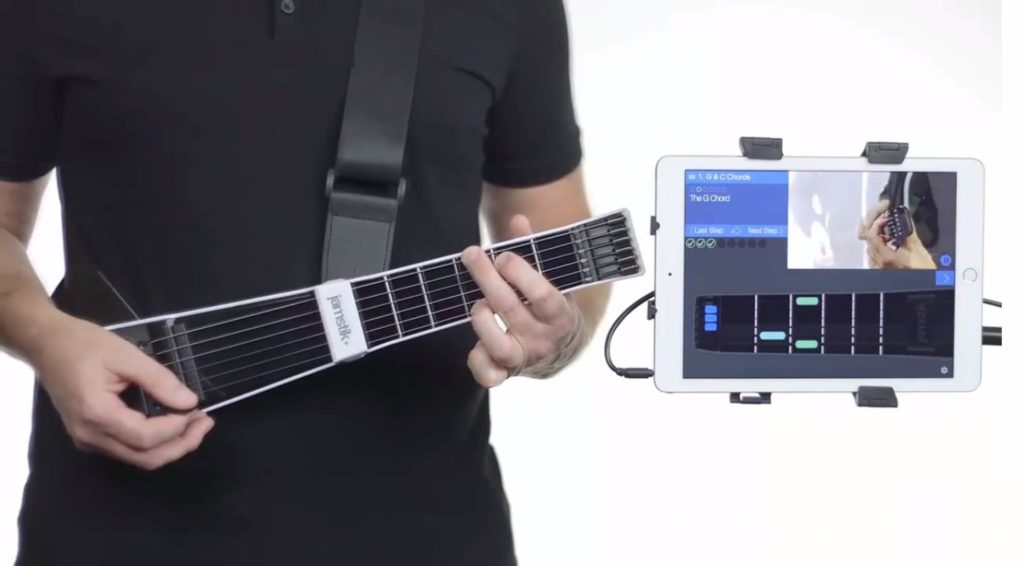 What is the Jamstik?
The Jamstik is a smart mini guitar -smart guitar- with a MIDI controller. With a neck format, it has six frets, with an intelligent fingerboard and a learning program that recognizes your fingering and corrects you if you rest on the string and or the wrong fret. It has more than 6 years, last year the second generation was launched, called the Jamstik + -Plus-. This gadget has revolutionized learning tools with its state-of-the-art technology.
Jamstik Features and Benefits
By connecting it to your cell phone, tablet or notebook, it becomes a revolutionary and powerful tool to learn to play guitar. It has a totally free app with which you can learn chords, picks, songs and much more.
In the video below you can see a demo of the Jamstik and its modern guitar studio application. You will see that it even has exercises or games like the Guitar Hero of the PlayStation.
Jamstik Features
The Jamstik has Bluetooth 4.0 technology to connect to your cell phone, tablet or computer. It has hundreds of compatible MIDI applications available. The smart tuning fork gives you instant feedback and feedback to correct mistakes and aid you in your studies. Which makes it an option not only for practicing without guitar, but also ideal for beginning students who are learning chords and musical scales such as the pentatonic.
The Jamstik features real strings and frets to give you the feeling of playing a real guitar.
Its price on Amazon.com ranges from $ 229 to $ 249.
Jammy MIDI Guitar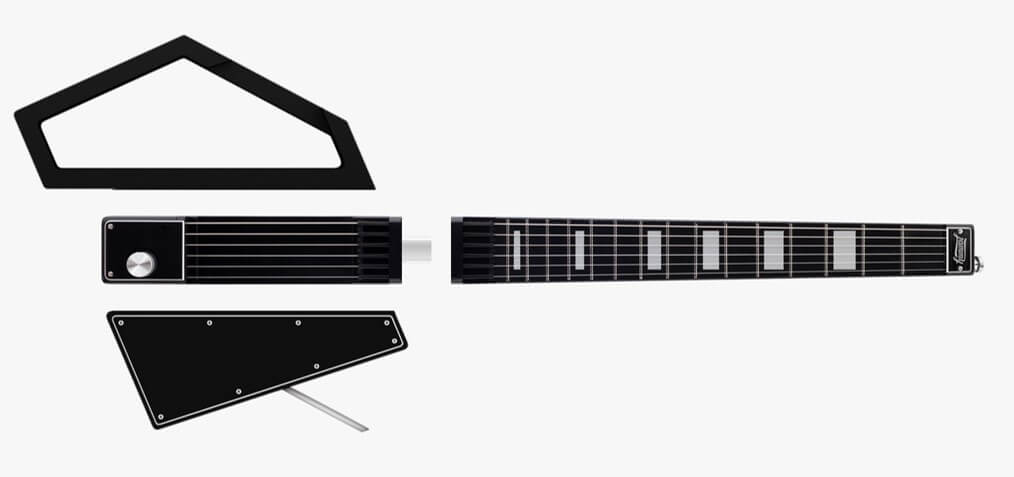 What is the Jammy MIDI Guitar?
Jammy is a steel string digital guitar, a super expressive powerful MIDI controller. It has a detachable structure, shows excellent portability. This practical and modern instrument was launched on the market in 2018, offering an innovative MIDI controller for guitarists.
Jammy Features and Benefits
The Jammy is much more than a practice and learning tool, it is a powerful and versatile midi controller in a guitar format. It allows you to play as if it were a real guitar. For a beginner or someone with an intermediate level it will work very well. However for a more advanced guitarist, it will present certain limitations. Bending, pull-off, ties, and other techniques are often not read correctly, and they don't sound convincing either.
Jammy Guitar Features
The Jammy is a hyper versatile instrument, it can be connected to your amplifier, your headphones, your DAW, or your cell phone and be used through a powerful application.
The application has a variety of audios of different instruments and super practical functions such as tuning settings, sound chain with pedals and amplifiers, among others.
It has real steel strings for a more real feeling. But of course as we said above, do not expect an electric guitar, neither in feeling nor in audio. Instead of calling it a digital guitar, it would be more correct to call it a guitar-formatted MIDI controller. Unfortunately it does not have a wireless system like the Jamstik.
In the video below you can see some of the things that this digital instrument is capable of.
Its price on Amazon.com is $ 479. Being the most expensive tool that we show you here.
Study harmony and sheet music
Musical harmony
Although this may sound a bit boring and tedious, both learning harmony and learning to read sheet music will allow us to understand what we play, what rules and relationships are in a progression of notes, which achieve that musical magic. When you don't have your instrument within reach, it is an excellent opportunity to study theory.
The scores
There are many programs that scan and reproduce scores, you can take advantage of these applications to study and learn, they will serve as a guide and even to verify your correct reading and interpretation. It can also help you by following them while we listen to the music.
Related Articles: Parts of the electric guitar and importance of each, Guitar notes and Metronome online for free.
If you liked this note, you can share it on your favorite social network and start practicing without guitar.
Have you tried any of the options that we show you here?