Epiphone Frontier USA: reissue of the classic acoustic guitar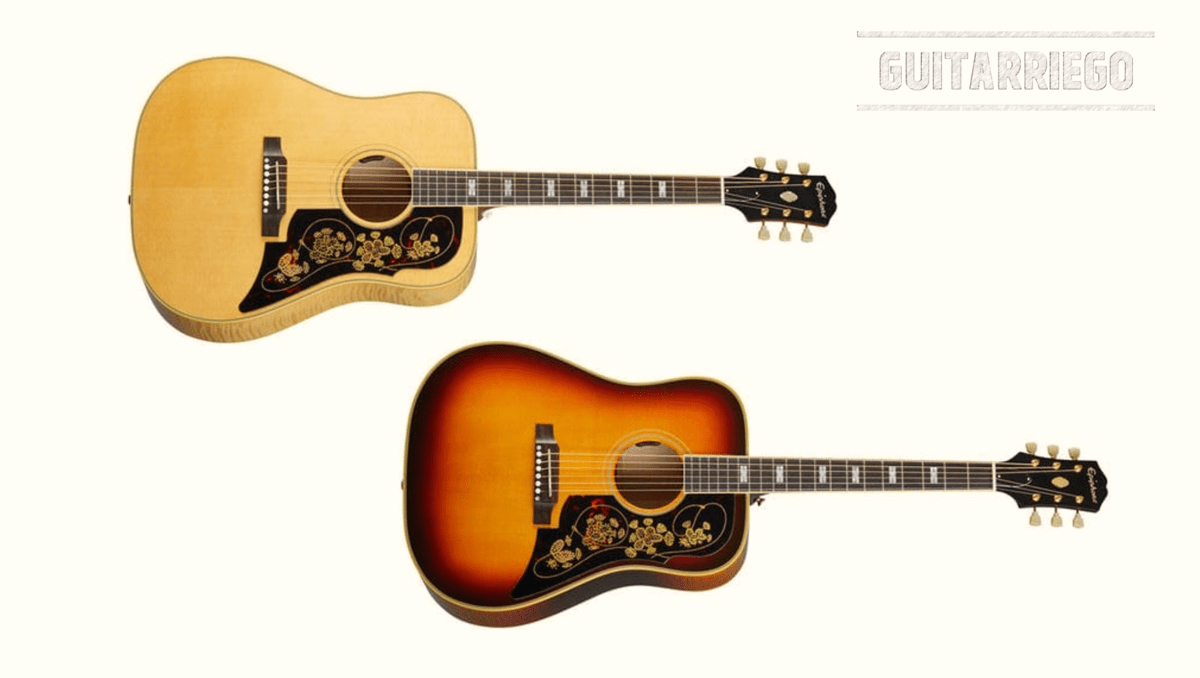 Epiphone USA reissues the Frontier, a premium acoustic guitar that was manufactured from 1958 to 1970, it manufactures at the Kalamazoo plant, where it was originally built.
Epiphone Frontier Made in America
The Frontier Acoustic Guitar is the latest addition to the Epiphone USA collection. This collection honors the tradition and quality of one of the oldest and most classic guitar brands. Recall that the reissue of Epiphone's most iconic model, the Casino P90, made in the United States, was launched in March .
Specifications of the new Epiphone Frontier USA
This new acoustic guitar has a solid Sitka spruce top and solid maple back and sides. The reinforcements are of type X, scalloped by hand in a traditional way. The guitar neck is mahogany with an Indian rosewood fingerboard. Frontier scale is 25.5″. In addition, it has a dovetail composite neck-to-body joint with hot hide glue.
The pegs are gold Gotoh Keystone, while the nut is bone. In addition, it has a LR Baggs VTC pickup mounted in the mouth to be able to amplify it. Equipped with volume and tone control. Thus, you can use this Frontier USA electro-acoustic guitar for concerts and recording sessions.
Available finishes for Frontier USA are Antique Natural and also Frontier Burst with nitrocellulose lacquer. Both with their signature extra large "lariat and cactus" pickguard.
Epiphone Frontier USA: American Tradition
As you can see, the aesthetic of this acoustic guitar is very American style. Here's a video made by Mark Agnesi, Gibson's current Director of Brand Experience, working at Norman Rare Guitars, playing a 1964 vintage Frontier.
Gibson is doing a great job reissuing iconic Epiphone models, guitars that are part of America's great acoustic and electric guitar history.
Frontier USA Price
The price of the Epiphone Frontier USA in large online sales chains is € 3,999, and includes a hard case from the same brand.
For more information visit the Epiphone page.