Orville Gibson: History of Gibson Guitar Corporation Founder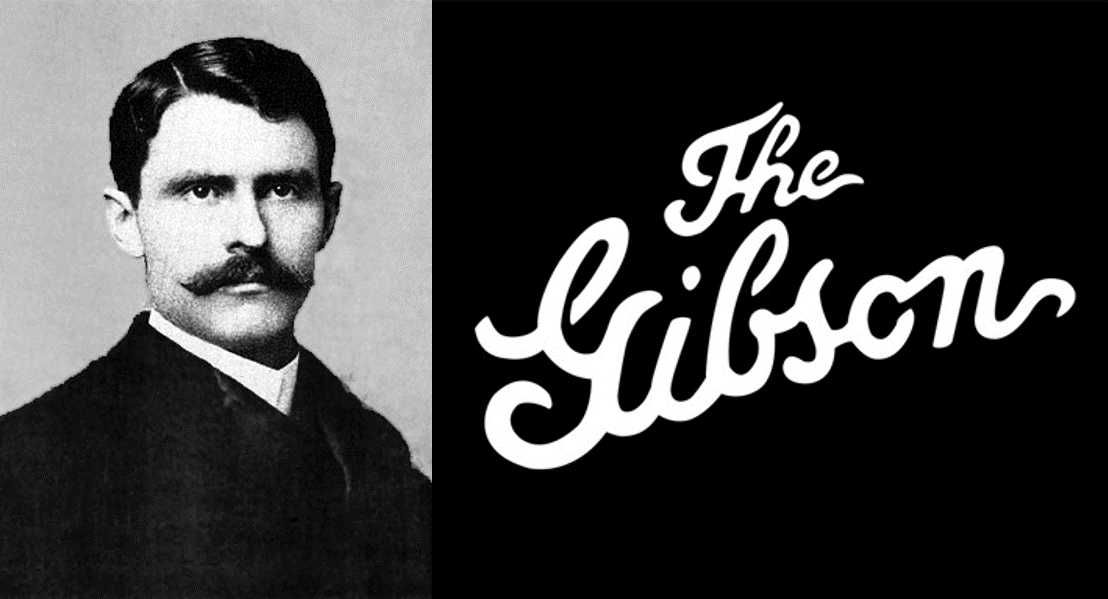 History of Orville Gibson, life of the innovative luthier founder of the most traditional manufacturer of electric guitars in the world.
Orville Gibson and his secret story
When we started this review we noticed the scarcity of information that exists about the creator of one of the most important brands of electric guitars in the world. Even Gibson's website has only a brief summary of its founder, Orville H. Gibson.
Although it was born in the 19th century and records already existed, it required a great effort to collate the little existing information. Explore documentation of the time, the little reliable bibliography, and analyze the context of Orville Gibson's life. After some time, we come to this article, which is undoubtedly the most complete and serious that you will find.
Orville Gibson's birth and family
Orville H. Gibson, was born on August 21, 1856 in Chateguay, Franklin County, New York State, in the United States of America. A small town founded almost fifty years before Gibson came into the world.
Orville was the seventh child of Emma Gibson Nichols and the fifth from the union with John W Gibson. Emma was born in a town in the state of New York called Peru.
Orville Gibson's beginnings in the world of luthiery
There is very few, or nothing at all, is known about how or where Orville Gibson acquired his knowledge of luthiery. Something that requires manual skills and some detail. Although it is often read that he worked as a shoemaker, he was actually a "salesman" at Arthur P. Sprague's store. Perhaps in parallel to his beginnings, since he resigned in 1891, and the first instruments made by Orville date from 1893.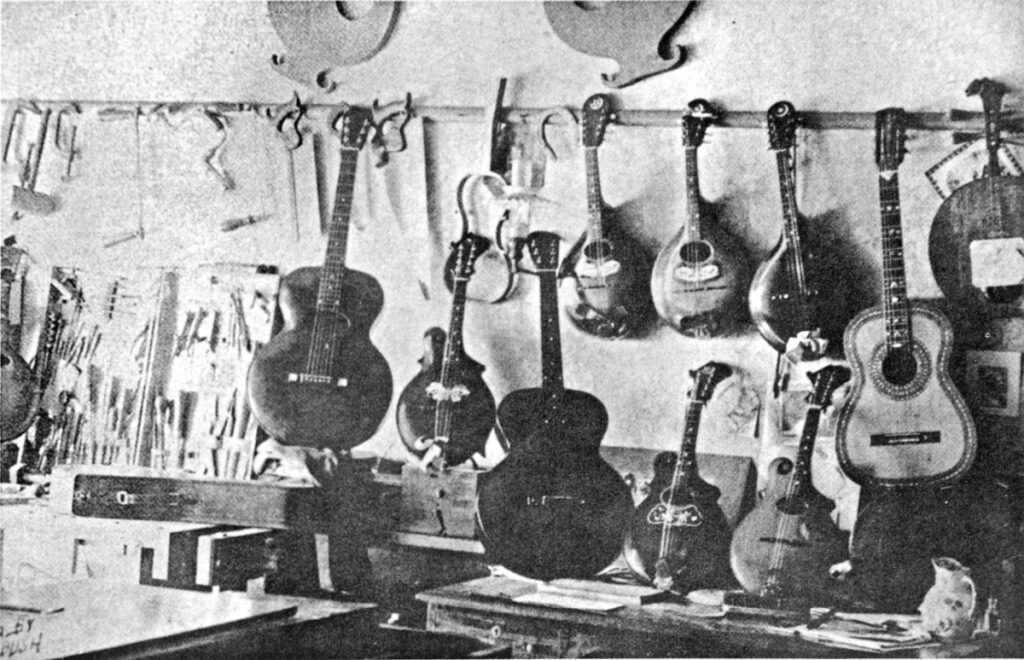 What is known is that Gibson was already an excellent guitarist at the age of 20 and also a singer. He had a baritone voice. He performed a series of plays with a small community theater group in Kalamazoo, and was extremely skilled at working on wood for the construction of sets. Therefore, it was a matter of time before both skills and passions settled in luthiery, which initially was his hobby.
The assembly of its first known instruments dates back to around 1893, and they were mandolins. At the time, his shop was located at 104 East Main St. Floor 2, Kalamazoo, Michigan.
Why mandolins? Although it is an instrument of Italian origin, it was adopted by different peoples of Western Europe, including the English. Perhaps this leads us to understand whoever has chosen this instrument over others.
One of the first and initial musical instruments that survived the time, it is a type A mandolin from the year 1899. This allows us to observe first-hand, an instrument built entirely by him like the one in the image below. It is worth clarifying that this was long before the founding of the company that would bear his surname, when Orville worked as an independent luthier.
Orville recognition and experience
For a time Orville Gibson was the exclusive luthier for The Barrow's Music Company. But this was only until 1891, when the company became the Michigan City sales agent for Waldo Banjos and Guitars. Later, in 1895 they began to make Waldo guitars and banjos themselves.
However, Gibson continued as a luthier working independently, serving an exclusive clientele of increasingly numerous musicians. One of his most recognized clients was Joseph Bistolfi, a traveling musician of Italian origin of recognized fame for the time.
Bistolfi, commissioned him for an 18-string harp-type guitar in November 1900. The cost of the instrument was $ 150. This task would have taken Orville 30 days. The instrument consisted of Brazilian walnut, Washington cedar and mother-of-pearl inlays. According to his records, it was already the seventh instrument of this type that he made.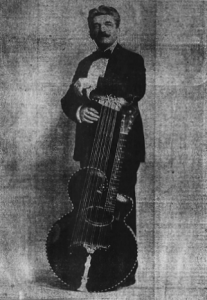 It is remarkable the little time taken to make this harp guitar, which allows us to deduce that it would not work alone, in addition to using efficient and fast construction techniques and processes.
Innovative Gibson Mandolins Design
Unlike traditional mandolins, Gibson's were constructed with a carved, one-piece wooden back. The sides were also made from a single piece of solid wood instead of bending thin strips.
Orville felt that the bent, multi-part back of popular mandolins did not possess "that degree of responsive resonance and vibratory action necessary to produce the power and quality of tone and melody." Another novelty of its design was the heel on the neck, which was hollowed out to provide an additional sound chamber that he hoped would offer better tonal qualities.
Orville's technique made it possible to produce instruments faster and in larger volumes.
The technique, inspired by constructive aspects of violins, allowed that internal structural reinforcements were not needed, since the thickness of the pieces used was strong enough to withstand the tension of the strings and the body structure. This was a great saving in the construction of small fundamental pieces in the assembly of the "frame" of the mandolin, until now, traditional. In addition to a great acoustic improvement.
Gibson mandolins were very popular. Very soon they were required by the musicians of the time. Orville obtained the -first and only- patent for his design, on February 1, 1898 with registration number # 598.245, which was valid for 14 years.
Gibson Mandolin Guitar Mfg. Co., Ltd. establishment
The success of Orville H. Gibson soon generated interests in third parties. Thus it was that in 1902, he was summoned by five businessmen to form the corporation "Gibson Mandolin Guitar Mfg. Co., Ltd. ". The investors were Sylvo Reams, Lewis Williams, LeRoy Hornbeck, John W. Adams, and Samuel H. Van Horn. In this way, it went from a sole proprietorship to a corporate organization, as we know it today. With an initial share capital of USD 12,000.
Gibson was paid $ 2,500 for the commercial rights to his name – the trademark – and patent. This amount is equivalent to USD 250,000 today.
Orville was not initially on the shareholders list, but when the Company needed to increase its capital to finance its growth and development, one of the first investors was Orville Gibson himself: the 1st. On November 1902, he bought 60 shares of the company.
Orville continued this relationship until 1907, earning most of its income from royalties. He worked on various projects as an inventor. In 1908, the Board agreed to pay Orville an annual fee of $ 500, which equates to a today's value of approximately $ 50,000.
The Gibson company drew on some groundbreaking resources for the time in marketing and outreach. Like including an image of its founder on the labels of the instruments, delivering them to great orchestral figures and posters that at the end ended with the legend "Every one a Gibson-ite".
Orville H. Gibson's declining health
Orville's health deteriorated during the time the Company was launched. Gibson was interned at institutes of mental health several times. One of them was between 1907 and 1911, and the last from 1916 to 1918. Precisely, Gibson died during the latter, on August 19, 1918 at the age of 62, in full growth of his company. At St. Lawrence State Hospital. A psychiatric facility in Ogdensburg, New York.
Various medical records suggest that he suffered from chronic illness, weight loss, and mental illness. Orville had "delusions of persecution" and imagined that "different people were trying to attack him."
His remains rest in the Morningside Cemetery in the city of Malone, New York. Gibson had set fire to the history of stringed instruments, introducing radical changes to mandolins and guitars, which had until now kept their constructive concepts almost unchanged for years.
Orville Gibson never got to see what his last name would become. But it is undoubtedly that both his partners at that time, as well as the employees who succeeded each other over the years followed a concept of innovation and quality that marked the history of electric guitars.
Perhaps Rock was the starting point to transform the Gibson Mandoline Guitar Mfg. Co, Ltd. in what it is today.
For more information, head over to Gibson.
Related Articles: Ted McCarty and Gibson's Golden Age, History and Evolution of the Gibson Les Paul and Top Guitarists Using Gibson Models: Les Paul, SG, ES-335, Firebird, Explorer, Flying V and Others.
You can share opinions or also chat about this and more with other musicians in our comments section.