Epiphone returns to the Kalamazoo headstock for its Gibson-type models
Epiphone has announced and shown the new but old Kalamazoo headstock as this was already used by the brand in its early years. This head is much more similar to the "Open Book" -Open book- used by Gibson in the Les Paul, SG and other models.
Back to the roots, more vintage, more Gibson
The largest headstock will now be featured on all Gibson-inspired instruments as part of an overview of the entire Epiphone range for 2020. And it's not just looking more like Gibson, it's going back to the headstock you used in its early years.
Thus Gibson has announced a massive overhaul of its Epiphone brand for NAMM 2020, the most notable of which is the introduction of a new, larger headstock shape for its Epiphone Les Paul and SG models and all original Gibson models.3
Shovel similar to Gibson's "open book"
The 'Kalamazoo' headstock shape was originally used on Epiphone guitars, Gibson's second brand, in 1930. In September, Gibson's Marketing Director (CMO), Argentine César Gueikian, had advanced something on his Instagram account.
The shape of the Kalamazoo headstock is much more like the famous 'open book' shape that Gibson uses on their guitars, and makes these new instruments look much more like their more expensive older siblings – something fans have long desired. many years.
The new Epiphone guitars with Kalamazoo headstocks are part of the 'Inspired By Gibson Collection'. Gibson has said that each guitar in the new collection has been redesigned from the original blueprints and features improved electronics and classic finishes.
Within this new collection that will come with the new blade similar to the Gibson are:
Epiphone Les Paul Junior,
Les Paul Special,
Les Paul Studio,
Les Paul Modern,
Les Paul Standard 50s,
Les Paul Standard 60s,
SG Special,
SG Standard and
SG Standard 61 with Maestro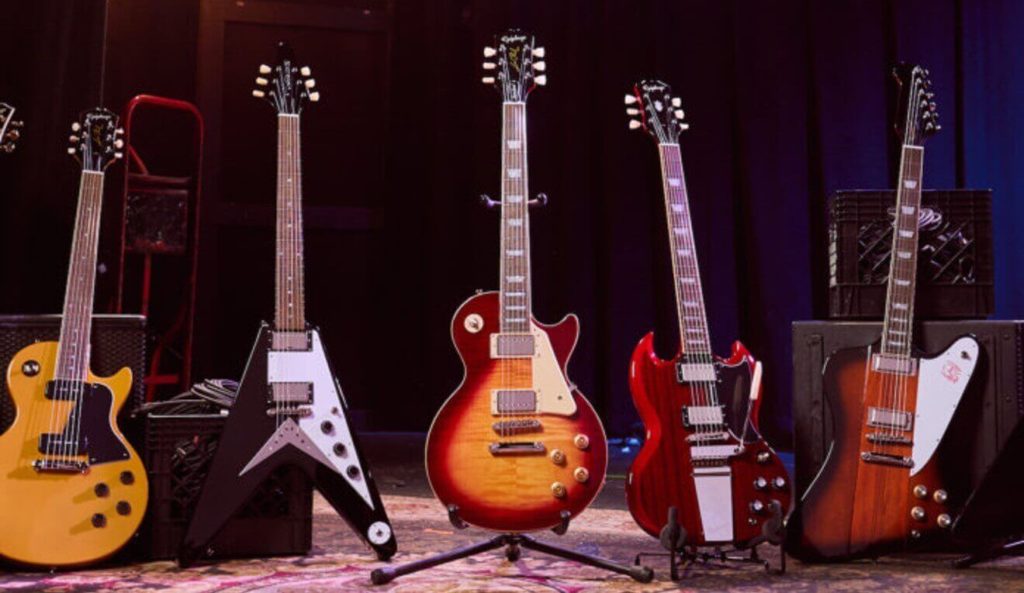 Also part of the "Inspired By Gibson" collection: Explorer, Firebird and Flying V.
Of course, Epiphone is more than just Gibson derivative instruments. The brand has created many iconic instruments in its long and storied history, and those guitars are represented by the new Epiphone Original collection.
New Range of Masterbuild Acoustic Guitars
As if that wasn't enough for a single session, Epiphone is also launching a new range of Masterbuilt acoustics inspired by the brand's classics from the '60s. A new ES Collection ES UpTown Kat derived from ES and the Les Paul and SG Muse Collection, aimed at entry level players.
New Epiphone Series Made in the USA
This new collection is headlined by a Texas acoustic guitar that is once again being made in the United States. Gibson has made several limited-run Epiphone guitars in the USA. USA Thus, it will launch the new Epiphone Made In USA range that will offer the classic designs of the brand with American construction.
Epiphone, Les Paul and their early relationship
"We are evolving Epiphone and launching it with a new look and new collections. We go back to basics to simplify the collections at Epiphone Originals and Epiphone Inspired by Gibson, "said Gueikian of the new range. Les Paul himself began working on his own solid body electric guitar at the Epiphone factory on 14th Street, New York in 1941. It culminated in the 'Log' that influenced Gibson to create the Les Paul model a decade later, arguably the greatest iconic guitar of all time. We are paying tribute to this heritage. "
For more information, head over to Epiphone.
Related Articles: Gibson Les Paul vs Epiphone Les Paul: features and differences.
You can share opinions or also chat about this and more with other musicians in our comments section.