History and specifications of PRS Multifoil Special Model guitar
History and specifications of the PRS Multifoil Special Model guitar, one of the most mysterious and desired guitars of Paul Reed Smith.
History of the Paul Reed Smith Multifoil Special Model
The PRS Multifoil Special Model guitar were produced in limited quantities, it is said that forty-eight were made. As far as you can find out this is true for a "PRS Forum" edition, which were made twelve out of four different finishes.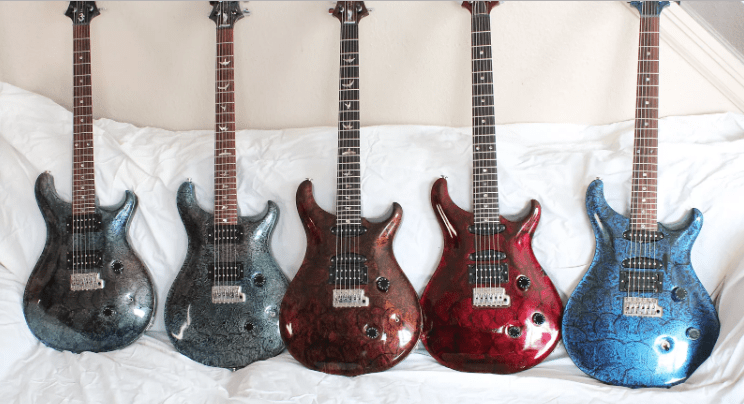 The multifoil special model included four colors: Blue, Silver or Metal, Red and Copper. There were also units without the "PRS Forum" identification, but we did not find reliable information on them. What we can say is that there is also the green finish. This PRS Multifoil model was produced in 1987, 1988 and 1989.
Sometimes this model is called "Standard Multifoil", instead of "Multifoil Special Model", since except for the shank profile, which is Wide-thin, the specifications are the same as the Standard 24.
PRS Multifoil Special Model Specifications
Like the Standard, the body is completely mahogany. In this way it differs from the Custom model that comes with a Maple top, although there are exceptions from Standards that came with a maple top, but these are very limited.
One piece of mahogany neck is set-in with 24 frets. The inlays can be the Moons or with the traditional PRS «birds». Fretboard is made of Brazilian Rosewood. Finally, the neck profile is Wide-Thin. The logo on the headstock of the Paul Reed Smith Multifoil Special Model is Paul's signature smaller than it is today.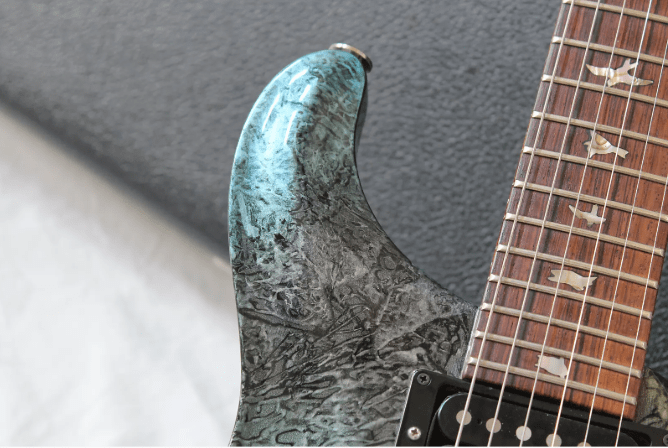 Mahogany body has carved top and double cutaway. The pickups are HFS and Vintage Bass in the H-H format, but it also came in HSS. It has a Rotary selector and could come with a tone, or with the Sweet Switch.
The Sweet Switch cuts high frequencies. Thus replicating the effect on the treble that the use of a long cable has. This was created by PRS from a request from Carlos Santana, who used to use long cables. This switch allows you to have both audios normal / bright or sweet / round tone at your fingertips.
The finishes, as we mentioned, were: red, copper, green, blue and metal.
PRS Multifoil 1988 Demo Video
Multifoil finish failure
The finish that is so appreciated today, at the time, was not well received by the market. Furthermore, the fragility of the peeling lacquer, made the model a failure. Even the salesperson of a guitar shop said that he had not been able to sell it for several months until the bought them.
High prices of the PRS Multifoil
Today these guitars are highly appreciated, reaching over USD 8,000 if they are in good condition. Like the Silver shown below.
For more information about PRS visit prsguitars.com.
Related Articles: PRS Guitars introduced Private Stock Dragon 35th Anniversary guitar.