Guitar Wall Hangers: Best Options and Features
The best guitar hangers for wall, features, pros and cons of each stand for electric, acoustic guitars, basses and other musical instruments.
Best wall mount guitar hangers
Every guitarist enjoys playing their instrument, but when you're not playing it, where do you put your guitar? If you've been playing electric or acoustic guitar for a while now, you probably already have a decent guitar holder. In fact, guitar stands are great for keeping your musical instrument always within reach. Also, guitar wall mounts are an excellent option.
Whether you have an electric or acoustic guitar, a large neck or a small neck, there's a wall hanger, holder or stand available for your setup on our list.
You may be interested in our review of the best acoustic guitars for beginners.
Advantages of guitar wall mounts
The wall hanger for guitars allows you to keep your room clear, especially if it is small or if people usually walk through it. Also, if you have children, wall mounts usually keep your guitars or basses out of the reach of children. Also, the guitar hanger is a great way to show off and display your instruments.
In summary, the advantages of guitar wall mounts are:
Free up space in your room
Keep your bulky instrument out of the way of people or the reach of children,
Show off your beautiful guitars, basses and other musical instruments
So, when your hanger is of quality and properly installed, hanging your guitar on a wall will be one of the safest and most convenient ways to keep your guitar close at hand.
Also, it should be noted that guitar wall hangers or wall mounting kits are relatively easy to install.
Disadvantages of wall mount guitar hangers
Wall mounted guitar hangers are great, however you have to consider the risks that they carry. If you do not install them correctly, your guitar could fall. Also, your guitar can swing and hit the wall. Finally, supporting the entire weight of the guitar on a single part can affect the finish of the guitar on its neck, especially if it is made of nitrocellulose lacquer.
In summary, the disadvantages and risks of guitar wall guitar hangers for wall:
Your guitar could fall and get hit hard,
Your guitar could hit the wall
The neck of your guitar could peel off.
Also, check out our pick for the best electric guitars for beginners.
The best wall mounts for guitars
String Swing CC01K OAK Hardwood Guitar Stand: One of the best value wall mount guitar hangers.
Gator Frameworks Wall Mounted Guitar Hanger: One of the best value wall-mounted holders, with different finishes -color and material- options.
Hercules GSP38WB: Guitar wall mount hanger with auto grip system.
Top Stage JX15-NAT: The best low-cost guitar hanger.
String Swing Horizontal Guitar Hanger: Best Horizontal Guitar Wall Holder.
String Swing Guitar Rack for 5 Guitars: The Ultimate Guitar Rack Hanger.
String Swing CC01K OAK
Sale Price: USD 14.99
The String Swing Guitar Wall Stand or Hanger is simple yet exceptionally well designed. In our opinion, the strong, durable construction and easy installation of this guitar wall mount make it a great choice.
The String Swing CC01KOAK Hardwood Home and Studio Guitar Hanger is one of the most popular models on the market and is one of the most affordable versions available today.
This guitar wall mount hanger has no fancy extras or complex security mechanisms, so if you're just looking for something simple, easy and cheap, this is a good choice.
This is also a great wall-mounted hanger to choose if you are not quite sure about hanging something yourself as the design to install this guitar holder is also very simple. The construction of the hanger is made from good quality materials and comes with a padded layer of soft foam that will help prevent any damage to your musical instrument.
The stand itself is made of hardwood, while the hanger rotates on the stand, making the whole contraption much more flexible, especially the yoke device. So, the design of this guitar wall hanger is really simple, it works well and it is very affordable.
Also, you might be interested in our guide on the best electric guitar amps for beginners.
Gator Frameworks
Sale Price: USD 14.99
The Gator Frameworks is another affordable, simple, and high-quality alternative. In addition, the Gator Framework offers different options with a base in a metallic and three in wood finishes: mahogany, cherry and maple.
The Gator Frameworks Guitar Wall Mount is a great choice if you're looking for a simple design and option in the cosmetic hanger look. Like the String Swing, the Gator Frameworks can be rotated to accommodate any headstock, symmetrical or not.
If you prefer the metallic or chrome finish, this is the best non-wood guitar wall hanger on the market. But you also have finish options with wood: mahogany, cherry, and maple.
Gator Frameworks also has its hanger coated with rubber to protect your guitar's finish. A highlight of the construction of this wall mounted guitar holder is the amount of distance Gator Frameworks puts between the wall and the guitar, which means there's less chance of your guitar getting knocked or scratched from hitting the wall accidentally.
Hercules GSP38WB with automatic gripping system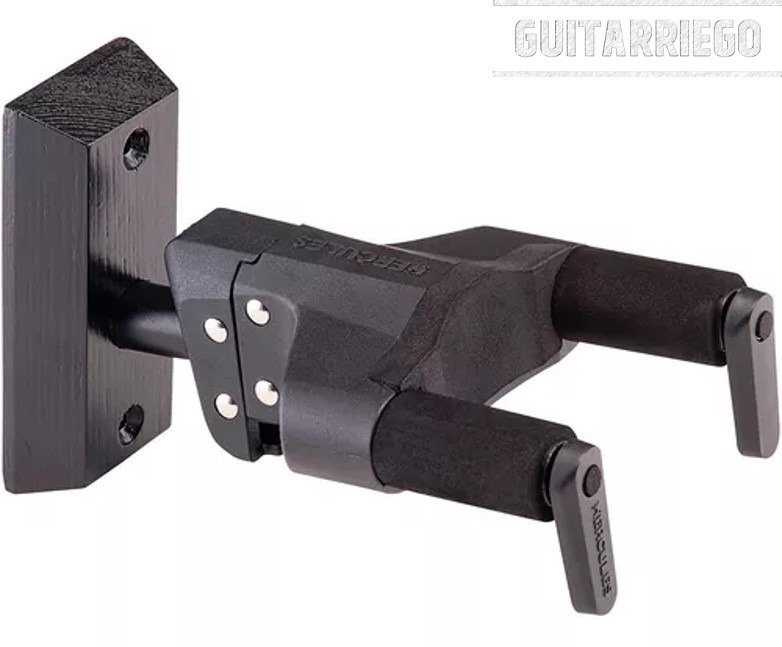 Selling Price: $25.49
The Hercules GSP38WB guitar wall mount with auto grip system is the hanger you're looking for if you want the best for your instruments, no matter what the cost.
The Hercules GSP38WB Guitar Wall Hanger is one of the standout players on the market. Its automatic grip system makes it one of the best options. This support will give you maximum security for your guitars.
Compared to some other holders on this list, the GSP38WB wall hanger has a much more mechanical and modern look than the other common guitar wall mount.
Hercules Automatic Swivel Yoke Hangers rotate automatically to accommodate guitars or basses of various shapes and sizes upright and securely. The GSP38WB features an attractive wooden base for home or studio use.
One notable difference about this wall hanger from the rest of the guitar stands on this list is that the Hercules GSP38WB has adjustable claws that allow it to hold your musical instrument securely in place and prevent your guitar from slipping off the holder.
The Hercules stand is a great option for an area where a lot of people walk. So, in case your guitar or bass is accidentally bumped, the claws of this wall hanger will prevent your musical instrument from falling to the floor.
Also, we recommend that you read our ranking of the best electric basses for beginners.
Top Stage JX15-NAT
Sale Price: USD 6.99
If you are looking for a really cheap hanger, but that does not put your guitar, bass or ukulele at risk, the Top Stage is the best option.
Top Stage Guitar Hanger is the cheapest option on our list, but made with the quality that your musical instruments deserve. This guitar wall mount features exclusive tubing that won't mar your instrument's finish. Also, it should be noted that its hardwood construction looks fantastic.
The materials used in making this wall mount are of a good quality, and there is foam padding on the hanger tubes that is soft enough not to leave marks on your instrument if your guitar should slip a little.
String Swing Horizontal Guitar Holder
Selling Price: $42.99
If you're looking to display your guitar horizontally, or just don't have the vertical space to hang it, String Swing Horizontal Holder is the Best Horizontal Guitar Wall Mount.
The String Swing Horizontal Holder features a bar with two hangers at both ends; a larger one to hold the body and another to hold the neck of your guitar.
This horizontal guitar hanger for the wall will allow you to hang your guitar horizontally above your armchair or other piece of furniture. The String Swing Horizontal Hanger is a great display option when you have limited vertical space.
The String Swing Horizontal Stand is a high quality product that will keep your musical instruments safe. Plus, it takes around 8 minutes to set up, plus some tinkering with the arms to get the desired angle and aesthetic.
In addition, we strongly recommend this guide on the most expensive electric guitars desired by collectors.
String Swing Guitar Rack Hanger for 5 guitars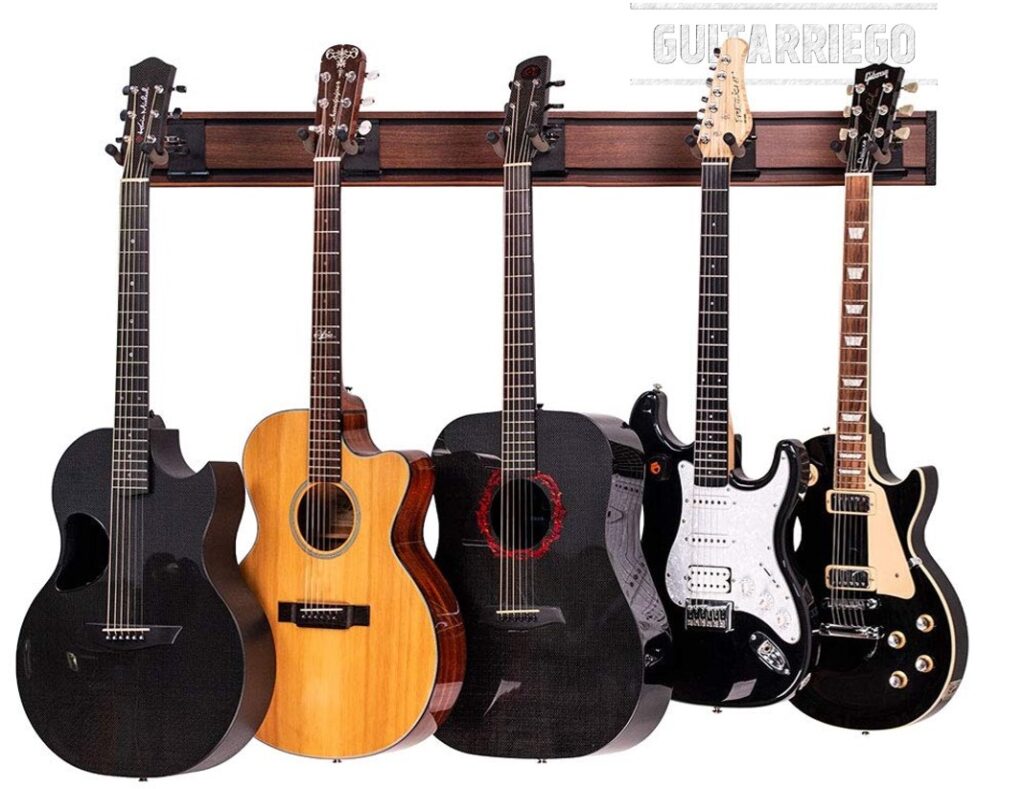 Sale Price: USD 169.99
If you need a support for several guitars, the String Swing Guitar Rack Holder is the perfect option for you.
String Swing is a stylish and ergonomic wall rack, perfect for displaying guitars at home, in the studio or in the store. Whether for the guitar collector in your home, or a studio, or a shop that needs multiple guitars stored efficiently, the String Swing Guitar Rack Holder is the smart choice.
The accessory set comes standard with steel arms and additional padding for the guitar neck attachment. The guitars are hung diagonally for a good use of space.
String Swing reports that it takes only 10 minutes to set up. Although, it took us a little longer to set up, almost 15 minutes, which is not a big deal either. For both this and any, we strongly recommend using an electric screwdriver, otherwise a manual screwdriver would be a considerably longer install.
Best Multi Guitar Wall Hangers
If you don't necessarily have the time, space, or studs to hang multiple individual guitar stands or holders, an all-in-one guitar hanger for multiple guitars is a great option.
Take a look at these excellent quality wall mounts for various guitars:
String Swing SW5RL-BK Guitar Keeper: This is our favorite option, described above, it allows you to place up to 5 guitars at an angle to save space.
Levy's Slat Strip Hanger: Also holds up to 5 guitars. Additionally, this multi-guitar wall stand features adjustable spacers to accommodate different guitar sizes.
Guitar floor stands vs guitar wall hangers or holders
You might also consider investing in a good floor stand for guitar. These are ideal for situations where you need to frequently change guitars, staging, or instrument positioning.
Why do you need a wall hanger for your guitar?
Depending on your personal preferences, some guitarplayers really aren't comfortable using guitar wall hangers and prefer to use guitar stands instead. If you are one of those people who is more comfortable using a guitar stand instead of a guitar wall hanger, you should know that there is no absolute need for a guitar wall hanger.
However, having a wall hanger to store your guitar can be incredibly practical. Keeping your guitar hanging on the wall helps keep it safe and away from small children and animals.
If you're someone who gets up a lot and moves around when playing guitar, storing your guitar on an unstable guitar floor stand or on a chair can increase the chance that you'll drop your guitar, which can cause it to break it or that the finish is damaged.
Keeping your guitar stored on a wall hanger is an easy way to store it if you need to put it down quickly. Also, a guitar hanger is a great option if you're looking for a way to store your guitar and use it as a piece of decor.
Perhaps, some musician has told you that guitar wall hangers are unsafe, you should know that the wall wall hangers for guitar are very safe if they are installed correctly.
We recommend that you visit our tutorial on the weight of guitars of different brands and models.
Can I use a wall hanger for a heavy guitar?
It doesn't matter if you have a Gibson Les Paul weighing more than 11 lbs -5 kg- or a bass, acoustic guitar, electric guitar, banjo or electro-acoustic guitar of any size or weight, you will still be able to use your guitar wall hanger. The guitar wall-mounted hangers are prepared to support much more weight than you can imagine, if it is of good quality and well installed.
Also, you can use these wall hangers for other string instruments such as violins, cellos, ukuleles, guitarleles, among others.
Types of guitar wall hangers
There are all kinds of options of guitar wall mounts for different budgets. You can choose between a standard inexpensive guitar wall hanger or invest in an expensive self-locking holder. A self-locking wall hanger will close the grip around the neck of your guitar when you mount it, adding an extra layer of security as you'll have to physically lift your instrument in order to unlock it.
Also, there are options for guitar hangers for the wall with a hygrometer for the care of an expensive acoustic guitar.
Expensive guitar care
If you have a very expensive high-end or vintage guitar, we strongly recommend that you store your guitar in a well-constructed hardshell case with a humidifier or dehumidifier, depending on the type of environment your guitar lives in.
You can use a guitar wall hanger as long as you are going to use it frequently. But once your day or music session is over, store your guitar in its hard case.
Wall hangers and guitars with nitrocellulose lacquer
Just as an important tip, if your guitar has a nitrocellulose lacquer, your guitar will not be compatible with the average wall hanging solution. All you need to do to make your musical instrument compatible with a basic wall hanger is add an extra layer of protection between your guitar and the hanger. You can use a cotton cloth as an extra layer and the wall mount is ready to hang your guitar.
Also, you might be interested in this guide on acoustic guitar buying tips.
Advice for the installation of the hangers
If you have wood and plaster walls, we recommend that all guitar pendants be installed in a stud. If your wall stud is already occupied or you can't access it, we recommend purchasing higher-quality drywall screws, brackets, and anchors.
Thus, wall or drywall anchors and screws will help prevent the weight of your guitar from causing the hanger to come off the drywall, causing your guitar to crash to the floor.
We hope that among the guitar wall hangers that we recommend in this guide, you have found an option that suits your budget and personal needs.
Share your experience with guitar wall mounts with the Guitarriego community below in the comments section.