Best cheap guitar amps for beginners
The best cheap electric guitar amps for beginners, for any style of music, all kinds of budget and quality.
How to choose your first guitar amp for beginners?
If you're a beginning guitarist looking for your first electric guitar amp, the sheer variety of options is overwhelming. We will give you a short guide so you can choose the amp that best suits your needs, style and budget.
The first step is to define what you need and what style you have, for that you must answer the following questions:
What will I use the equipment for?
Will I just use it to play at home or to play in the band?
The second step is to identify what style you want to play. Answer the following questions:
What audio am I looking for?
Will I play with distortion, crunch, clean?
Will I need effects like delay, reverb, chorus, tremolo, etc.?
What styles of music will I play? What guitarists do I like and what amplifier or audio do they use?
Finally, think about how much is your budget. Now let's see, which of these amplifiers suit your answers, your requirements.
Best cheap electric guitar amps for beginners
Boss Katana 50 MkII
Roland CUBE Street EX
Blackstar Silverline Standard
Line 6 Spider V 30 MkII
Fender Mustang I V.2
Vox Pathfinder 10
Fender Frontman 10G
Fender Acoustasonic 15
Orange Crush 20
Marshall Code 50
Fender Champion 20
Boss Katana 50 MkII
Boss Katana 50 MkII is a 50 watt 1 × 12 ″ guitar combo amp. 1 x 12 ″ means you have 1 12-inch speaker. The most common sizes are 8 ″, 10 and 12 ″. The bigger the speakers, the more body, the more bass the amp will tend to have. Also the size of the cabinet. This is a great point of the Katana.
Plus, with its adjustable power control, it lets you choose between 50 watts, 25, or just half a watt of power. Its great power will allow you to play with your band in rehearsal or in small and medium recitals. In turn, the Boss Katana 50 is capable of bringing you vintage amp tones at radio volumes. Five different amp modes: Clean, Crunch, Lead, Brown and Acoustic, which also each have variations, different modes.
It has switchable channels and built-in effects like any digital modeling amp. Thus, the Katana allows you to play practically all musical styles. It has a headphone jack and you can practice quietly at night without disturbing your neighbors. Another great feature is its USB port, which allows you to record your music on your computer.
The sale price of the Katana 50 MkII this great amplifier is EUR 259 in Spain and USD 229 in the US.
Roland CUBE Street EX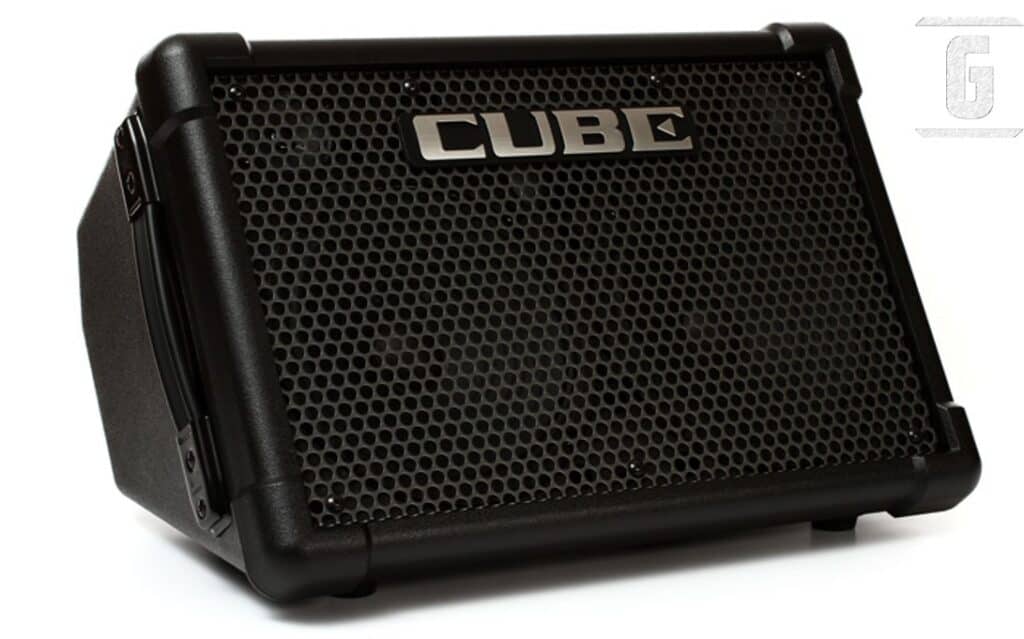 This is one of the classic practice and portable electric guitar amps. Not only for beginners, but also for advanced guitarists who require a very portable amp. It is a 50 watt 2 × 8 ″ combo, that is, two 8-inch speakers that provide great sound. Designed for maximum portability and to function as a monitor. The Roland CUBE Street EX combo amp features a drum kit that lets you play without having to plug in. Thus, it is perfect to play anywhere, whether at home, on a trip, on a terrace, in a square or, as the name suggests, on the street. The great power of 50 watts makes it ideal for playing with bands wherever they go.
Also, it has additional inputs for a voice microphone or an external music player. Thus, the Roland Street EX becomes a public address system. It also has versatility of tones and audios thanks to the digital modeling of the amplifier, the effects and built-in tuner. Thus, the CUBE Street EX is one of the best cheap super complete electric guitar amplifiers for both beginner and advanced guitarists.
The Roland Cube Street EX is priced at EUR 517 in Europe and USD 500 in the United States. Although it is priced higher than the Boss Katana, this amp with its battery gives it a unique functionality that is highly valued by buskers.
Blackstar Silverline Standard
This 20-watt 1 × 10 ″ combo features stylish digital flexibility and designed, as the manufacturer promises, to sound like a classic tube amp. The Blackstar Silverline Standard amp is an excellent choice for guitarists looking for a traditional amp experience with extra versatility.
Its advanced SHARC processor powers its innovative TVP technology, which models the nuances of a tube amp in outstanding detail. Including six selectable power amp models and six different preamp options. Thus, the Silverline Standard covers a wide range of sounds. In addition, it is equipped with a USB connection and stereo line-out that emulates speakers for easy and direct recording. One aspect to highlight is that its speaker is a 10-inch Celestion V-Type. It is worth clarifying that its 20 watts are a limited power to be able to play in bands, therefore, depending on how loud the drummer is, it may be short of volume.
The sale price of the Blackstar is EUR 410 in Spain and USD 429 in America.
Line 6 Spider V 30 MkII
The Line 6 Spider V 30 MkII is a classic 30 watt 1 × 8 ″ digital modeling combo amp. It has a large number of functionalities, both for those who want to simply plug and play; or for those looking to spend their time exploring each element of their guitar tone.
Line 6 is one of the absolute leaders in amp modeling technology. The Spider V 30 MkII has over 200 amp models to experiment and play with. It also has a wide variety of effects and even drum loops to play with background rhythms. One highlight is that the Spider V 30 MkII's full-range speaker also works very well for acoustic guitars. Despite its 8 inches, its sound sounds big enough. Finally, its 30 watts will allow you to play in rehearsals with your band, but you will need miking for recitals.
The selling price of the Line 6 Spider V 30 MkII is EUR 185 and USD 209 in the United States. Thus, they make this electric or acoustic guitar amplifier one of the cheapest options.
Fender Mustang I V.2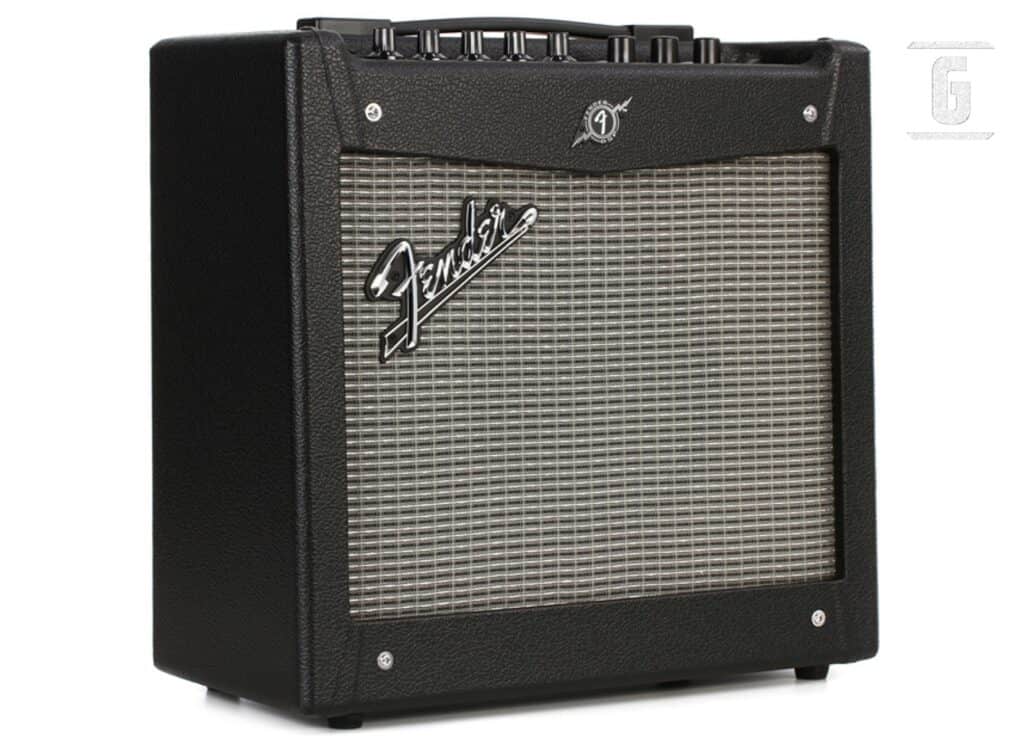 This is an inexpensive 20 watt 1 × 8 ″ modeling guitar combo amp. It offers many features at an affordable price. This is one of the best electric guitar amps for beginning guitarists who have an open head when it comes to musical tastes and are looking for lots of options and possibilities.
The Fender Mustang I V.2 includes 24 onboard presets covering a wide range of guitar audio. You can get clean country tones to modern metal audios. It has a ton of built-in effects to play and explore. It comes equipped with an input for connecting a music player for playing and a headphone output for silent practice sessions. The Mustang I V.2 even comes with a USB connection for your computer, making it easy to record when the time comes. Thus, it gives many modern features. Hands down, it's one of the best electric guitar student amps for home use.
However, if you are looking to have an amp to play with the band, its 20 watts and its 8-inch speaker will be too little.
The price of the Fender Mustang I V.2 is EUR 132 in Europe and USD 140 in the US.
Vox Pathfinder 10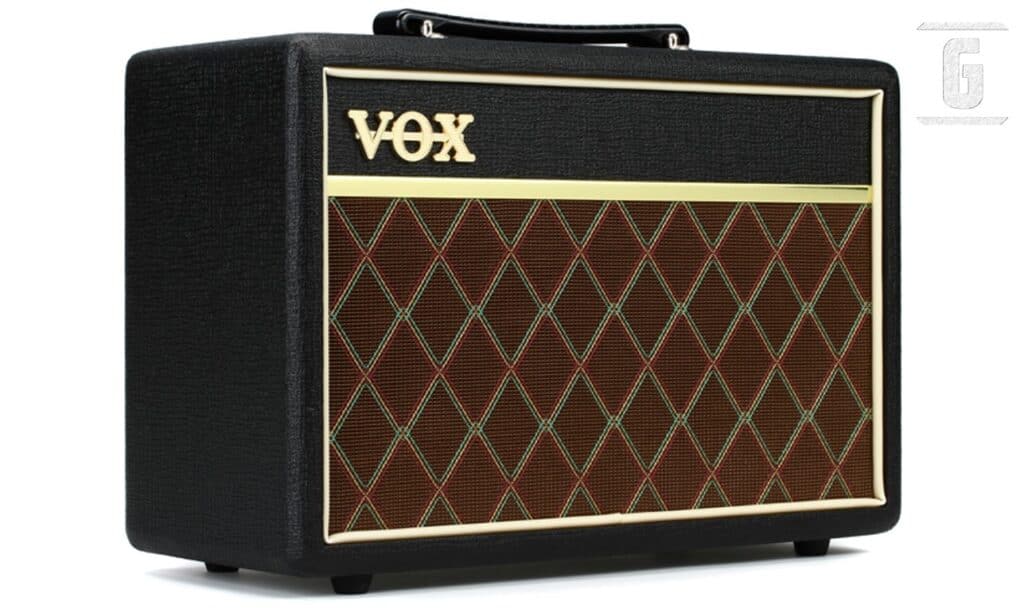 This small 10 watt 1 × 6.5 ″ combo amp is an old school style classic. Just plug in your electric guitar and play. Despite its low price, the Vox Pathfinder 10 packs an excellent classic British rock tone. It features a clean / overdrive switch that takes its sound from clean to classic English overdrive, ideal for fans of British bands like Queen or U2. It's a simple amp that has no onboard effects, just a headphone output for quiet late-night sessions. If you're looking for a simple, super inexpensive guitar amp with great, classic Vox sound, the Pathfinder 10 is the best beginner electric guitar amp you can buy.
The sale price of the Vox Pathfinder 10 is only EUR 75 in Spain and USD 90 in the United States.
Fender Frontman 10G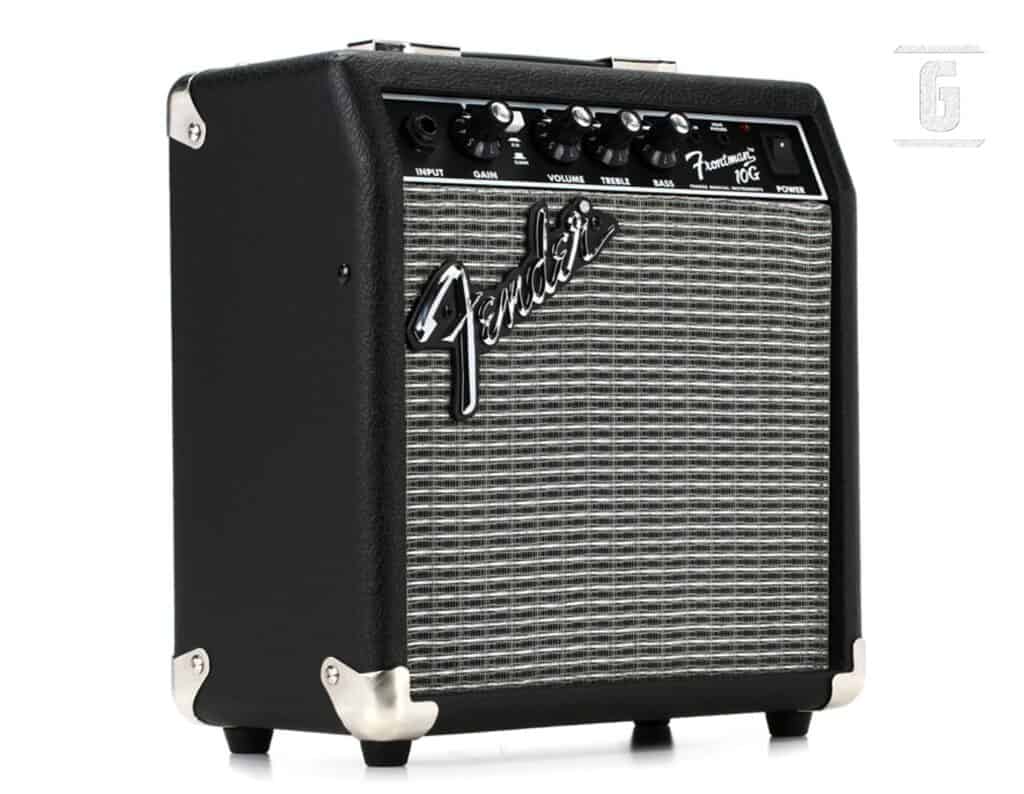 10 watt 1 × 6 ″ combo amplifier, super small ideal if you have space and limited budget. But remember, tone has no place, and this amp will blow your mind. The Fender Frontman 10G with 10 watts and a 6 ″ speaker, also includes two selectable channels: normal and overdrive. Many will be delighted because it features the classic Fender Blackface aesthetic. In addition, it is equipped with an input for your music player that allows you to play along with your favorite songs, and a headphone output to play at night and not disturb your neighbors.
This super compact beginner practice amp is the cheapest option on the list with a selling price of just EUR 66 in Spain and USD 70 in the US.
Fender Acoustasonic 15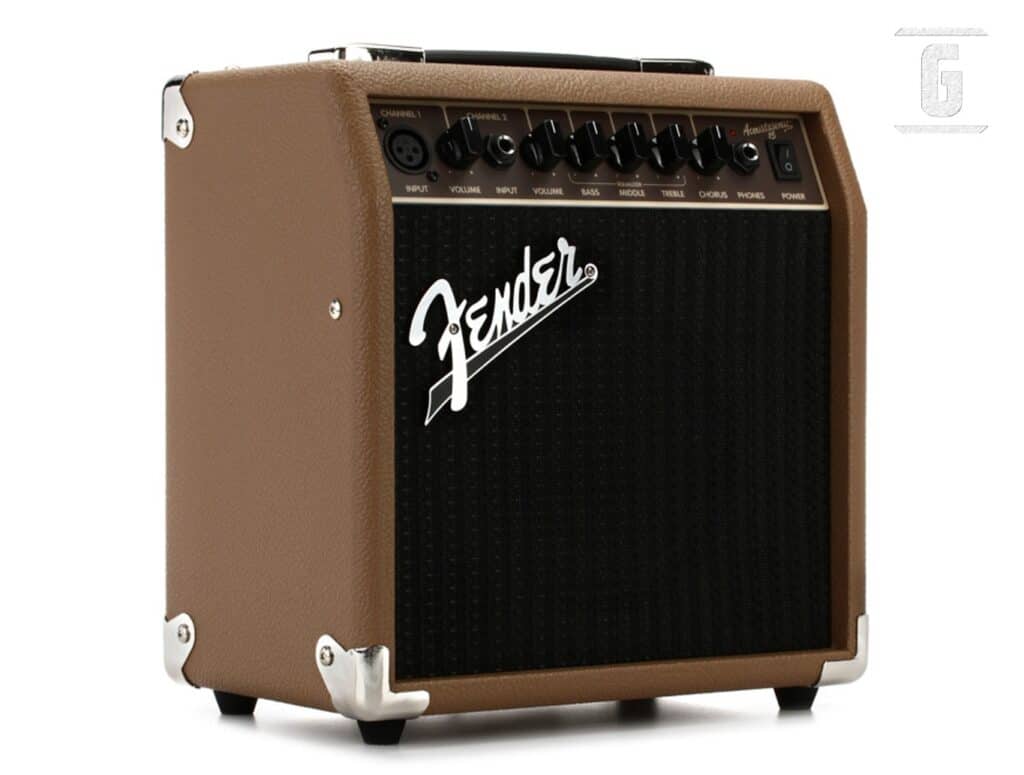 This amp is the only one on the list for acoustic guitar. It's a 15-watt 1 × 6 ″ combo. When you play acoustic guitar, it's easy to forget about amplification. An acoustic combo amp like the Fender Acoustasonic 15 doesn't take up much space and will allow you to play at different volumes and practice amplified. This is important as it will allow you to hear more clearly and in detail what you are playing and your progress. Additionally, the Fender Acoustasonic 15 also has a microphone input, so you can sing along as you play – great for singer-songwriters.
The price of the Fender Acoustasonic 15 is EUR 102 in Spain and USD 100 in America.
Orange Crush 20
The Orange Crush 20 amp is a 20 watt 1 × 8 ″ combo. It features the classic aesthetic of the historic English brand Orange. This amp is one of the best cheap guitar amps for beginners if you are looking for an aggressive English sound. So if you're a rocker, consider the Orange Crush 20 combo amp. This amp for beginning guitarists features two channels that cover a full range of audio. From chime limps to furious Orange distortion. It features technology that simulates the character and response of a classic tube amp. It has a CabSim output that you can connect directly to a recording device. Making a great option for anyone who wants to record themselves.
The sale price of the Orange Crush 20 is EUR 132 in Spain and USD 139 in the United States.
Marshall Code 50
Marshall Code 50 is a 50-watt 1 × 12 ″ digital modeling combo amp. Not only does it feature that classic Marshall growl, but it features 14 different preamp models and 14 different power amp models that you can mix and match any way you like. So you can combine the preamp from a classic Fender rig through the power section of a Marshall amp. In addition, the included Marshall Gateway software allows you to control all the functions in the Code 50 combo with your mobile via Bluetooth, turning it into a remote control. One of the best cheap amps on the beginner practice market. Plus, its 50-watt power and 12-inch speaker will give you enough volume to play rehearsals and medium recitals quietly.
The sale price of the Marshall Code 50 is EUR 263 in Spain and USD 299 in North America, giving you an excellent price and functionality ratio.
Fender Champion 20
Fender Champion 20 is a 20 watt 1 × 8 ″ amp. This little amp features the classic Fender Blackface aesthetic. This combo features a modeler – simulator or emulator – spanning a variety of old and new classic amp types. Fender Champion 20 is not as complex as modern digital modeling amps, but is very simple and straightforward to use.
The Fender Champion 20 features built-in effects, auxiliary input to connect your music player, headphone output for silent practice when your family sleeps.
The retail value of the Fender Champion 20 is EUR 124 in Europe and 130 in the United States.
There is an amp for every beginning guitarist.
These inexpensive amps will be great for practicing for anyone, beginners, and even higher level guitarists. There are many great beginner amps on the market. Try each one and choose the one that you feel makes you play better, that inspires you, the one that does not allow you to stop playing.
What do you think is the best inexpensive guitar amp for beginners?
Also, you can learn more about this, visit Yamaha, Fender, Vox.
Related Post: Best 10 Digital Modeling Guitar Amplifiers.
You can share opinions or also chat about this and more with other musicians in our comments section.