Ibanez AS73, super versatile and cheap guitar – Review
By Freddie Valle
Ibanez AS73 Artcore is a Gibson 335 style electric guitar that has a great tone and great value for the money, let's start the review.
Hollow vs Semi Hollow Electric Guitars
Before we start by clarifying some concepts. A semi-hollow electric guitar, has a central block of wood to mount its pickups. Unlike a completely 'hollow' body such as hollows that enhance resonance, but general couplings. The center block of the semi-hollow box eliminates the coupling and negative feedback of a totally hollow box. Therefore, most semi-hollows are naturally geared towards music that requires some overdrive or distortion and can be equipped with alnico pickups with more output.
Usually these guitars are Archtop, which means that the top is curved. Do not confuse this term with its hollow condition. Above is a photograph in which you can see the curved top of the Ibanez AS-73 guitar.
Ibanez Artcore AS73 Technical Specifications
Let's see the specifications and feature of the Ibanez Artcore AS73.
Instrument Cabinet Features
The model of the guitar analyzed is already more than five years old. In recent years, the Ibanez AS 73 has undergone changes. According to the Ibanez website, the analyzed instrument had a mahogany neck, a maple body and a rosewood fretboard.
Nowadays the Ibanez site indicates that the set-in neck is from Nyatoh. This is a medium-sized wood like mahogany and paler in appearance. In my perception it has a little more shine than mahogany. The Ibanez AS153 is also manufactured with this same wood, which is from the superior Artstar line, and is the top of the range model built in China. The Ibanez AS200 made in Japan is made with african mahogany.
Regarding the body – tops and sides – now Ibanez declares to do it with basswood in the Ibanez AS-73, and only after the AS83 model they begin to use maple. Although it does not clarify what wood the central block of the body is made of, we can assume that it is also linden.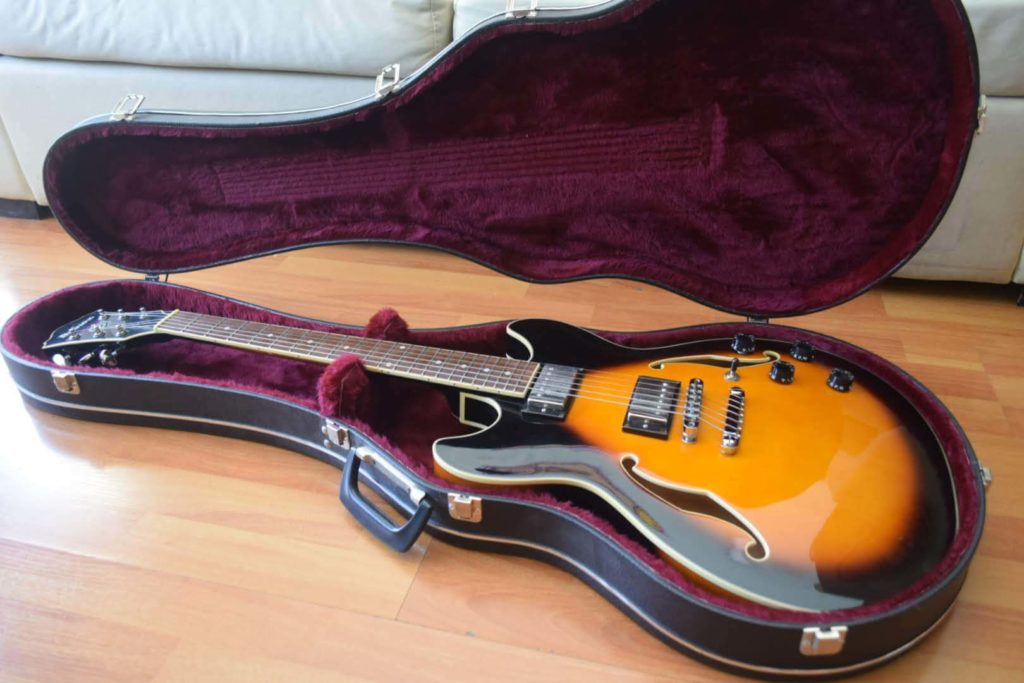 Regarding the fretboard, while Ibanez used to indicate rosewood for the fingerboard, he now declares laurel. The tastiera of the analyzed guitar seems to be made of rosewood, or failing that, we could say that if it is laurel, it has an aspect very similar to that of rosewood.
Ibanez AS-73 Hardware
The frets are twenty-two and medium in size. The bridge is an ART-1 and the tailpiece a Quik Change III, solid, with an eye-catching design. The pegs also show solidity and good quality.
Pickups ACH-1 and ACH-2
The pickups are ceramic. Those in the model are called ACH-1 and ACH-2 respectively for neck and bridge position. The ones currently declared by Ibanez are called Classic Elite.
ACHs are affordable humbuckers, a bit racy, but don't expect that because they're ceramic they are going to be high output. I would describe them as hot-vintage.
Although these pickups that the AS73 comes with work very well, and make this classic-looking electric guitar a rock machine, because of my classic and bluesy style I upgraded the pickups. I put the Dimarzio Air Classic on him. These are Alnico V PAF humbuckers with scooped audio and vintage output. The Dimarzios are excellent and priced much more competitively than other Seymour Duncan brand pickups, which is the brand I usually use on all my instruments when I am not targeting boutique type pickups like Fralin or Klein.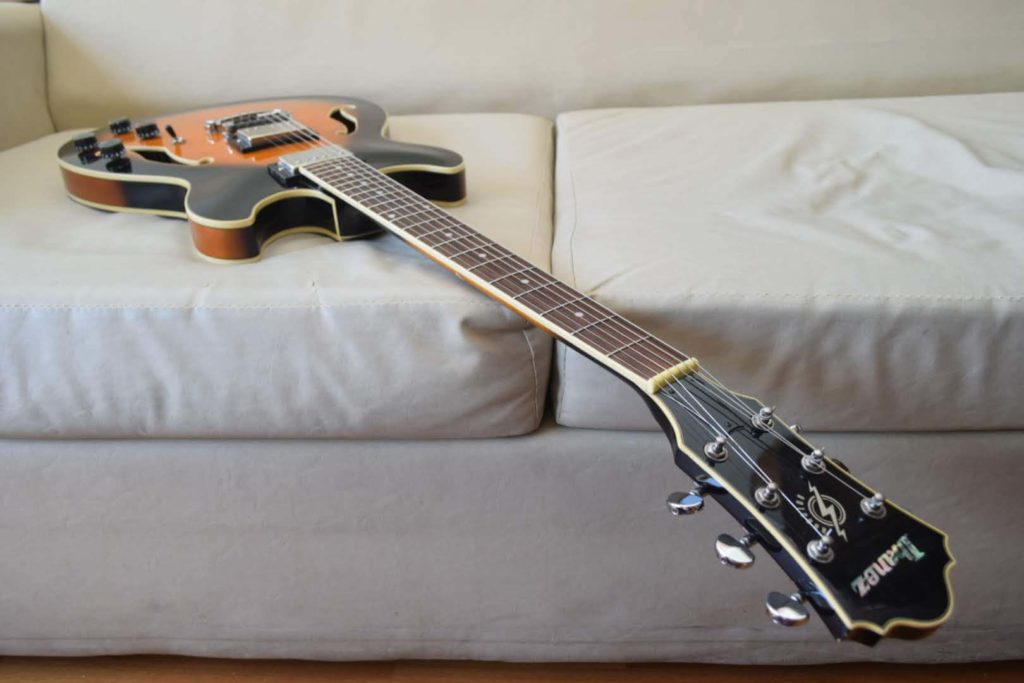 Finish and finishes of the Ibanez AS 73
The aesthetics are barbaric. The paint job is excellent. The Ibanez logo on the upper is inlaid and made in an excellent quality synthetic avalon.
It has a double binding with three ivory / black / ivory lines on the body. On the shovel it also has the same three-line binding. On the side of the storage it comes with binding in ivory color. The "f-holes" unlike the Gibson Hollow Body also have a binding.
Finally, the pickups have a chrome covers that match the guitar's bridge and tailpiece. They make everything on this instrument look good. Of course, a little more humble than the big sisters like the Ibanez AS93 which features rectangular inlays and flamed top and back. The new finishes that have the AS 73 are not as classic and traditional as this one, and instead of the dots they come with rectangular inlays.

Ibanez Artcore AS-73 Guitar: Audio
Based on the classic Gibson Dot ES-335, the world's most popular semi-hollow guitar. It has a good richness of frequencies. Showing good brightness that gives it excellent definition, while having mids and bass give body and depth to your audio. It has good attack and sustain. It really is a very versatile instrument.
This electric guitar, contrary to what you might expect, is suitable for playing many styles of music. From Rock 'n Roll, Blues and Jazz, to Hardrock without any problem, on the contrary, it will fulfill all these musical genres excellently well. Pop punk musicians like Blink 182 guitarist Tom DeLonge uses one to demonstrate the wide variety of styles and genres that can be played on this instrument.
The Ibanez AS73 semi hollow box electric guitar is priced from $ 400 to $ 500. Its price really seems minimal compared to its tone and quality.
Original ceramic pickups add a "rocker" tone. Although in American forums they suggest a change – to which instrument of less than USD 1,000 they do not suggest a change of pickups? -, these show a more than decent quality and are more than enough to be able to sound really good. I've used it in rehearsals playing on a Vox AC30 and the audio was excellent: sharp, dynamic and rich across all frequencies. The new Dimarzio Air Classic that you have installed give it a more bluesy and vintage style.

AS73 demo video
The following video is very clear and you can see the good behavior of this economic guitar, an excellent demo of the Ibanez AS73:

The model's Achilles heel
Most of the guitars has a weakness, and the AS-73 is no exception. After a while it required a fret touch-up by my Luthier. The first string sometimes stuck at the junction of the fret and the fretboard. It was not visible but required a specialized hand.

Ibanez AS73 review and opinion conclusion
Ibanez has us used to excellent musical instruments, and this electric guitar is no exception, it is an all-rounder. It is suitable for playing from blues and jazz to hardrock. It has audio with a lot of personality, providing a sound that is rich and versatile. The combination of well-defined and fat audio provides excellent dynamics to the player.
Of course they can have some detail like the frets. Let's not forget that they are low-priced guitars, barely reaching USD 400 or USD 500.
I have shared opinions with other people who have tested an Ibanez AS73, and generally we always come to the same conclusion. This beautiful guitar has a great value for the money, the Ibanez AS73 is versatile and affordable.

For more information visit Ibanez.com.
Related Articles: Gibson LPJ 2014 review: Is it a Les Paul?
You can share opinions or also chat about this and more with other musicians in our comments section.