Best Modeling Amps for electric guitar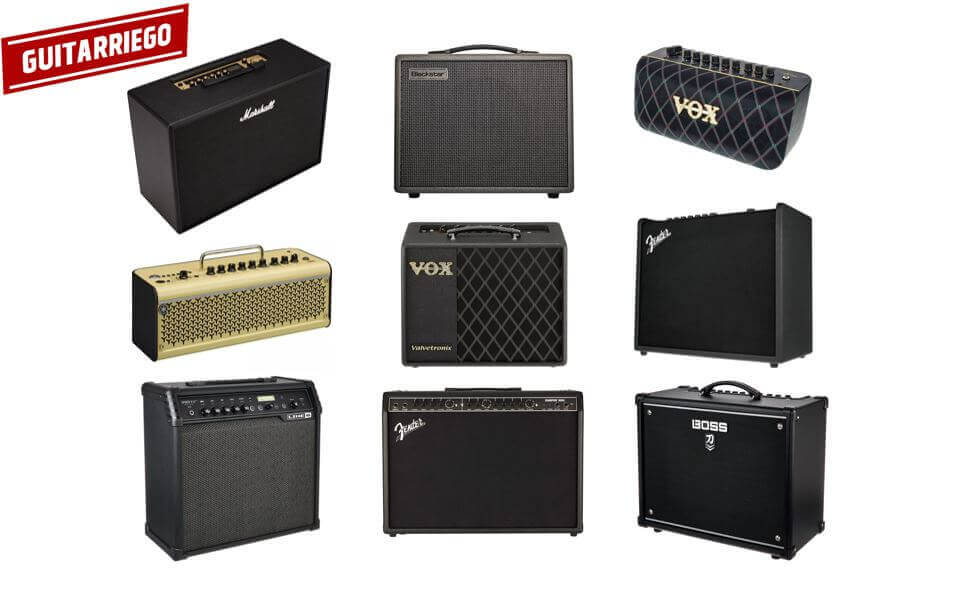 In this note we show you the best modeling amplifiers in combo format, which have had a great evolution in recent years.
Guide to the best modeling amplifiers
Finding an amp that accommodates different needs and styles can be tricky. There are amps that sound good at high volumes, but with practice volumes they lose their magic. Other amps play well at low and high volume, but don't display a wide range of audio. Do not ignore the issue of portability. A good amp of more than 30 kilos, can be a headache and back pain.
A few years ago, modeling or digital amps have entered the scene, making it easy for the guitarist who needs an amp that performs well at any volume level, offers a variety of tones, and is portable.
We show you the best digital amplifiers. We include some affordable and some not so cheap. Some to use in your bedroom and others that you can use both at home and in rehearsals and even recitals.
Best modeling amps for guitar
Fender Champion 100XL
Blackstar Silverline Standard
Boss Katana MkII
Line 6 Spider V 60 MkII
Fender Mustang GT 100
Blackstar ID Core Stereo 100
Yamaha THR30II
Marshall CODE100
Vox Valvetronix VT20X
Vox Adio Air GT
Fender Champion 100XL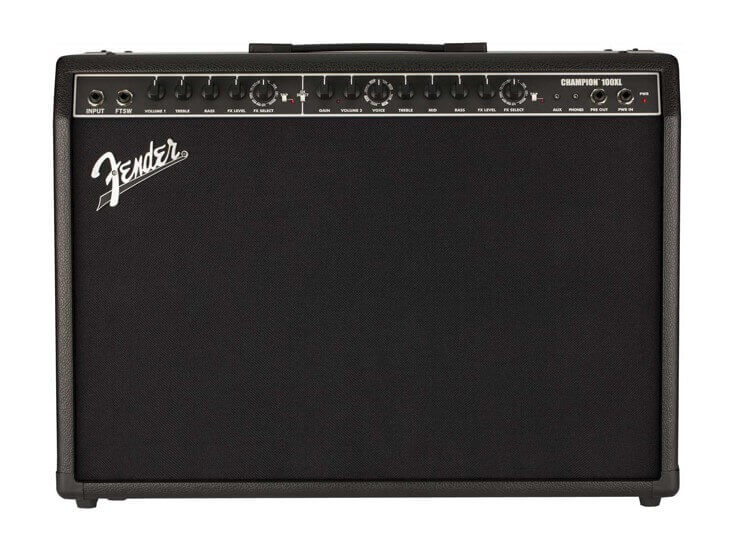 Fender recently announced the new and updated version of their popular Champion amp. This new amp will compete in the same segment as the Boss Katana. Designed with those who want and need an easy-to-use amp with a variety of built-in amp and effects models in mind.
The new Champion features two channels including 16 amp emulations, from classic Fender clean to wild distortions. In addition, each channel has its own effects section that includes 16 digital effects, which you can set with the TAP function. These range from Reverb and Delay / Echo to Chorus, Tremolo, and even Vibratone.
Additionally, it comes with four other Stompbox-like effects separately: Compressor, Overdrive, Distortion and an Octaver, but these come with fixed settings. Without a doubt, this new Champion has come to enter the select group of the best digital amplifiers.
It comes equipped with two Celestion Midnight 60 speakers that will allow you to play on a sizable stage. It also contains a headphone output. So this amp will allow you to use it for practice at home, or for small or medium recitals.
Price: USD 425.
Blackstar Silverline Standard
This Blackstar with 20 watts will serve you for rehearsals and small concerts. With a wide variety of shades available, it offers great versatility. It has six Blackstar preamp emulations, ranging from chugging clean to "rotten" overdrives. It has four modulation effects, four Delays, and four Reverbs.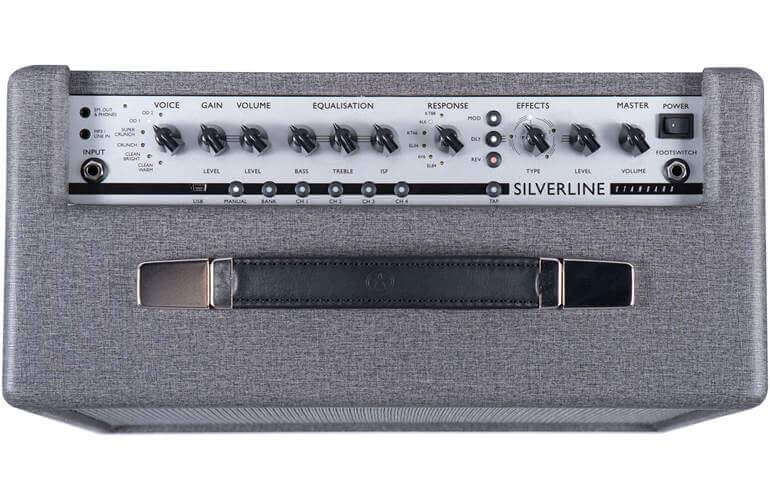 While switching from manual mode to preset mode offers twelve banks for recording fully customizable settings, which can be expanded to 128 using the Blackstar FS-10 Footswitch ($ 90). While it does feature a compact 1×10 cabinet – it packs enough bass.
Price: USD 430.
Boss Katana MkII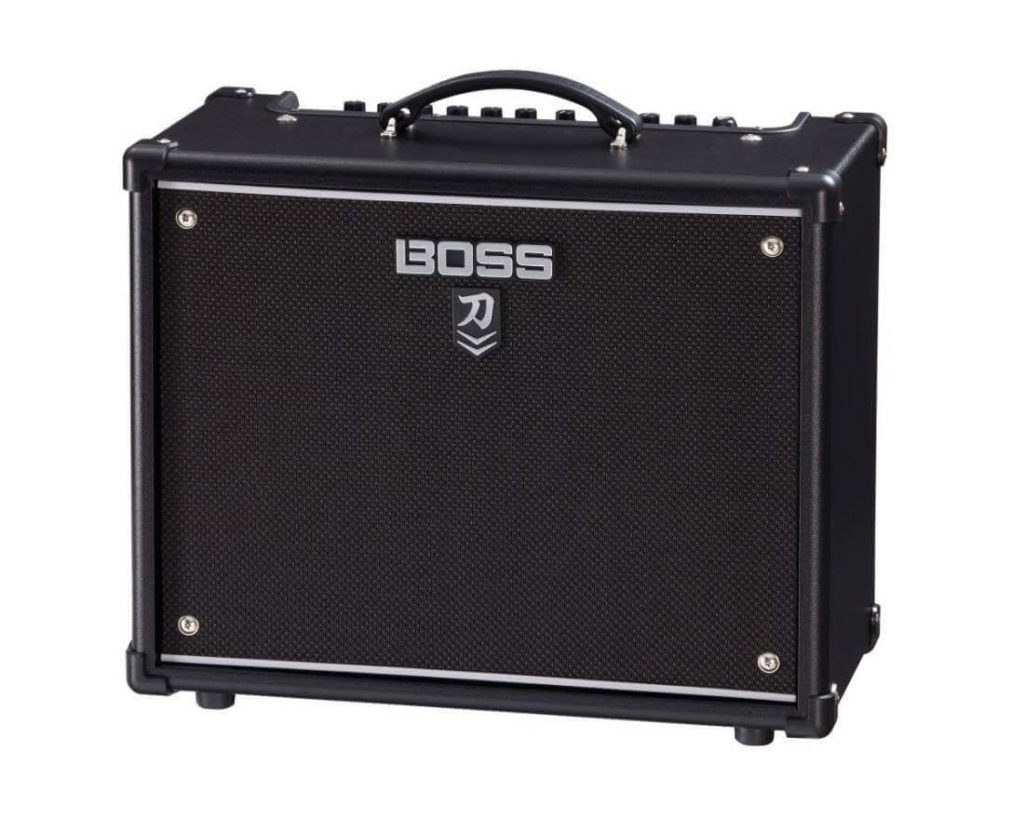 Now with even more versatility, this compact second-generation Katana combo packed with Boss effects is powerful and good enough to be your concert amp. It is small portable and super cheap.
Count 50 watts that will give you everything you need to play almost anywhere. It now includes a "variation" option for each of the five amp types, which ultimately ends up being 10 different audios to choose from. Regarding the effects section, it has been redesigned so that you can use up to five simultaneously instead of the three that the previous version allowed. This amp meets all the requirements of a modern modeling amp.
Price USD 310.
Line 6 Spider V 60 MkII
Line 6 claims that there is a Spider for every guitarist. This is because of the wide product range and versatility that the Spider line offers. With more than 200 emulations of amps, cabinets and effects, the Spider covers the whole range of audio that every guitarist can search. It also includes 128 presets and features a built-in tuner, metronome, and drum loops, ideal for practicing and soloing.
While it can seem a bit complex and cumbersome, it is very easy to achieve good tones. Additionally, the 60 MkII and above models also have built-in wireless receivers. A clear differentiator in this competitive market.
With its 60 watts it will allow you to be your perfect practice amp, as well as your amp for recitals.
Price: USD 335.
Fender Mustang GT 100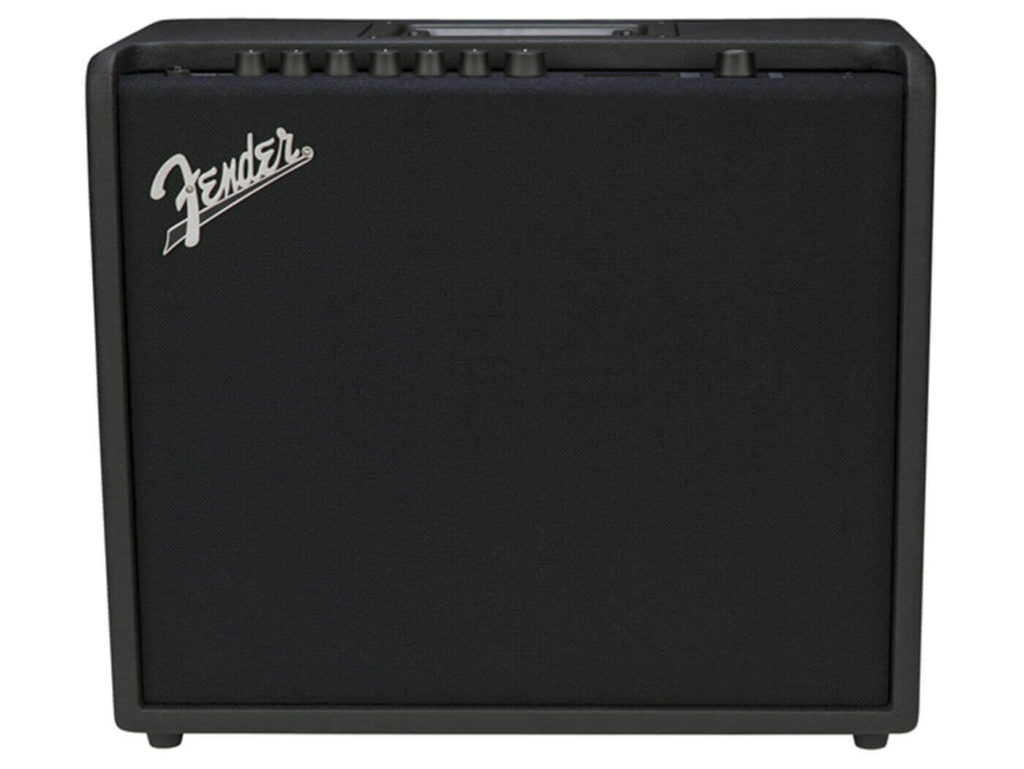 The GT 100 with Bluetooth, WiFi and an app-controlled Fender Tone Cloud, showcases all the technology applied to make life easier for the guitarist. This amplifier with its 100 watts of power allows its use in any environment. Features a 12 "Celestion Special Design speaker.
It features 21 amp models, 46 effects, and a super-readable color LCD screen. The Fender Tone Cloud is ideal for editing presets whenever you want, including versions contributed by artists like Johnny Marr, Gary Clark Jr. and others. For those looking for the Fender tone, this amp is a great option.
Price: USD 420.
Blackstar ID Core Stereo 100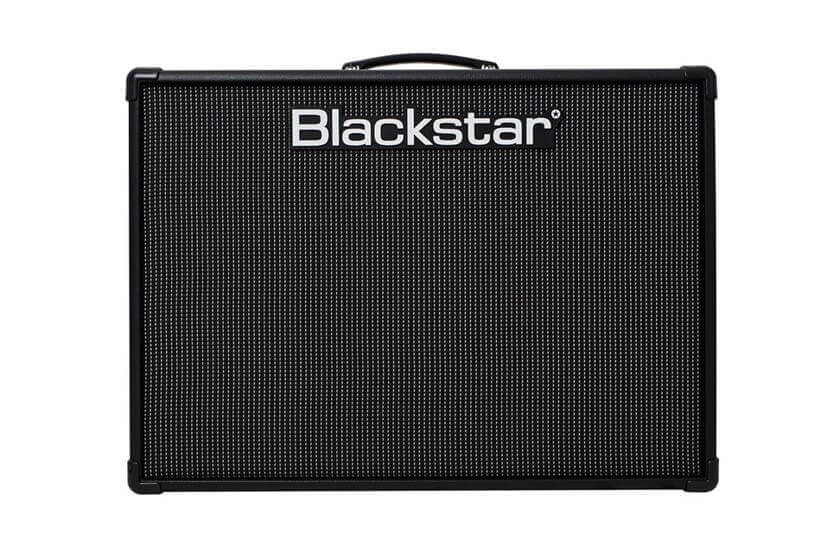 The well-known Blackstar ID has helped redefine expectations for what a practice amp can deliver. The Northampton-based company took all the smart functionality and proprietary technology that it has developed and as a result offers: six voicings, Super Wide Stereo sound, a variety of digital effects, editing and patch storage through its software. Insider, USB recording and reamplification. All this, in a powerful combo, results in an amp that is no longer just a practice and that also serves to play in a band in medium places without fear of running out of power. But don't be scared by its weight, this combo can be lifted with two fingers.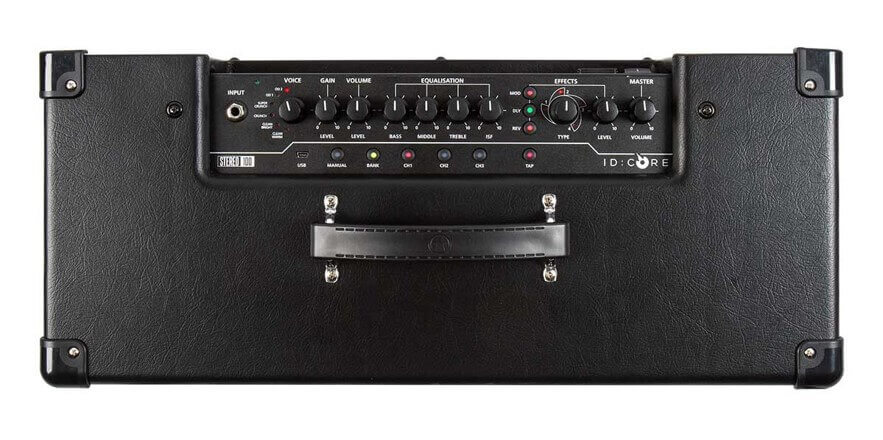 The company has also introduced a built-in looper, accessible via the two-button footswitch, with unlimited overdubs, undo and erase functions, a polyphonic octave effect, and a stereo FX Loop. Giving it an outstanding versatility, and very remarkable especially considering the excellent price of the product.
Price: USD 300
Yamaha THR30II
The Yamaha THR-II range follows on from the widely successful THR range. It brings new features, including wireless connectivity and rechargeable battery power.
Along with typical EQ, gain, and volume controls, each amp in the THR-II range offers 15 guitar amp models, three bass amp models, and three type of microphones simulator models for electroacoustics sounds. Additionally, it includes a flat mode that allows you to base your audio on your pedals or you can also use it for the neutral amplification of other instruments.
The built-in effects offered are Chorus, Flanger, Phaser, and Tremolo, two Echo modes, two Reverb modes, and a built-in tuner. Finally, it must be clarified that it includes all versions of the first generation. Without a doubt it has well earned a place as one of the best digital amplifiers.
Its two small 3.5 "(9 cm) drivers are full range so they allow you to obtain deep bass as well as well-defined and bell-like highs. These are undoubtedly a key element in its great success.
Price: USD 500.
Marshall CODE100
Equipped with Marshall's Softube Technology (MST), the Marshall CODE100 is a great option for those looking to find a convincing Marshall tone on a budget. The amp includes 14 MST preamps, four MST power amps, and eight MST speaker cabinets, allowing you to take a host of amps anywhere with you on the road.
It has twenty-four built-in professional-quality effects, of which five can be used simultaneously. You can even use it as an audio interface via the built-in USB port and use the Marshall Gateway app to change amp settings from your Android or iOS device.
With its 100 watts it will make it your perfect practice amp, as well as your amp for recitals of any size. As if that were not enough, it has a super competitive price.
Price: USD 375.
Vox Valvetronix VT20X
Vox's Valvetronix VT20X is more of a hybrid than a straight-through solid-state amp, due to its valve in the preamp. Their goal is to give this little box a more tube-like tone, along with its plethora of modeling options.
The VT20X comes with thirty-three presets, eleven amp models, thirteen effects, and optionally with a five-command footswitch in case you need to change presets or turn an effect on or off with a stomp.
It has an 8 "speaker. Maybe you are too small for practice, not to mention for concerts. However, for those just looking for a practice amp, it is still a strong competitor for which we consider it one of the best digital amps. In addition, they also have the options of the VT40X and VT100X that come with the same features, but with 40 watts of power and a 10 "speaker, and 100 watts and a 12" speaker respectively.
Price: USD 210.
Vox Adio Air GT
The Adio Air GT is Vox's most advanced solution for modern guitarist practice, recording and performance. With eleven emulators of classic amp and effects models, the Adio Air GT is capable of playing virtually any audio you need. From the classic clean sounds, the iconic AC30 crunch, to the hi gain sounds.
This 50 watt amplifier is equipped with two 3 "stereo speakers and a specially designed loudspeaker to provide use in combination with a smartphone, tablet or other music playback device. It also features Bluetooth MIDI connectivity, allowing you to control your amp wirelessly from any device. With additional features such as USB output, Aux input and battery power, the Adio Air GT is a guitar amp that has earned its place in the list of best digital amps in combo format.
For more information, visit Yamaha, Fender, Vox.
Related Post: The 16 Most Iconic Classic Guitar Amps Ever.
You can share opinions or also chat about this and more with other musicians in our comments section.