Left-handed guitars and basses: offer, accessibility and more
Offer and accessibility of the left-handed guitars and basses, advice on where to find opportunities, the best stores and the brands that have the most models.
The world of left-handed guitarists and bassists
Today I wanted to share with you the theme of the world of the left-handed guitarist and bassist. Specifically, of all that entails being immersed within this smaller percentage of the population of musicians who, with effort, patience and perseverance, has managed over time to create a commercial space for companies to include guitars and basses in their product catalogs for lefties. Not only in its most representative models, but also in exclusive lines for left-handers as Fender has done in recent years.
I have had the opportunity to travel the world and on each trip locate the best known music stores such as Guitar Center or Sam Ash from the United States, and others not so well known, but no less important, such as the houses of musical instruments on Denmark Street in London, Rue de Douai in Montmartre, even in Valparaiso, near the free zone of Chile, and on Calle Talcahuano in Buenos Aires. However, I must be frank, except for a few examples, the same shortage of models that exist in small stores in small cities, is what I have seen reflected throughout my visits around the world.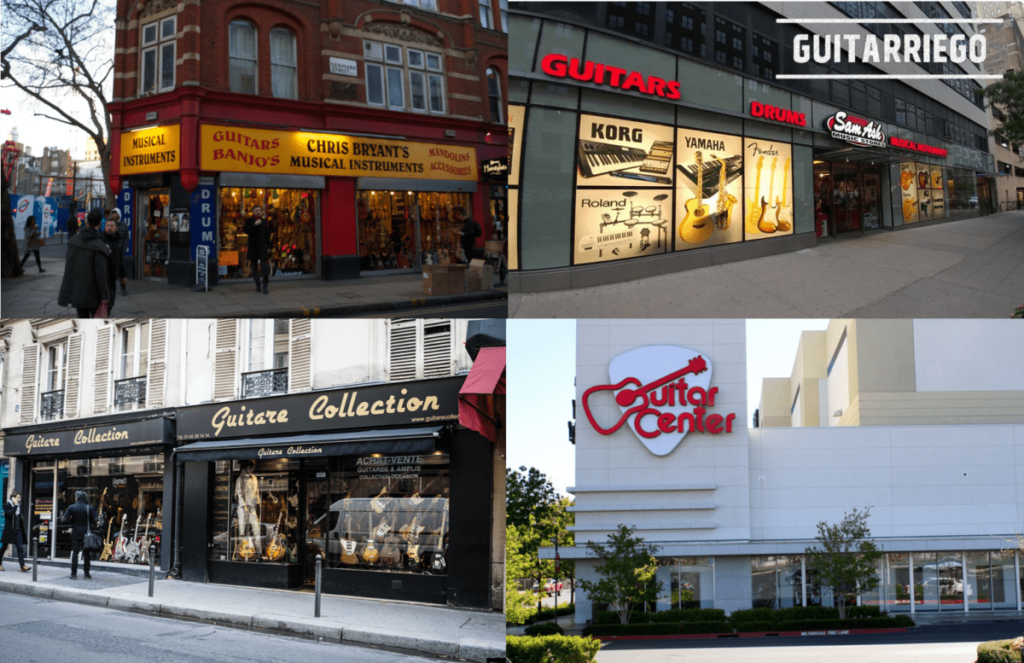 Left Handed Guitars and Basses: Limited Offer in a Growing Market
Although today the issue of imports is more difficult regardless of which country you are in. Even in times when the influx of musical instruments was much greater, the number destined for the left-handed community has always been small.
Various opinions in this regard and from various sectors suggest that although there is a growing demand, the percentage is much lower than what they have for right-handers. The construction of a left-handed instrument leads to exclusively preparing the production for that batch. CNC machines must be prepared for left-handed bodies and necks. Also, the use of left-handed hardware, which ultimately takes extra time, something that always results in a higher cost and therefore higher price than right-handed guitars and basses.
All those who at some point in their lives have faced the DIY project of assembling our own instrument, we know that we must select not only the woods, the size of the frets to use, the correct scale, the radius of the fingerboard, the profile of the neck. guitar, pickups and more. Add to that a left-handed bridge, for example, for Stratocasters, or a Floyd Rose, a set of tuners, in an already difficult market to target a specific model, so that everything fits perfectly on the instrument of a Left-handed musician, it is a task that requires a lot of patience, adaptability and, often, extra money, even if it must be imported.
What brands have launched lines of left-handed musical instruments?
Every day more and more the different brands are added to consider the left-handed musician more. For several years now, all brands have had the left-handed version of their most popular and iconic models. Even brands like Fender have released exclusive left-handed guitar lines like the Fender Traditional Series Made In Japan. PRS has also released two exclusive series of just 200 left-handed Custom 22 and McCarty copies called the "LTD", and in 2015 released the Custom 30 Anniversary which included a left-handed version.
Among the companies that include left-handed guitar models in their instrument catalog are: Fender, Gibson, Paul Reed Smith -PRS-, Ibanez, Gretsch, Yamaha, Jackson, G&L Guitars, Rickenbacker, EVH, Ernie Ball Music Man, Suhr, ESP , Charvel, Kramer, Squier, Epiphone, LTD, SX, Schecter, Washburn, Danelectro, Taylor, Martin, Takamine, D'Angelico, Reverend Guitars, Godin, Steinberger, Encore Guitars, Duesenberg, Burns Guitars, Brian May Guitars, Dean, Caparison Guitars, Hagstrom, and more.
Musical instrument stores have also adapted their offer to the left-handed guitarist community. They have categories of left-handed guitars and basses. For example: Sweetwaters and Andertons , just to name a couple.
Where to buy left-handed guitars and basses?
However, from time to time the market offers us good alternatives in the entire price range. From cheap guitars to boutique instruments like the custom shop. And although we do not always find what we want, there are some pages on the web, dedicated exclusively to the sale or exchange of left-handed instruments that we can visit to achieve our goal.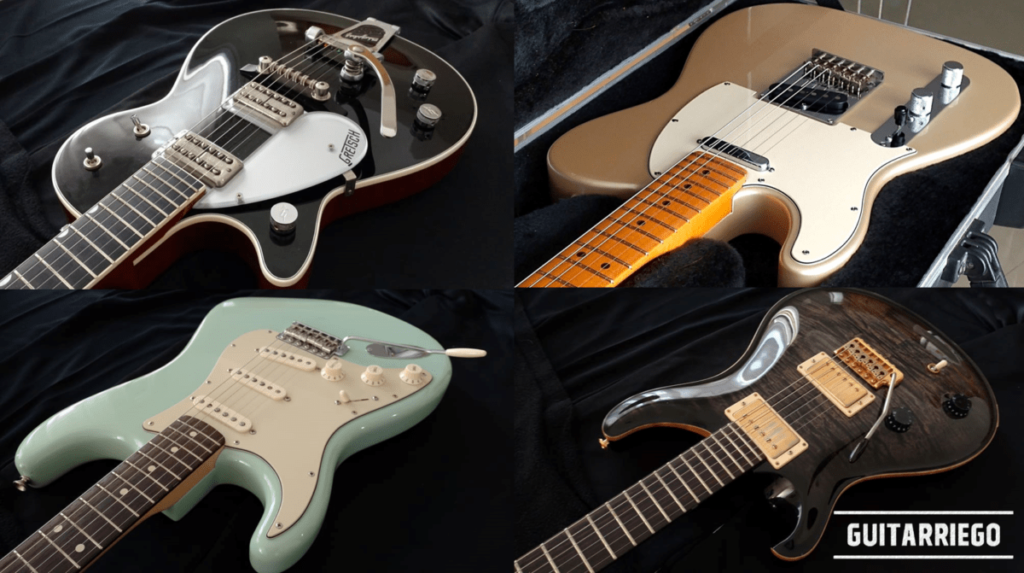 Facebook Groups
On Facebook there are many groups to buy and sell guitars for left-handed people. Some of the groups are: Left Hand Guitar Sale / Trade Page , Ultimate Left Handed Lefty Guitars Group and Left Hand Guitars from the UK. There is also left-handed instruments Argentina and Zurdomercado . These groups have up to 10,000 members, facilitating contact between the left-handed music community. In these groups you can also exchange information, share news, show their work.
Left-handed guitar stores and websites
You might want to go to a store to test left-handed guitars. Or probably, you want to visit sites to see them before buying them from a distance. We show you some of the most popular stores and websites in the world exclusively for left-handed people.
Jerry´s Lefty Guitars
Jerry´s Lefty Guitars is a shop for buying and selling left handed instruments. It also has a page where all available left-handed guitars are listed. Jerry has his business in the peaceful city of Sarasota, in the state of Florida, northwest of Miami. I had the opportunity to meet him personally, a great person, especially with a spectacular collection of guitars.
Le Gaucher
Le Gaucher is a store located in the Montmartre district, near the Moulin Rouge, in Paris. This is an area of ​​houses of musical instruments, amplifiers and others. I had the opportunity to meet him; It goes without saying that I received the best care, that I tried several guitars, even though the seller understood that I was not going to buy.
Lefty Guitars Only
Leftyguitarsonly is one of the best websites, it has a variety and quality of guitars exclusively for lefties.
Lastly, as a left-handed musician, I do not deny that finding a particular instrument is a difficult task. However, those of us who already know the way, we managed to encourage ourselves to find what best fits with what we are looking for. Sometimes they even appear, specimens that really exceed the highest standards, that continue to feed us the dream that some time, we will be able to enjoy them.
Share in the comments section where you got good left-handed instruments.
Related Articles: Best Cheap Acoustic Guitars for Beginners for any budget – Review.