Jerry Cantrell, the sound behind Alice in Chains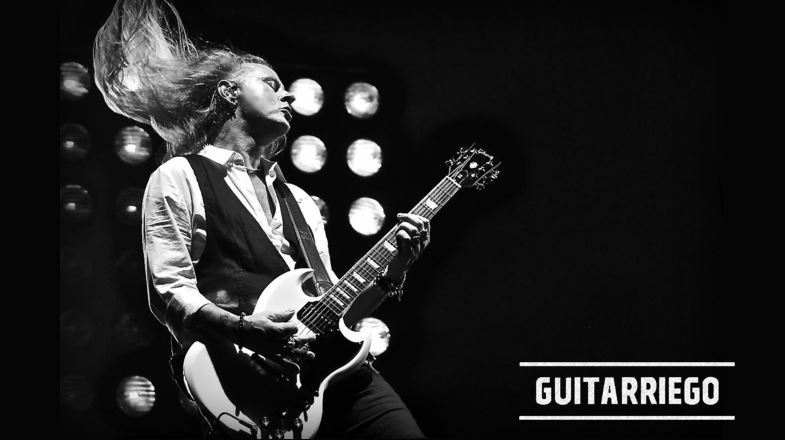 The sound behind Alice in Chains
Jerry Cantrell, a name that by itself means nothing to most mortals, even less if we said he was a guitarist, but many would raise their eyebrows if we mentioned his band, Alice In Chains.
To talk about Jerry Cantrell we must travel to the beginnings of Grunge. Yes, that musical style emerged in the late 80's that made Nirvana and its no less well-known front man, Kurt Cobain so popular.
This excellent musician, Cantrell, is considered one of the most influential Heavy Metal guitarists of all time by the Ultimate Guitar website. In addition, Jerry stands out for having been the composer of most of the songs in his discography. Cultivator of a unique, dark style, with an unmatched tone, he was the brain behind one of the most representative bands of Grunge along with Nirvana, Pearl Jam and Sound Graden.
Alice in Chains had Layne Staley as its lead vocalist. A musician with a history of excesses, and who happened to pass away on the same day and month but eight years later than Kurt Cobain.
But take us back to the thread of our history, where we left off. Jerry Cantrell, and for the universe that does not know him, collaborated on the soundtrack of Spiderman, and also in countless bands, one of them, Metallica, leaving his guitars on the band's cover album, Garage Inc.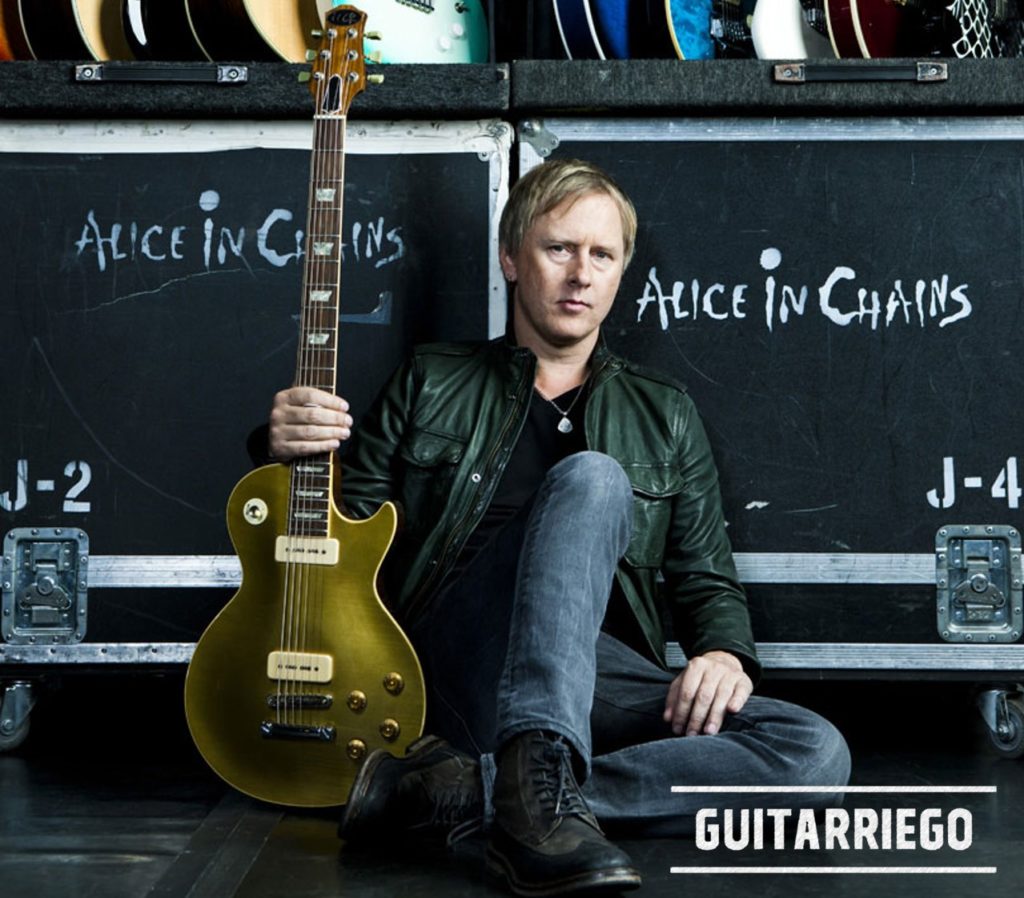 G&L, Gibson and Van Halen
At the 2020 NAMM, Jerry Cantrell was officially introduced by Gibson as its new endorser. However, his preference for G&L guitars, especially the Rampeges model, was always known. He is credited with this particular choice, given his admiration for Eddie Van Halen and the similarity of the Rampeges to the famous Frankenstrat, built by Eddie.
This smoothly contoured maple body model featured a single Schaller humbucker, only a volume control, and also a Kahler bridge. Additionally, the 25.5 "scale maple neck features a 12" radius ebony fingerboard. But later, G&L would release its signature model, with some modifications to the specifications. But this was definitely the icon guitar for Jerry Cantrell for many years.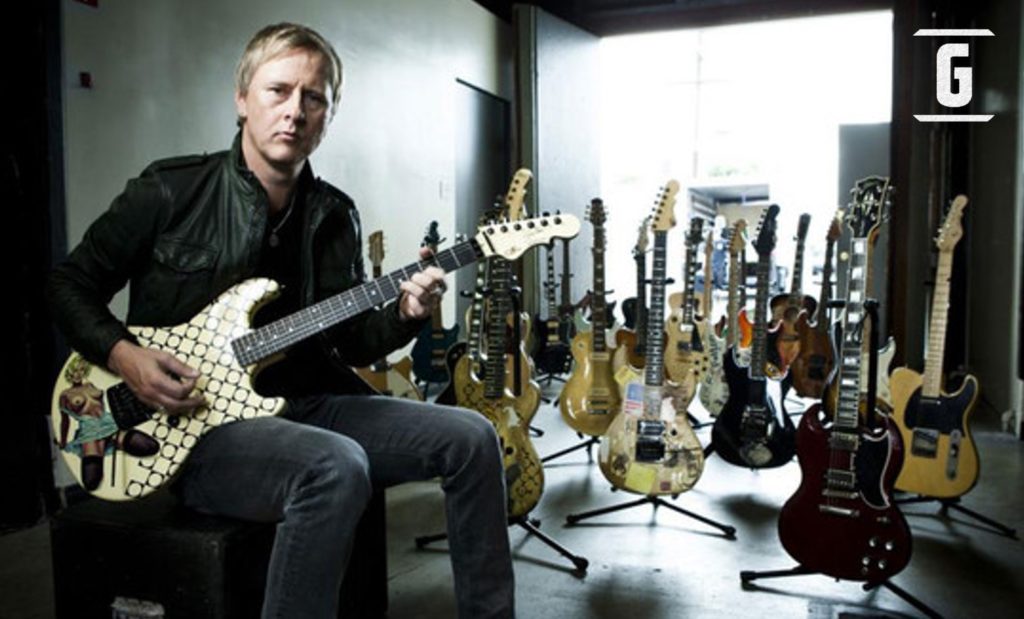 Jerry Cantrell, his beginnings and solo career
He always recognized that as a boy he grew up hand in hand with Country music. The imprint of its interpreters strongly attracted the attention of the young Cantrell. But over the years, talents like Ace Frehley, Tony Iommi, Eddie Van Halen and Angus Young among others began to mark his musical destiny.
His solo career began to develop driven by the gaps that Alice in Chains left him. Due to the constant drug problems of its singer, Layne Staley. Thus, in 1998 Boggy Depot launched.
Then in 2002 he would release his second album Degradation Trip, which would come out shortly after Staley's death due to his departure.
Jerry Cantrell Setup
The list of guitars, amps and effects that he has used live and also for studio recordings is extensive, since Cantrell was always a restless guitarist with his sound. However, here is a list of the highlights.
Cantrell guitars
Stratocaster-type Partscaster
G&L Rampage
Guild JF-55
Fender telecaster white 1966
Gibson Flying V 2018
Gibson E2 Explorer 1980
Gibson Les Paul Custom
Gibson SG Satandard
Gibson Les Paul Studio
Ernie Ball Music Man Axis
PRS SC 245
ESP M II
Dean Michael Schwnker Retro
Jerry Amplifiers
Fríedman Jerry Cantrell Signature 100
Bogner fish
Bogner shiva
Bogner Uberschall 120
Marshall JCM 800 2203 vintage 100
Mesa Boogie Dual Rectifier 100
Fender 68 Custom Twin Reverb
Vox AC30
Peavey 5150 120
Effects used by Jerry Cantrel
Eventide Time Factor Twin Delay
Ibanez Tube Screamer
Dunlop GCB95 Cry Baby
Dunlop JH1 Jimi Hendrix
Dunlop JC95 Jerry Cantrell
Dunlop Heil HT1
Dunlop JD 4S
MXR M288 Bass Octave
MXR Smart Gate Noise
MXR EVH-117
Digitech Whammy
Electro Harmonix Big Muff
Black Cat Wee Buzz
Boss CH-1 Super Chorus
Boss CE-5 Chorus Ensemble
Radial HotShot DM1
Spikes
Dunlop Tortex Standard 1.0 mm
Dunlop Tortex Standard Pítch Black 1.14 mm
Strings
Ernie Ball 2240 RPS-10
Jerry Cantrell in a nutshell.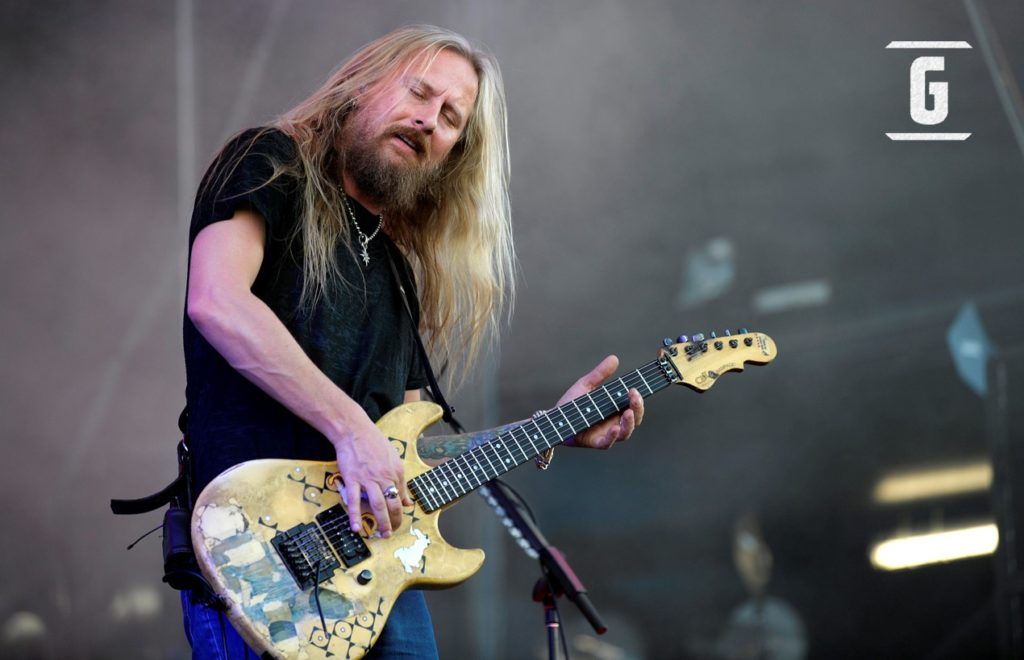 Jerry Cantrell in a nutshell
Jerry Cantrell is, without a doubt, one of the most respected and iconic guitarists in Grunge. Its sound is as distinctive as it is singular that it does not disappear when listening to any track where the imprint of its very personal tone is noticed. As respected by musicians as unknown by the masses. Did it take 30 years for a firm like Gibson to notice your presence?
For more information about this, visit Jerry Cantrell.
Related Post: Pink Floyd and the secrets of the Gilmour vs Waters rivalry.
You can share opinions or also chat about this and more with other musicians in our comments section.