Best guitar learning apps for iOS and Android for beginners
Best guitar learning mobile apps for iOS and Android smartphones for beginners: Guitar Tricks, Gibson App, Fender Play, Yousician and Guitar Lessons.
Mobile applications to learn to play guitar
Technology has advanced a lot in recent years and guitar learning apps are up to date in quality. These guitar learning apps are ideal to take advantage of and learn anywhere and anytime. The offer is varied, so here we bring you the best mobile apps to learn to play guitar for students and beginners.
Best mobile apps to learn guitar
Guitar Lessons by Guitar Tricks
Fender Play
Gibson App
Yousician
Guitar World Lessons
Guitar Lessons by Guitar Tricks
This app, Guitar Lessons by Guitar Tricks, is for any student level; from beginning guitarists just starting out with guitar to advanced guitarists who want to improve their technique and music theory.
Guitar Tricks has more than 11,000 lessons in different musical styles such as rock, blues, pop, country, funk, metal, and more. This mobile guitar app for smartphone also has a tool called Artist Studios. In this section he teaches you to play like famous and iconic guitarists. Also, guitar technique lessons will help you improve and hone your skills and style.
Finally, this iPhone Android and iOS app has hundreds of song specific tutorials. In this way you can learn by playing the music you like, learning each part of the guitar from your favorite artists.
The tool is paid, but has a free membership that includes select lessons. The price for a full access membership is $ 14.99. This allows you to access the more than 11,000 lessons within the app. Full Access members have the artist studios section, song lessons, the Core Learning System, tablature, and much more.
Guitar Trick Review
Guitar Tricks has spent years, since 1998, developing a simple method for learning to play the guitar, this method is called the Easiest Learning System. Thus, Guitar Trick is a digital course to learn to play guitar step by step, which keeps you entertained, supporting you with real music of your taste and style.
Compatible with Android and iOS | Free limited access | Full access to USD 14.95 per month
Fender Play
Fender Play is the guitar giant's video-based learning platform for computers and smartphones. Although this is not an app itself, it teaches you to play guitar, bass and ukulele through your mobile device or wherever you want to be with internet access. Features hundreds of dynamic, instructor-led video lessons. It uses a song-based learning path that allows even the first-timers to easily follow through to mastering chords and riffs in no time.
When you sign up for Fender Play, you answer a variety of questions about preferred instruments and genres, including rock, pop, folk, country, and blues. Those answers make it easy to create a comprehensive curriculum tailored to your needs and tastes.
The learning is based on songs, which teach basic techniques and riffs along with theoretical and technical lessons. You can find bands like The Rolling Stones, U2, Foo Fighters, and many more.
The program has a vast catalog of hundreds of songs organized specifically for guitarists of various skill levels.
While the Fender Guitar Lessons app is paid, you can sign up for a free 30-day trial at play.fender.com. Its cost is USD 20 or € 18 per month.
Compatible with Android and iOS | Cost of USD 20 per month | Free trial for 30 days
Try the best free amp simulator for electric guitar.
Gibson App
Gibson App is the recently launched new app from the American guitar maker for iOS and Android. This new app combines:
Interactive lessons for you to learn to play the guitar
Gibson Virtual Service
Tuner
Gibson TV
Gibson Shop
The new Gibson App has a large library of guitar lessons. These lessons provide interactive guitar learning for electric and acoustic guitarists of any skill level and a variety of genres and styles.
This modern tool uses AR audio augmented reality technology to respond and then guide the guitarist, while providing feedback in real time. Additionally, students can also use the app to learn how to play songs by renowned artists such as The Beatles, Aerosmith, Foo Fighters, Eric Clapton, BB King, Santana, Tom Petty, Dolly Parton, Billie Eilish, Thin Lizzy, and many more.
Download the Gibson App for iOS.
Download Gibson App for Android.
Compatible with Android and iOS | Cost of USD 20 per month | Free trial for 14 days
Yousician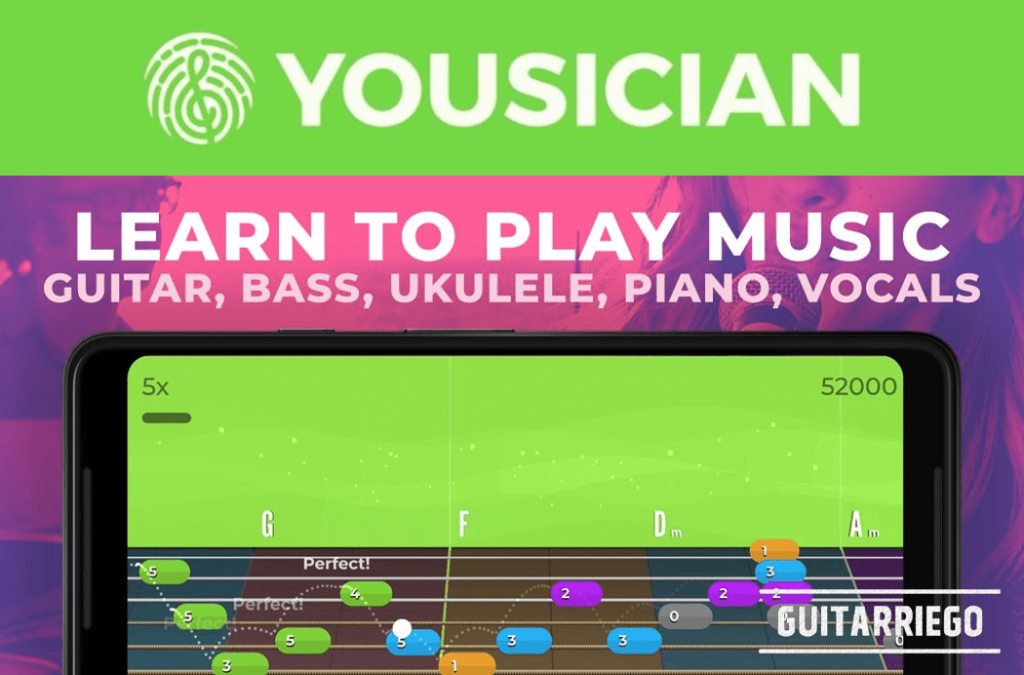 Similar to the classic Guitar Hero console game , Yousician is an app with a fast and fun way to learn to play the guitar. The app listens to your playing and gives you immediate feedback. Both beginner and more advanced guitarists can use this app to improve their technical skills and have fun with the guitar.
This guitar app for iOS and Android has more than 1,500 songs and hundreds of videos. Since Yousician uses the microphone of your smartphone or iphone, you do not need additional equipment to use this app. Thus, all you need is an acoustic or electric guitar. This App offers step-by-step video tutorials that guide you through each lesson at your own pace.
The tool is paid, but it has a free version that includes a limited number of lessons and songs. The price for the full version is USD 19.99 per month.
Compatible with Android and iOS | Cost of USD 19.99 per month | Free version with limited number of lessons and songs
Also learn the guitar strings notes: names and order with the best guide.
Guitar World Lessons
The Guitar World Lessons guitar learning app is great for studying music on the go. This guitar app includes hundreds of lessons from the catalog of the famous Guitar World magazine.
You can choose from lessons in different genres like blues, jazz, classical, country, rock, metal, and more. Also, Guitar World Lessons includes classes for acoustic and electric guitarists.
The GWL app has "Artist" lessons that teach you how to play in the style of artists like Eric Clapton, Stevie Ray Vaughan, Jimi Hendrix, among many more!
Guitar World Lessons has a clean design that makes it easy for users to navigate. There is also a search function that allows guitarists to search by artist, genre, instructor or song.
The first lesson is free, then you must pay for each new class you take. The prices are affordable. An advantage of this system is that you pay for what you use, as opposed to the subscriptions used by the other mobile learning guitar apps.
Unfortunately, this app to learn to play your guitar is only available on iTunes, so if you have an Android smartphone you will not be able to use Guitar World Lessons.
Compatible with iOS | App Cost: USD 14.99 for 10 classes | Free: only includes one free lesson
Have you tried any of these apps to learn to play guitar? Tell us about your experience in the comments section.
Related Notes: Easy to Play Guitar Songs for Beginners and Best Mobile Apps for Guitar iOS and Android.