Top 10 Loudest 12″ Guitar Speakers (Loudspeaker)
These are the most sensitive speakers, loudest on the market, so these speakers will allow you to have more volume, ideal for those who have low wattage guitar amplifiers.
Increasing the volume of the amplifier:
If you have a low wattage amplifier, for example less than 20 watts, this guide is ideal for you. This is a list of the 10 most efficient good quality 12 ″ guitar speakers, giving you more volume at the same wattage level as your amp. Even with a speaker change, you could make your amp sound as loud as a rig with twice the power. It sounds incredible, but it is.
How do you measure the sensitivity or efficiency of a speaker?
The measure to express the efficiency or sensitivity of a speaker is in decibels, thus expressing the ability to translate power into Sound Pressure Level -SPL-. The higher the dB rating, the louder the guitar speaker will be able to deliver. For reference, 12 "speakers typically range from 96 dB to 103 dB.
Volume: amplifier wattage and speaker sensitivity
The efficiency factor of your speaker indicates the ability to transform the amplifier's power into sound pressure. Thus, a speaker with higher sensitivity or efficiency will give you more decibels or volume with the same amplifier than if you use a less efficient one.
When you have a low power amplifier, using a more efficient speaker will allow you to have more volume. You can also get cleaner audios, as you will need to demand less from the amplifier to achieve the same volume or sound pressure level.
Thus, putting a speaker with 3 more decibels has the same effect as doubling the power of the amplifier. So, if you have a 10 watt device with a 97 dB efficiency speaker, if you change the speaker for a 100 dB one you will have the same effect as if you double the wattage, and if you put a 102.8 dB speaker, which is the most efficient from the list, the effect would be to almost quadruple the power of the amp.
The more sensitive speakers, the more volume they have.
Amplifier Power Equivalences and Speaker Sensitivity
For reference, each of these groups generate similar sound pressure levels -SLP-:
Thus, with a 25 watt amplifier with a 103 dB speaker sensitivity you can sound as loud as a 100 watt amplifier with 97 dB speakers, which is the sensitivity of the Celestion Creamback G12M 65 or G12T-75.
As a reference, a team with low efficiency are the Celestion Creamback G12M 65 and G12T-75 with 97 dB or the Greenback G12M or the V-Type with 98 dB.
About this list of guitar speakers
The list has been determined by checking the specifications on the websites of each of the brands, reviewing each of the models. It is ordered in descending order, that is, from most efficient to least.
All the speakers are Eminence as this company builds speakers very efficiently. However, as our idea is to provide a wide range of options, beyond which are the highest volume, at the end we indicate which are the most efficient from Celestion and WGS, in case you like those brands more.
Top-10 of the most efficient guitar speakers
Eminence Wizard – 102.8 dB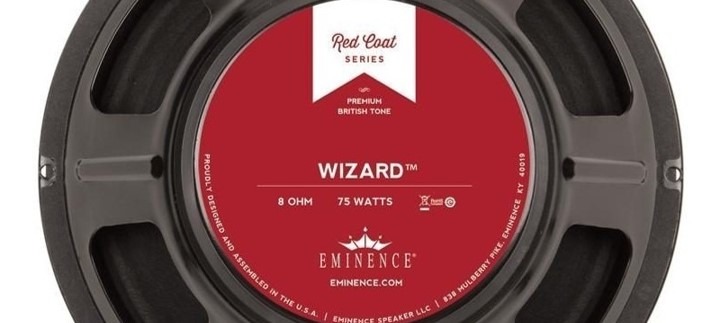 This is the loudest volume guitar speaker we've found from our survey. The Wizard is an English speaking speaker and is part of the Red Coat range.
The Wizard has sweet tones in the low frequencies, but also has good highs. The Eminence Wizard is a great option for someone looking to add a bit of treble to their sound.
The Wizard works well on amps like the Blues Junior, Hot Rod Deluxe, Peavey Studio Pro 112, Marshall Valvestate amps, and many others.
Eminence The Governor – 102.3 dB
The Eminence Governor speaker features sweet but punchy bass. This means that the low frequency response is more focused on the lower mids than that super low-end sound.
Although the Eminence Governor speaker is very efficient, it also saturates early. If you like the distortion of the speakers a bit in the character of your audio, this is a great pick.
Although it is part of the Red Coat series, its tonal character will suit those looking for a great speaker without the excessive treble or bass frequencies. This is really a great powerful speaker that will suit anything from blues to rock.
Eminence Hempdog – 102.3 dB
The Eminence Hempdog was produced for guitarist Pete Anderson. Designed to be a combination of Pete's two favorite speakers. It has a warm Cannabis Rex character while also having a fairly balanced frequency curve, providing a neutral and clean tone like the Legend EM12.
This is a very nice and well balanced speaker for someone who wants to keep their amp character intact. The Hempdog accommodates both Fender and Marshall tones, and will also be a great way to tame the high end of a Vox.
Eminence CV-75 – 102.2 dB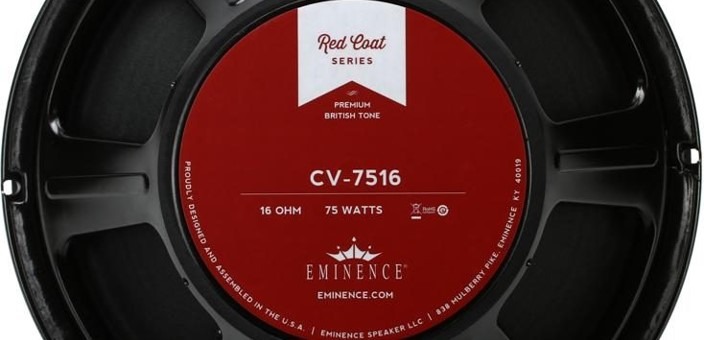 The 75-watt Eminence CV-75 speaker boasts an unmistakable British tone. It has a complete tonal balance: strong in the lows, warm mids and pleasant, clear and open highs.
It's a great choice for British tone amps like Marshall, Laney, and even Vox.
Eminence Swamp Thang – 102 dB
The Eminence Swamp Thang is a speaker from the Eminence Patriot series. Designed for heavy guitarists looking for full-bodied audio. Provides a thick and sustain tone. The bass responds well to 7-string guitars.
Another feature of the Eminence Swamp Thang is that it will keep its top end nice, clear and bright.
Eminence Cannabis Rex – 101.8 dB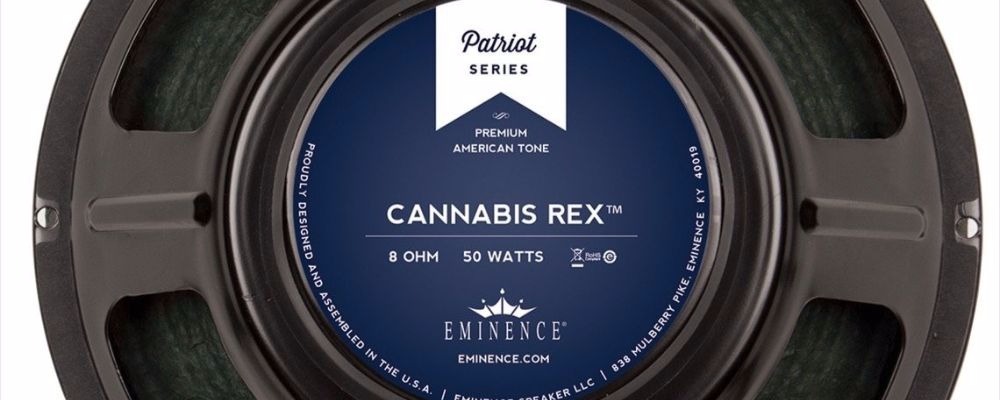 The Patriot Series Cannabis Rex has an American character, which makes it an excellent choice for use in Fender amps such as the Blues Junior or Super-Sonic 22. The Eminence Cannabis Rex has 50 watts, so it can perfectly support any amplifier up to 40 watts and with its sensitivity of 101.8 dB you can make it sound much louder.
It has good lows and rounded highs. You will not suffer from ice-picking with a Cannabis Rex.
Eminence Man O War – 101.6 dB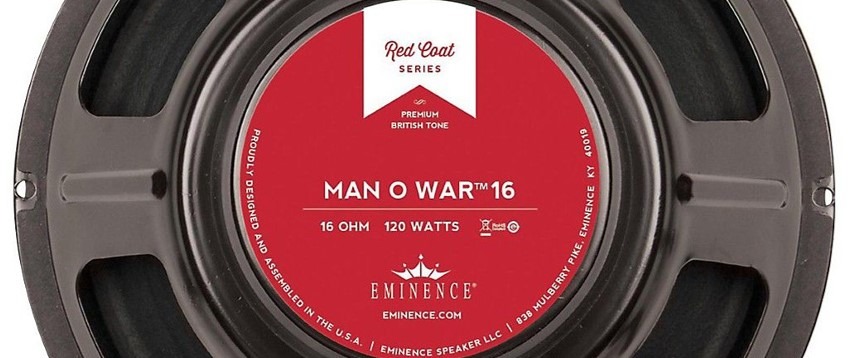 The Eminence Man O War loudspeaker, from the Red Coat series, features a "British" tone. This Speaker has 120 watts and a fat sound with a little top brightness. If you like classic English with bright tone that brings out the upper mids, then the Man O War speaker is a great option.
Eminence Tonker – 101.5 dB
The Tonker speaker is powerful, it has 150 watts. An outstanding feature of this speaker is the large headroom it has. What this means is that your amp will stay cleaner at higher volumes. The Tonker has more rounded bass than the Texas Heat or Wizard, and it defines well through its high frequencies.
It features top mids that cut well into the mix. If you want something sure to sound strong, this is an option to consider.
Something to keep in mind is both the weight and the size of the speaker. The Eminence Tonker is very heavy and its magnet is huge. Make sure you have enough free space for this speaker on your amp.
Eminence Wheelhouse 150 – 101.4 dB
The Wheelhouse is a 100 watt speaker. Touch-sensitive and balanced, it delivers a warm, smooth tone across the spectrum, allowing you to use the controls on your amp to shape your sound. Operate the pedals and amp EQ with ease. Recommended for classic styles such as Country, Blues or Rock.
Eminence Legend GB128 – 101.3 dB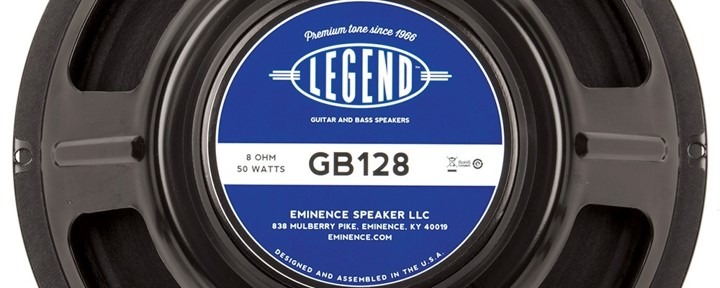 The Eminence Legend GB128 guitar speaker is characterized by its clean audio, while maintaining a very vintage tone. Clear, clean British tone with well-rounded lows, warm, throaty mids, as well as very open and airy highs. The GB128 handles up to 50 watts of power.
Eminence Red White & Blues – 101 dB
The Red White & Blues is a speaker designed for the classic American amp. A versatile guitar speaker, ideal for southern rock and blues too. Round lows, soft mids, and good shine and definition.
He is featured on Eminence's website as The Governor's American cousin.
The Eminence Red White & Blues' power handling is 120 watts, which means it will carry just about any amp.
What are the loudest Celestion speakers?
The maximum sensitivity level according to the Celestion website is 100 dB. The models that meet this degree of efficiency are:
Cream Alnico
Gold Alnico
Blue Alnico
Ruby alnico
Heritage Series G12H (75)
Heritage Series G12H (55)
G12H-150 Redback
Vintage 30 (V30)
G12H Anniversary
G12H-75 Creamback
All these speaker models have 100 dB of sensitivity, being the ones that will give you the most volume.
What are the loudest WGS speakers?
The most efficient models of WGS loudspeakers are the following:
Veteran 30 – 60w- 99.84 db
ET90 – 90w – 99.94 db
Blackhawk Alnico – 50w – 100.08 db
G12C / S – 75w – 99.54 db
WGS12L – 200w – 99.67 db
For more information, visit Celestion web site.
Related Post: Tips: How to choose the right speaker for your guitar amp.
You can share opinions or also chat about this and more with other musicians in our comments section.