The best free online virtual Drum Machines for guitarists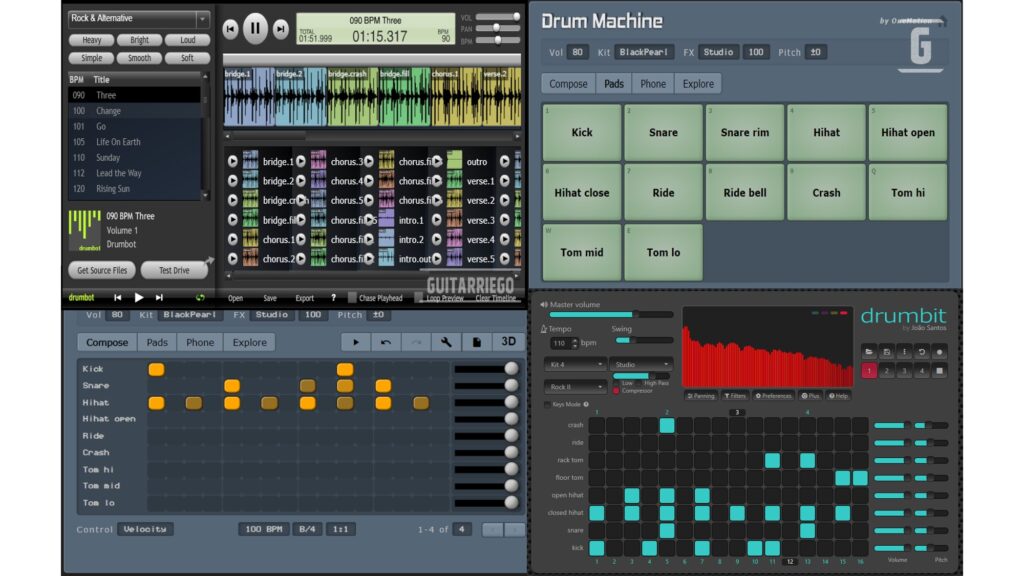 Drum Machines can be used both for the guitarist's practice and in the creative process of composition accompanying your guitar, we bring you online and free options.
What is a drum machine and how does it work?
A drum machine is an electronic musical instrument capable of reproducing sounds or audio samples that it has registered or recorded on each of its pads, mainly drums and percussion.
Depending on the drum machine, the sounds not only include drums and percussion, but also instruments such as basses, synthesizers, among others. They exist, like any electronic device, both in hardware and software, that is, a PC or Mac program. The sounds work like samplers, you can edit, configure and record them on the pads thanks to an internal sequencer.
Operating the drum machine is very simple, although it may take time to hold your hand. The sound or rhythm that we want is registered in the pad grid and we activate or deactivate the pads to achieve the desired sound or audio sequence.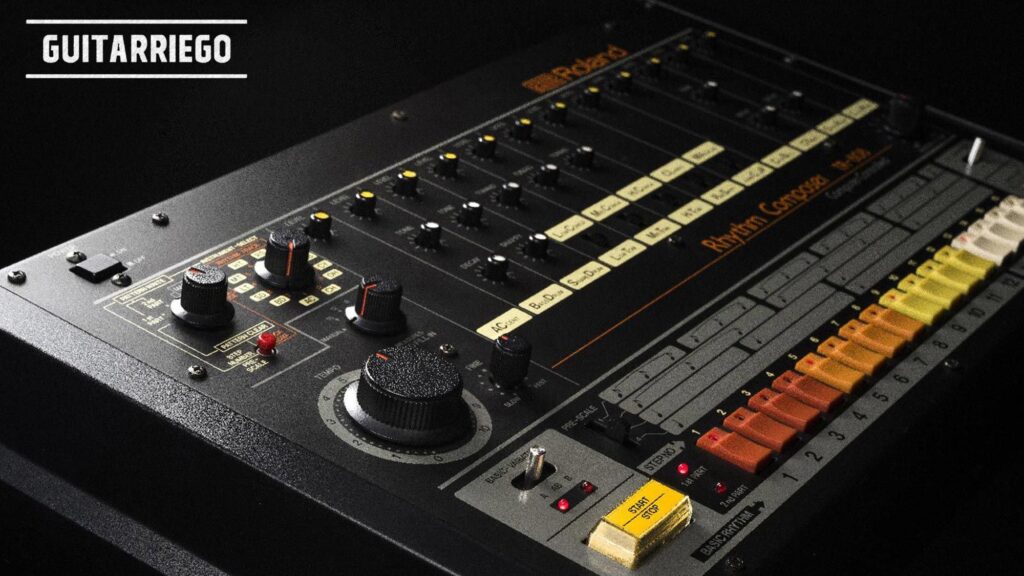 Of course you can configure the duration and speed of each rhythm sequence. Thus we can regulate the values of bpm –beats per minute or pulse-. The operation of the drum machines and their pads is very intuitive. When pressing on a pad in the grid we activate the sequence registered in that pad, and it will continue to sound until we deactivate it. So you can create rhythms and even instrumentals in a simple and intuitive way. You can also keep recording sounds at other points on the grid while you have multiple sequences activated playing. Thus, it allows you to create an instrument from scratch and go including and removing elements.
They are widely used for electronic music such as Hip Hop, Rap, Trap, Reggeaton, House, disco, etc, but their use is not limited to those genres. Drum machines are suitable for any traditional musical genre such as rock, blues, jazz, pop, and more.
Free online drum machines
Free virtual drum machines or drum machines are really very practical for any musician and guitarists are no exception. We bring you the best options, so you can choose which one best suits your needs and musical style.
Ranking of the best free virtual drum machines
Our ranking of the best free online drum machines to accompany your guitar:
OneMotion Drum Machine
Dumbit Online Drum Machine
WebAudio Machine 1.0
Drumbot
HTML5 Virtual Drum Machine
OneMotion Drum Machine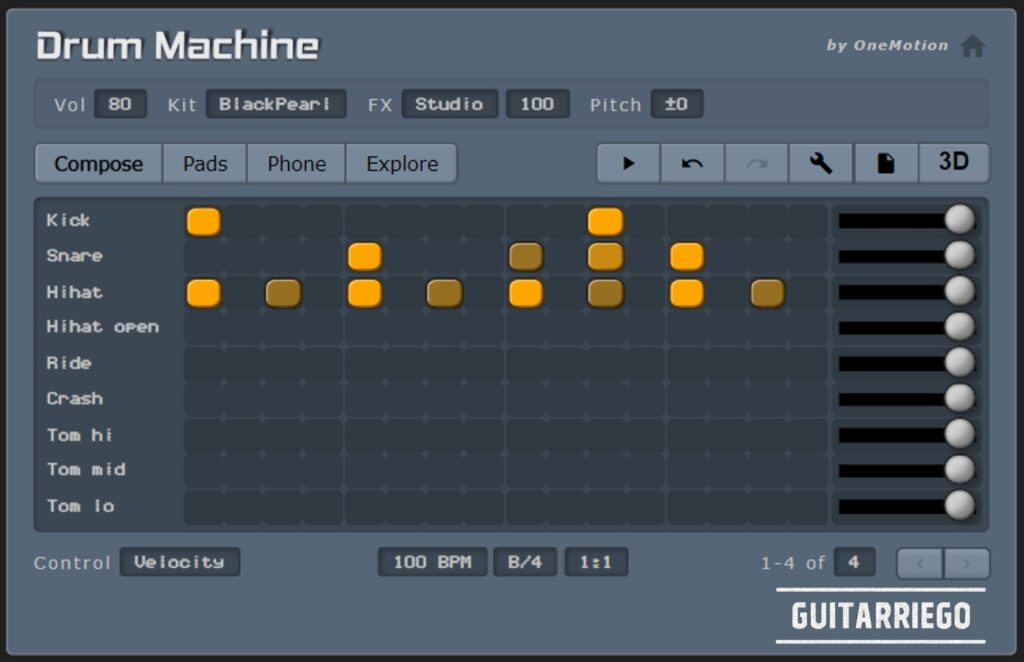 Drum Machine by OneMotion is a free online drum machine that shows great flexibility, allowing you to record by bars, with a limit of 32. In addition, Drum Machine has a library of tracks or bases that users record. In addition, it allows you to export in audio or Midi format. It allows you to vary tempo structures ranging from B / 2 – two beats per measure – to B / 8.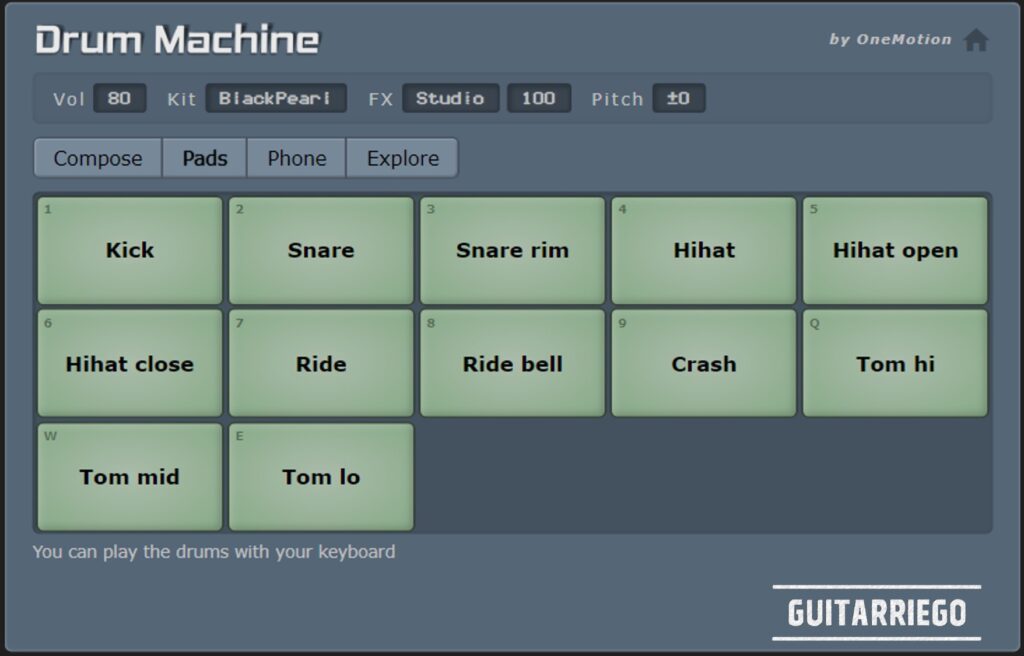 It has 19 different kits with acoustic and electronic drums of all kinds. The drums are of five bodies with six sounds: Kick, Snare, Snare Rim and three Tom, high, medium and low, the latter also known as Floor Tom. On the cymbal side, it has Hihat, Hihat Close and Hihat Open, Crash, Ride and Ride bell. Which can also be used with different intensities or hitting force in each one, and you can even change the track within the options of the wide library of samples or audios that it has for each track.
Editing and configuration tools of the OneMotion Drum Machine
On the audio editing side, the Drum Machine by OneMotion has 6 FX modes that simulate the acoustics of: Studio, Gated, Chamber, Hall, Plate and Church that you can take from 0 -dry signal- to 100 -wet signal-. It has a Pitch to modify the audio giving a wide variety of sounds. Additionally, It has four modes for Shuffle or Swing, ranging from "No shuffle / swing", through Light, Medium and Hard with the maximum level. It also has the option of effects, panning, volume and other independent settings for each audio.
The interface has three modes Compose, Pads and Phone. Giving a flexibility of use and more "friendliness" for the user. Finally, it has a fun virtual "drummer" who plays what he programmed.
Drum Machine by OneMotion is the best free online drum machine app for quality and features.
Drumbit Online Drum Machine
The second drum machine is the Drumbit by Joao Santos. This virtual online drum machine is the free version, and although it is free, it has many options for editing and configuring the audios, with more filters than OneMotion. Thus, it includes a Compressor, Low-Pass and High-Pass. It has Pitch settings for each bank or audio as well. The limitations of this free virtual drum machine is that it only allows you to work on sixteen 4/4 bars.
It has 21 different kits with acoustic and electronic drums of all kinds. The drums are of four bodies: Kick, Snare, and two Tom, Rack and Floor Tom. On the cymbal side, it features Hihat Close and Hihat Open, Crash and Ride.
Regarding audio editing, Drumbit has 12 environment modes that simulate the acoustics of: Studio, Room 1 and 2, Chamber, Medium and Large Hall, Underground and other effects such as Spring Reverb, Intercom, Telephone and Muffler. It has a Pitch to modify the audio giving a wide variety of sounds. It also has a swing control that goes from 0 to 10. Also, it has the option of effects, panning, volume and other independent settings for each audio. Finally, Dumbit allows exporting in JSON files. Thus, for us it is one of the best free online drum machines available on the web.
WebAudio Machine 1.0
The WebAudio Machine 1.0 drum machine is a friendly, simple and effective drum machine. It has the possibility of working with a loop of four bars of 4 beats per measure. It has Kick, Snare, three Toms and a Hi-hat. Each of the audios has two intensities of hits.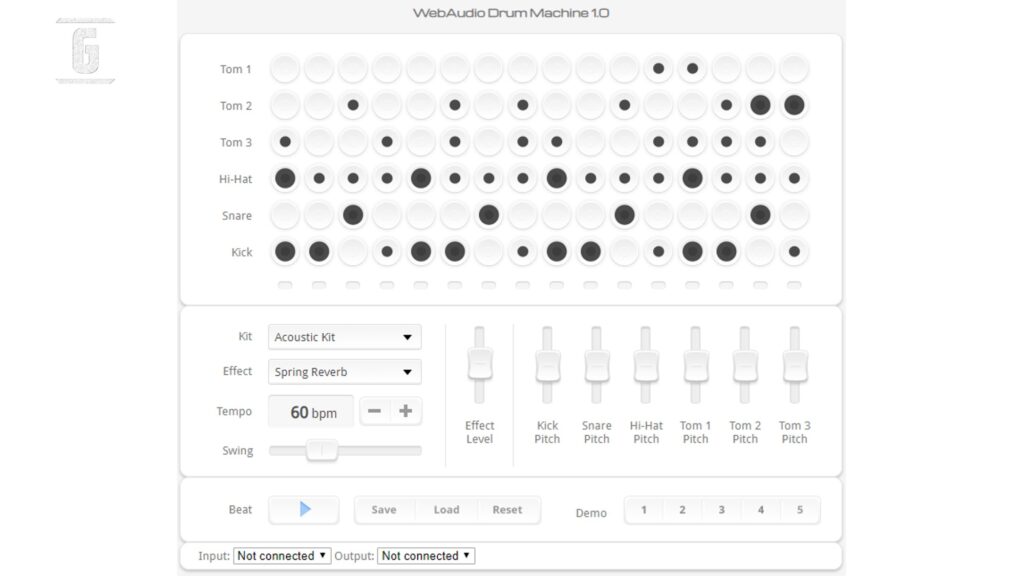 In addition, it has 15 acoustic and electronic drum kits, and even voice simulation. It has more than 20 effects, including simulation of environments, sound filters such as Telephone and reverberation such as Spring Reverb, among others, which can be adjusted in intensity. Each of the tracks have their own Pitch level control.
Finally, it has 5 Swing control demos and the option to record the rhythm or the drum base. However, it only allows you to save it in a flat text file that can only be used in the same tool.
Drumbot
Drumbot is a free virtual drum machine that makes it easy to create rhythmic patterns and loops. It has pre-defined patterns, which you can sort on the timeline. Thus, in a very simple and intuitive way we can work on the composition of a drum base, dragging and dropping predefined patterns. Also, you can modify and create loops, change the bpm, volume.
The first step is to choose the type of musical style on which we want to create the rhythmic pattern or drum base. Once the style is chosen, a series of predefined patterns of Verse, Chorus, Silence and Click appear. Once the loop is finished you can and export them. The exported files are wav format.
In a few minutes, even seconds, we can put together a rhythm base or drum loop. Thus, Drumbot is ideal for when you want something fast, without complications or simply for those who do not yet handle the drum machines with ease.
HTML5 Virtual Drum Machine
This latest free and simple online drum machine. Although we recommend going directly for the OneMotion Drum Machine or failing that for Drumbit, if you are beginners with drum machines, you may prefer to start with something simpler. However, by not showing the cells for each audio or track, which can make it difficult. But it is always important to have alternatives, since we know that sometimes apps disappear or become paid. For that reason, more than as an option, we leave you this Drum Machine or Rhythm Box as a backup.
The standard Virtual Drum Machine has fewer options and versatility. It has five modes or drum kits: Hip Hop, Electro, House, Techno and Acoustic. The sequencer is the characteristic 16 beats, two Sequence Patterns, and finally, the possibility of downloading the patterns or tracks in WAV format.
The panel and controls of the HTML 5 Virtual Drum Machine have a classic drum machine design. It is available on the HTML 5 website.

You can share opinions or also chat about this and more with other musicians in our comments section.
See Best free DAWs: music recording and editing software