Angus Young: AC / DC guitarist style and tone
Angus Young, leader and guitarist of the Australian hard rock band, AC / DC, owner of a unique style to play the guitar with raw and aggressive tone.
Angus Young and his influences
Angus Young's guitar style is clearly rooted in blues and rock and roll. One of his main influences, if not the most important, is Chuck Berry. Beyond his imitation of Berry's famous 'duck step', Angus Young uses the bends or stretches of the strings in the style of "Johnny B Goode", with the use of the pentatonic well in the classic Chuck style.
AC / DC: Hard Rock with roots in classic Blues and Rock and roll
AC / DC, a group formed in Australia in 1973 by Scottish guitarist brothers Angus and Malcolm Young, is one of the most successful and influential hard rock bands in the world. Angus' raw, straightforward, classic style is also a huge influence on virtually any guitarist.
The Australian band has sold more than 200 million records worldwide. Among his most emblematic albums are the rock classics High Voltage; TNT; Dirty Deeds Done Dirt Cheap; Highway to Hell; Let there be Rock; Back in Black and For Those About To Rock We Salute You.
The band's wild and out-of-control style on and off stage took the life of Bon Scott, AC / DC's lead singer, in 1980. Brian Johnson took over as singer.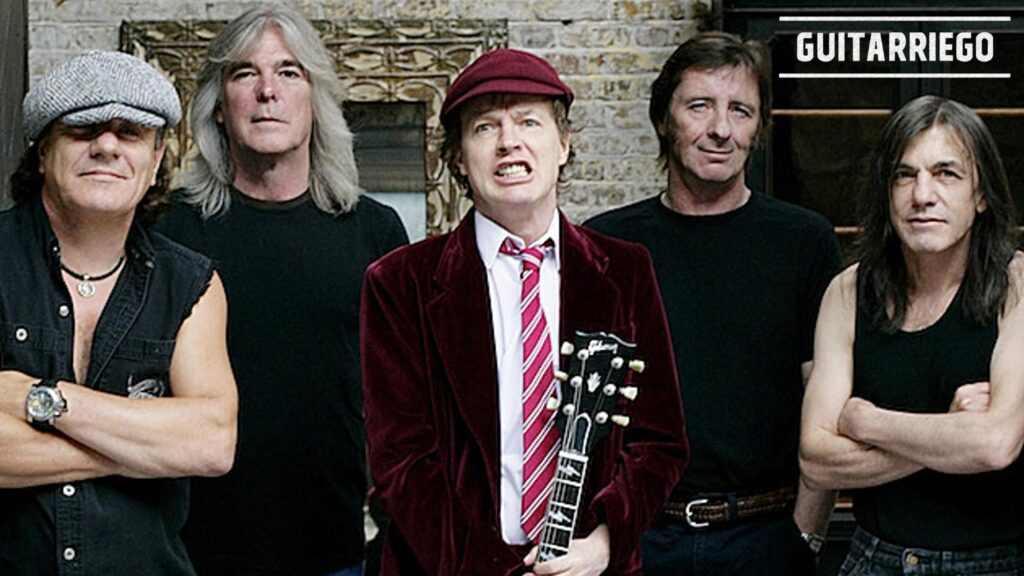 Angus, the soul of AC / DC
Without a doubt, the most iconic and beloved figure in the band is guitarist Angus Young. Slim-bodied, dressed in a school uniform and rocking a Gibson SG and his head, he's a legendary image in rock and pop culture.
Angus Young's style
Angus Young's guitar playing style and style has its roots in blues and classic rock and roll and guitarists like Chuck Berry and Muddy Waters. Angus bases his style to riff and pluck on the blues scale, pentatonic plus the blue notes.
On the side of the bases it uses many open chords, and also the licks or riffs uses plucks and arpeggios with open strings. Many times their song and riff structures are simple, but direct and melodic, showing that you can be effective with little. Without a doubt, Angus is an endless factory of riffs considered classics of the electric guitar.
Thus, Angus Young uses many fifths and fourths for his riffs, phrases with many slurs, and stretches.
Angus Young Tone
Angus Young is known for using a Gibson SG guitar, almost always in the bridge pickup position. The amp he uses the most is a Marshall JMT45, although he has also used the JMT50, JMP50 and Superleads.
Thus, its raw, aggressive and direct style is achieved by using a classic Marshall audio, Plexi style, at high volume. A Gibson SG connected directly to the amp. Thus, it achieves a classic vintage tube saturation, which maintains note clarity and little compression.
How to achieve the Angus Young tone?
Achieving AC / DC's classic, aggressive Angus Young tone is easy: a Gibson SG guitar hooked up to a classic Marshall Plexi with a Celestion Greenback speaker cabinet. But you can also achieve the tone with other cheaper, more practical and modern equipment.
Guitar options to play with Angus Young's style and tone
As an alternative to the Gibson SG, you should look for a guitar with a cabinet that is all mahogany with a fine body and humbucker pickups. In addition to the obvious alternatives to the Gibson SG, such as the Epiphone, Samick, Cort, etc. You can also use the Paul Reed Smith without a maple top, as are most of the SEs, the PRS Standard Core and S2, the Mira, etc. Another model that also has very similar audio to the SG is the Flying V, a Gibson, Epiphone, Samick, etc. they can serve you. But do not limit yourself to these options, there are many more guitars with these characteristics that will allow you to play with the style and tone of Angus Young.
Amp alternatives for Angus Young's tone and style
The amp as we said must be a Marshall Plexi delivering pure tube saturation from the power amp. These models are the Marshall JTM-45, 1987X or 1959SLP. Since most of us do not have the slightest chance of playing at the volumes that these teams need to achieve that saturation, we show you alternatives, not only more practical with Master to facilitate the level of volume, but also cheaper.
Other amp options
Marshall JCM2000, using its Classic Gain channel.
Marshall's JVM205 or JVM410, in its Crunch mode.
Marshall Class 5, a 5 watt Plexi.
Marshall DSL40CR, or any of the DSL line, using its Classic Gain channel.
Digital amplifiers with Plexi audio emulation such as the Yamaha THR or the Vox Adio.
Of course, you don't have to limit yourself to these amps. There are also other brands that base some of their models on Plexi audio, with more or less precision and quality. Examples of this are the English manufacturers Victory and Laney, just to name a few. The important thing is that you have a very organic, vintage saturation, with little compression and medium, classic Marshall.
Pedal Options
Luckily, you no longer need to buy a Marshall Plexi-type amp in order to achieve Angus Young audio. There is a cheaper and more practical option, which is to look for a pedal with vintage Marshall audio, without having to change or add an amplifier.
There are high-end and boutique Overdrive pedal options like the Wampler Plexi Drive, Tech 21 Hot Rod Plexi, Xotic BB Preamp, Carl Martin Plexitone, and Marvel Drive 3 that give you classic Marshall tone. But there are also inexpensive, very cheap alternatives such as the Marshall Bluesbreaker, Joyo Hot Plexi and British Sound, among others.
As you can see, it is very easy to achieve classic AC / DC Angus Young audio so you can play with his style and tone. The hard part is playing like the guitarist in the school uniform!

You can share opinions or also chat about this and more with other musicians in our comments section.